For Immediate Release:
September 15, 2023
Contact:
David Perle 202-483-7382
Chatsworth, Ga. – Yaarab Shrine Potentate Robert Hampton and his neighbors are in for a surprise on Tuesday evening, when a group of PETA supporters will gather outside his house with an unmissable 15-foot-high inflatable fez reading, "Shrine Circuses Abuse Animals." The display is a push for Yaarab Shrine to modernize by keeping animals out of their shows, just as Ringling Bros. and Barnum & Bailey Circus and other circuses are now doing.
When:    Tuesday, September 19, 5 p.m.
Where:    Chatsworth, Georgia
The Yaarab Shrine Circus is one of the last remaining circus shows that still use wild animals, who are confined to small crates, kept in shackles, and deprived of any semblance of a natural life. It has partnered with notoriously cruel exhibitors, including Carson & Barnes Circus, which has been cited for more than 100 violations of the federal Animal Welfare Act and whose head trainer was caught on video attacking elephants with bullhooks—weapons resembling a fireplace poker with a sharp hook on one end.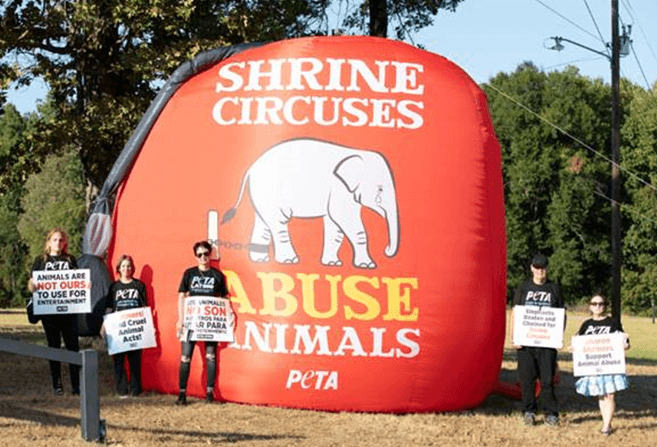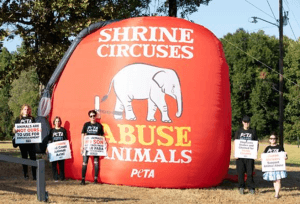 "Cruelty takes center stage at any circus where vulnerable animals are forced to perform demeaning tricks in front of noisy crowds," says PETA Executive Vice President Tracy Reiman. "PETA is calling on Yaarab Shriners to end these exploitative animal acts, as numerous other Shrines have already done."
Some well-intentioned people may think that attending a Shrine circus benefits children. But ticket sales aren't charitable donations: The profits are generally used to maintain the club's premises and fund its activities.
PETA—whose motto reads, in part, that "animals are not ours to use for entertainment"—opposes speciesism, a human-supremacist worldview.
For more information, please visit PETA.org, listen to The PETA Podcast, or follow the group on X (formerly Twitter), Facebook, or Instagram.