For Immediate Release:
July 20, 2022
Contact:
Nicole Meyer 202-483-7382
Orange County, Calif. – A Hero to Animals Award from PETA is on its way to Tabay Atkins, a local 16-year-old whose vegan food truck, Tabay's Mindful Kitchen, is fueling diners' demands for delicious cuisine that's kind to animals, the environment, and their own health.
Tabay grabbed headlines for becoming the youngest certified yoga instructor in the U.S. at just 10 years old, and now he's one of the country's youngest restaurateurs. As he explains, his mother turned to yoga to help her heal after her successful battle against cancer, and he was inspired to follow suit—and then the pair quickly went vegan. Now, when Tabay isn't working as a face of Nike Yoga, he's winning people over with his new food truck's varied vegan menu, from the veggie-packed Pier Bowl drizzled with "teriyummy" sauce to the BabaJoon's BBQ Bacon Burger, complete with an onion ring right on the patty. And he has plenty more planned, with his first cookbook already in the works.
"The food I offer at Tabay's Mindful Kitchen is delicious comfort food that we all know and love," Tabay tells PETA. "Pre-vegans eat my food and can't even tell that it is vegan. They enjoy the food so much that they come back again and again. Every vegan meal that they eat at my food truck is one non-vegan meal that they are not eating somewhere else."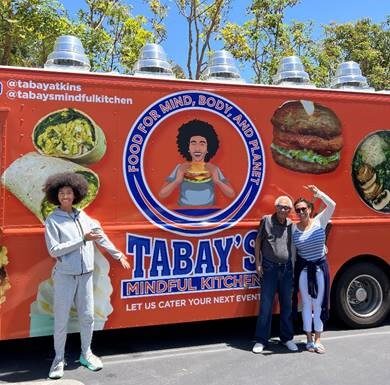 "Tabay Atkins is blazing a trail as a young restaurateur and showing everyone how easy and delicious it is to eat vegan, one veggie dog or tuna-free wrap at a time," says PETA Senior Director of Youth Programs Marta Holmberg. "PETA salutes him for setting an example for young people by using his creativity and culinary skills to make the world a better place for animals."
PETA points out that people who go vegan spare nearly 200 animals a year daily suffering and a terrifying death in today's meat, egg, and dairy industries; slash their carbon footprints, as animal agriculture is responsible for nearly one-fifth of all human-induced greenhouse gas emissions; and dramatically reduce their risk of suffering from diabetes, heart disease, various types of cancer, and strokes.
PETA—whose motto reads, in part, that "animals are not ours to eat or abuse in any other way"—opposes speciesism, a human-supremacist worldview. For more information, please visit PETA.org or follow the group on Twitter, Facebook, or Instagram.