For Immediate Release:
July 20, 2022
Contact:
Lauren Kent 202-483-7382
Amarillo, Texas – PETA is countering the Big Texan Steak Ranch's 72-ounce steak challenge with a sky-high plea encouraging everyone to recognize that cows are individuals, not entrées—and to keep them and all other animals off their plates.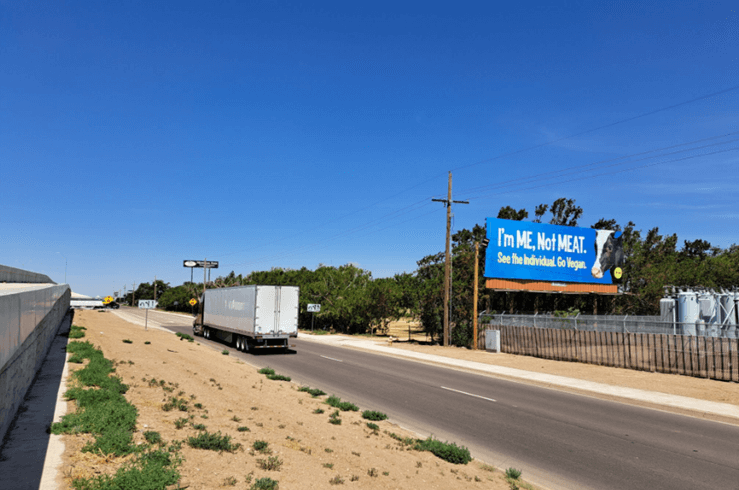 "PETA reminds diners that every cut of steak represents the pain and fear of a cow who didn't deserve to die for a fleeting taste," says PETA President Ingrid Newkirk. "As a former meat addict myself, I encourage others to break free, eat so as to protect animals, and opt for delicious vegan foods."
To bring steak to the table these days, cows are branded and castrated and their horns may be removed without painkillers, despite their ability to feel pain as acutely as the person restraining them. They're forced to stand in their own waste in crowded, filthy feedlots until they're packed into transport trucks for a terrifying trip to the slaughterhouse, where workers shoot them in the head with captive-bolt guns, hang them up by one leg, and cut their throats—often while they're still conscious. Each person who goes vegan spares nearly 200 animals every year and may save their own life, as they can avoid hardening of the arteries and lower their risk of suffering from cancer of the colon, prostate, and breast.
PETA's billboard is located on the right side of Interstate 40 Access Road, visible from the restaurant's parking lot.
PETA—whose motto reads, in part, that "animals are not ours to eat"—opposes speciesism, a human-supremacist worldview. For more information, please visit PETA.org or follow the group on Twitter, Facebook, or Instagram.