For Immediate Release:
August 11, 2022
Contact:
Megan Wiltsie 202-483-7382
Framingham, Mass. – In honor of the first Massachusetts State Police K-9 to die in the line of duty, PETA is dedicating a leaf to heroic dog Frankie on its Tree of Life memorial at the Sam Simon Center, its Norfolk, Virginia, headquarters. The inscription reads as follows:
IN LOVING MEMORY OF FRANKIE
COURAGEOUS AND LOVED
On July 26, a suspect shot Frankie during a standoff, before apparently shooting and killing himself. The courageous K-9, who would have turned 11 years old next month, leaves behind nearly a decade of service in the state police. In June, Frankie and his handler, Sgt. David Stucenski—who never sent the dog alone into a dangerous situation—were honored for their work to capture a child pornography suspect who fired at them, and in 2017, they earned a Medal of Valor after capturing a hit-and-run suspect who fired a shot at the pair during a foot chase. In previous years, they were awarded for law-enforcement skills such as evidence recovery and agility.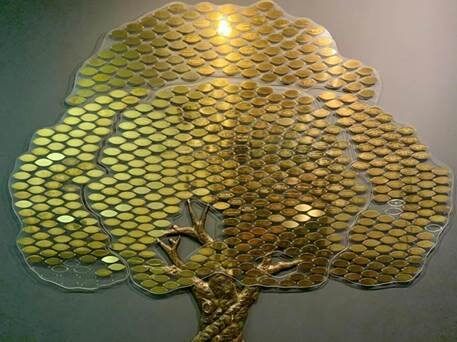 "More than once in his nine impressive years of helping to safeguard the community, Frankie protected his fellow officers as well," says PETA Senior Vice President Daphna Nachminovitch. "PETA encourages everyone to recognize all dogs as the heroes they are when given a chance and to honor them with the respect and kindness Frankie rightly received."
Kirk, a police dog who retired along with his handler after he was shot while trying to protect President Ronald Reagan in Washington, D.C., in 1981, had been adopted into the police department through a program implemented by PETA President Ingrid Newkirk. PETA has worked with police departments since its inception, endorsing positive-enforcement training, advocating for the adoption of police dogs from shelters, and advising on home keeping and care for K-9s. Police officers are often the first line of defense for abused animals they spot on the job or are called out to help. Everyone is advised to call law-enforcement officials for assistance with such cases or to call PETA, whose emergency responders are always available.
PETA—whose motto reads, in part, that "animals are not ours to abuse in any way" and which opposes speciesism, a human-supremacist worldview—honored another K-9, Koki, with a leaf on its Tree of Life in 2019. The memorial is dedicated to individuals of all species whose lives and actions made a difference.
For more information, please visit PETA.org or follow the group on Twitter, Facebook, or Instagram.