For Immediate Release:
July 11, 2022
Contact:
Megan Wiltsie 202-483-7382
Chicago – Patients and medical staff heading to local hospitals are getting an impossible to miss—and hard to protest against—plea from PETA: Stop eating animals. The sky-high message points out that animals want to live, too—and that eating them is linked to suffering from heart disease, diabetes, strokes, and certain types of cancer, including of the breast, prostate, and bowels, as well as outbreaks of swine flu, bird flu, SARS, and even COVID-19.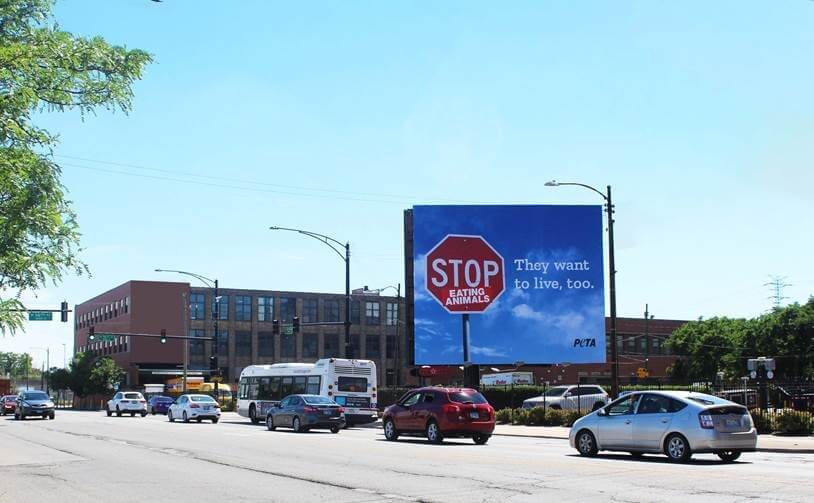 "It's high time hospitals realized how harming and killing animals comes back to harm and kill us, while a healthy vegan diet helps protect against deadly diseases," says PETA President Ingrid Newkirk. "PETA stands ready with recipes, tips, and more to help people save as many lives as possible, including their own."
In today's meat, egg, and dairy industries, animals are crammed by the thousands into filthy, windowless sheds or stuffed into wire cages or metal crates. A large portion of the beaks of hens in egg factories is cut off with a burning-hot blade, without pain relief, and cows in the dairy industry are artificially inseminated—workers insert an arm into the animals' rectum and a metal rod to deliver semen into their vagina—and then they are sent to slaughter when their bodies give out. At slaughterhouses, workers slit the throats of cows, pigs, chickens, and other animals, often while they're still conscious.
In addition to carrying a high risk of contamination from pathogens—including E. coli, campylobacter, and salmonella—meat contains no fiber and is packed with artery-clogging saturated fat and cholesterol, and eggs are cholesterol bombs that contribute to health problems, including heart disease and high blood pressure. Going vegan slashes the risk of suffering from these and other ailments. According to the Mayo Clinic, eating plant-based foods may prevent one-third of all cancer cases.
PETA's appeal can be found at 854 W. 15th Pl., across the street from four hospitals (Mount Sinai, Schwab Rehabilitation, Sinai Chicago, and Jesse Brown VA Medical Center) as well as near University of Illinois Hospital, John H. Stroger Jr. Hospital of Cook County, and Rush University Medical Center.
PETA—whose motto reads, in part, that "animals are not ours to eat"—opposes speciesism, a human-supremacist worldview. For more information, please visit PETA.org or follow the group on Twitter, Facebook, or Instagram.