For Immediate Release:
October 11, 2023
Contact:
Moira Colley 202-483-7382
Boulder, Colo. – Women-powered outdoor and lifestyle brand Krimson Klover has confirmed to PETA that, starting in 2024, it will replace all down in its products with recycled polyester fill—and for that, PETA has swooped in to thank the company with delicious duck-shaped vegan chocolates.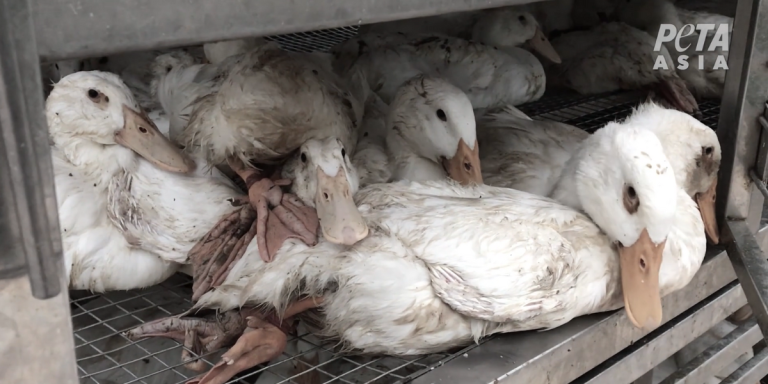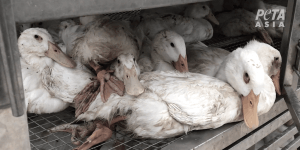 Shocking exposés by PETA entities have shown that ducks and geese suffer terribly when they're exploited by the down industry.
"Outdoor enthusiasts can flock to Krimson Klover knowing that the company isn't ripping out terrified birds' feathers by the fistful for its jackets, vests, and skirts," says PETA Executive Vice President Tracy Reiman. "PETA urges all companies to follow Krimson Klover's lead by ditching down and switching to warm and luxurious animal-free materials."
PETA exposés have repeatedly shown workers painfully live-plucking ducks and geese for down, leaving them with gaping and bloody wounds, including on farms connected to purportedly "responsible" companies. A recent PETA Asia investigation into a Vietnamese down supplier revealed that ducks' throats were slit while they were still conscious and that the birds were seen moving for at least one minute afterward.
In addition to recycled materials like those used by Krimson Klover, many other warm and cozy vegan down options are already on the market, including Thinsulate, Climashield, and PrimaLoft.
PETA—whose motto reads, in part, that "animals are not ours to wear"—opposes speciesism, a human-supremacist worldview. For more information, please visit PETA.org, listen to The PETA Podcast, or follow the group on X (formerly Twitter), Facebook, or Instagram.