For Immediate Release:
September 8, 2021
Contact:
Tapi Mbundure 202-483-7382 
Arlington, Tex. – A Compassionate Fire Department Award and a Hero to Animals Award are on their way to the Arlington Fire Department and local 5-year-old Hunter Pollard, respectively, in honor of their work together to rescue a deaf elderly dog from a storm drain.
The 15-year-old dog, Zoey, went missing on August 19. Her guardians and their neighbors searched for her for two days, but although they heard barking, they couldn't find her—until the water company used a camera to spot her inside a drainpipe under the road. Firefighters then dug for 11 hours to reach the pipe—and when one of them mentioned that a skateboard would help the rescue effort, Hunter immediately volunteered his and rescuers used it to roll down the pipe, reach Zoey, and reunite her with her relieved family.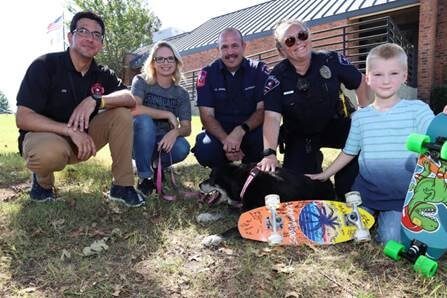 "With his compassion for animals and his eagerness to help those in need, Hunter has a bright future ahead of him," says PETA Senior Director of Youth Programs Marta Holmberg. "PETA honors him and all the rescuers who worked hard to reunite this terrified dog with her family."
In thanks for its rescue efforts, the Arlington Fire Department will receive a framed certificate, boxes of delicious vegan cookies, and a copy of The Engine 2 Diet—a Texas firefighter's 28-day plan for improving one's health by ditching meat, eggs, and dairy.
PETA—whose motto reads, in part, that "animals are not ours to abuse in any way"—opposes speciesism, a human-supremacist worldview. For more information, please visit PETA.org or follow the group on Twitter, Facebook, or Instagram.