For Immediate Release:
August 11, 2023
Contact:
Moira Colley 202-483-7382
New York – Sports reporter and Miss Universe judge Emily Austin cowers as a gloved hand plunges a syringe into her back in a new PETA campaign calling out the National Institutes of Health (NIH) for its excessive funding of the disreputable national primate research centers (NPRCs), which subject sensitive monkeys to abusive treatment in painful experiments.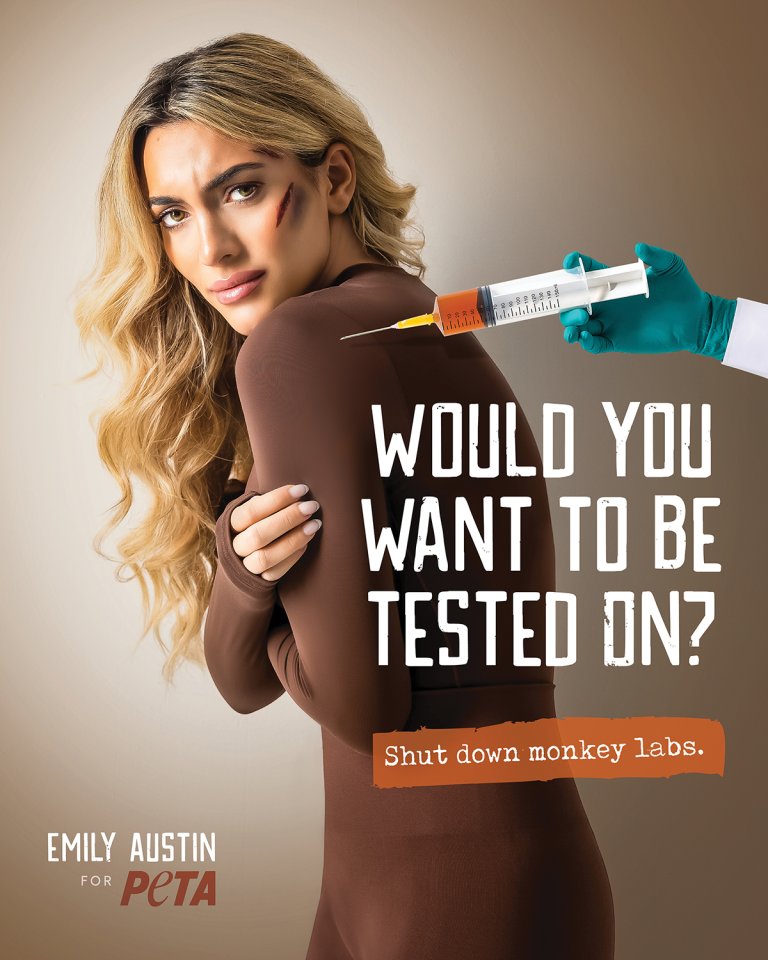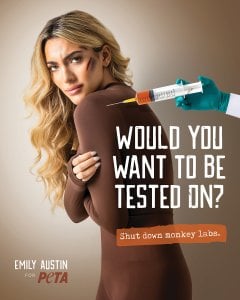 In an accompanying video, Austin pleads from the perspective of a monkey torn away from her mother, thrown into a shipping container, and sent to a laboratory, where experimenters drill into her skull and screw in a metal device, shove tubes into her body, deny her water, and forcibly impregnate her "over and over" so her babies will suffer in similar tests: "I howl in despair every time they're pried from my arms. I miss and I grieve for my babies every day."
"It's too late for me but not for these other monkeys," says Austin. "Please help end this abuse and speak out now to shut down the seven national primate research centers."
NIH gives millions of taxpayer dollars to NPRCs so that they can pry baby monkeys away from their mothers, electroshock primates' penises, force them to inhale tobacco smoke, and inject them with deadly pathogens. The facilities have racked up hundreds of animal welfare violations, yet after decades, the cruel tests haven't delivered the promised vaccines for HIV, malaria, tuberculosis, and more. Monkeys have died from starvation, dehydration, strangulation, choking on their own vomit, scalding in a high-temperature cage washer, and veterinary error. NPRCs remain at Emory University, Oregon Health & Science University, Texas Biomedical Research Institute, Tulane University, the University of California–Davis, the University of Washington, and the University of Wisconsin–Madison.
PETA—whose motto reads, in part, that "animals are not ours to experiment on"—opposes speciesism, a human-supremacist worldview. For more information, please visit PETA.org, listen to The PETA Podcast, or follow the group on Twitter, Facebook, or Instagram.