For Immediate Release:
November 15, 2023
Contact:
Nicole Perreira 202-483-7382
Plymouth, Mass. – An adorable little girl dressed as a turkey takes center stage as a crowd of proud parents looks on—but as the applause begins, the "turkey" goes off script, describing how the birds face "a death so cruel and painful it makes their miserable lives seem like a holiday." That's the video now running in theaters before opening-week screenings of the slasher film Thanksgiving as PETA aims to give theatergoers near the birthplace of the holiday a taste of some real-life horror.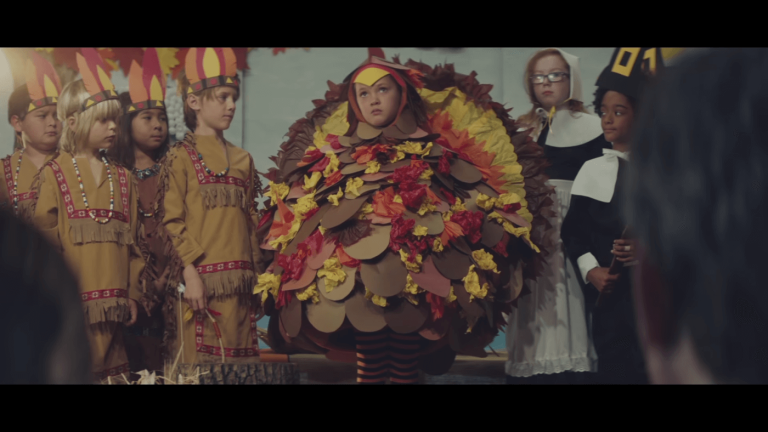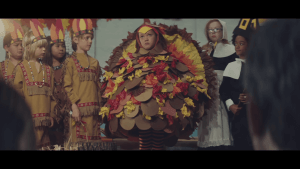 Credit: PETA
The video, directed by famed music video and commercial director Dave Meyers, begins with one of the play's "Pilgrims" saying, "And the Pilgrims and the Native Americans gave thanks that day." The "turkey" then takes over, saying, "But not the turkey. Because he knew this was as good as it was gonna get." After she gives the shocked parents a few details about turkeys' gruesome lives, the video ends with a simple message: Go vegan.
"Thanksgiving is a time to express our gratitude and practice empathy, but it's a true horror story for turkeys, who don't want to be carved up any more than we do," said PETA Executive Vice President Tracy Reiman. "PETA is bringing this message to the big screen near Plymouth, where Thanksgiving began, to encourage everyone to start a new, compassionate tradition by celebrating 'ThanksVegan' this year."
Turkeys are protective and loving parents as well as spirited explorers who can climb trees. Yet every year, approximately 46 million turkeys are killed for Thanksgiving alone. Turkeys raised for food are commonly slaughtered in the first six months of their life. The young birds are hung upside down and dragged through electrified water, and their throats are slit before they're dumped into scalding-hot water to remove their feathers—sometimes while still alive.
PETA offers a ThanksVegan guide filled with delicious recipes and cooking tips and a list of hearty vegan roasts to help everyone celebrate the holiday with a turkey-friendly feast.
PETA's video will play before screenings of Thanksgiving at AMC Assembly Row 12 in Somerville, AMC Boston Common 19 in Boston, AMC Braintree 10 in Braintree, and AMC South Bay Center 12 in Dorchester.
PETA—whose motto reads, in part, that "animals are not ours to eat"—opposes speciesism, a human-supremacist worldview. For more information on PETA's investigative newsgathering and reporting, please visit PETA.org, listen to The PETA Podcast, or follow the group on X (formerly Twitter), Facebook, or Instagram.