15-Year-Old Three-Legged Dog Takes Bullet for Guardians, Scares Off Home Invader
For Immediate Release:
February 2, 2016
Contact:
Lakisha Ridley 202-483-7382
Janesville, Wis. – A Heroic Dog Award from PETA is on its way to the Wisconsin home of Darcy Cherry, in recognition of her beloved 15-year-old dog Levi's brave defense of their home from an armed robber. When a masked man drew a gun on Cherry and her boyfriend, Bob, Levi approached the man and growled, refusing to back off. After shooting Levi—leaving a bullet lodged in his left shoulder that also grazed his skull—the intruder fled.
"If Levi wasn't here, it could've been one of us, because that man was prepared to shoot," Cherry told PETA. "He's absolutely amazing," she continued, tearing up.  Levi is expected to make a full recovery, and police say the perpetrator has yet to be apprehended.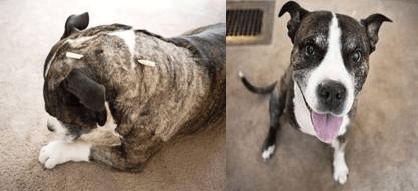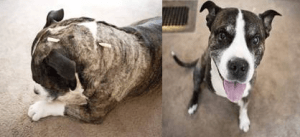 "Like many dogs before him, this brave pup risked life and limb to protect his pack," says PETA Senior Director Colleen O'Brien. "PETA hopes his story will encourage all dog guardians to treat their canine companions as members of the family by taking them on walks, playing with them, and showering them with affection."
To recognize Levi's brave actions, PETA is sending him a get-well "doggie bag" containing a blanket, eco-friendly squeaky toy, Nylabone, and box of vegan dog treats. PETA—whose motto reads, in part, that "animals are not ours to abuse in any way"—offers tips for helping animal companions on its website.
For more information, please visit PETA.org.