PETA and Suffolk County SPCA Search for Person Who Pushed Dog out of SUV
For Immediate Release:
February 4, 2016
Contact:
David Perle 202-483-7382
Moriches, N.Y. – On January 18 at about 4 p.m., at least one witness was shocked to see the driver of a green, possibly dark green Jeep Grand Cherokee on Jerusalem Hollow Road reportedly push a tan and white dog out of the SUV and drive off. As the dog desperately chased after the vehicle, the animal was hit by a car traveling in the opposite direction.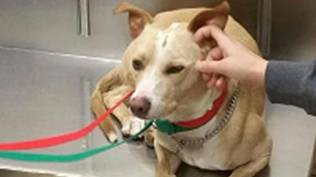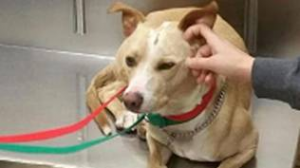 Suffolk County SPCA
The dog, who sustained bruising, has recovered and already has a new adoptive home, but authorities have yet to determine who is responsible for dumping the animal. That's why PETA—whose motto reads, in part, that "animals are not ours to abuse in any way"—is doubling the Suffolk County SPCA's reward offer for information leading to the arrest and conviction of the person or persons responsible for the crime, bringing the total reward to $4,000.
"It's hard to imagine the terror and confusion that this dog felt after being pushed out of a vehicle and abandoned on a busy road—only to be immediately hit by another car," says PETA Director Stephanie Bell. "PETA urges anyone with information about this cruel incident to come forward immediately so that whoever is responsible for treating this loving dog like a piece of garbage can be held accountable."
Anyone with information about this case is encouraged to contact the Suffolk County SPCA at 631-382-7722.
For more information about PETA, please visit PETA.org.