For Immediate Release:
July 6, 2022
Contact:
Megan Wiltsie 202-483-7382
Detroit – Just in time for National Ice Cream Month, PETA has placed a new sky-high message right behind the Giant Cow Head landmark. In a twist on Edvard Munch's "The Scream," the new display alerts viewers to the fact that the dairy industry takes screaming calves away from their mothers shortly after birth so that their milk can be sold for human consumption instead.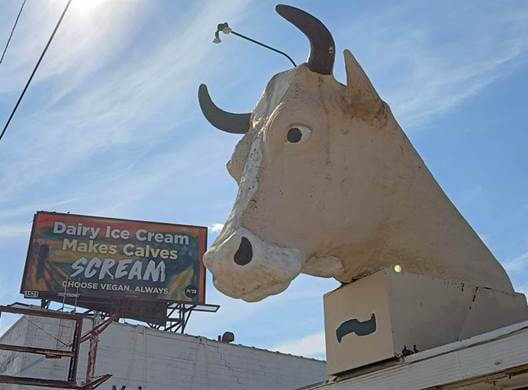 Photo courtesy of Karen Mouradjian
"Every scoop of dairy ice cream represents the misery and heartbreak of a mother cow and the calf who was stolen from her," says PETA President Ingrid Newkirk. "PETA encourages everyone to put cruelty on ice and choose one of the many delicious vegan desserts on the market today."
Nearly all of the 10 million cows who are abused for their milk each year in the U.S. are confined to cramped, filthy feedlots where they're forced to stand on concrete flooring. PETA's investigations into dairy facilities have found workers electroshocking cows in the face, hitting them with poles and a cane, and abusing them in other ways. It's standard industry practice to artificially inseminate cows—workers insert an arm into the animals' rectum and a metal rod to deliver semen into their vagina—and to send them to slaughter once their bodies wear out.
Cow's milk is one of the leading food allergens among children, and millions of people—roughly 65% of the global population—are lactose intolerant. For all these reasons and more, vegan ice cream products—such as Oatly's vegan ice creams in flavors like strawberry and hazelnut swirl, Ben & Jerry's 20 vegan flavors, and Haagen-Dazs' seven vegan offerings—are now flooding the market.
PETA's billboard is located at 13031 Mack Ave. in Detroit, right behind the Giant Cow Head, viewable by traffic headed west on Mack Avenue.
PETA—whose motto reads, in part, that "animals are not ours to eat or abuse in any other way"—opposes speciesism, a human-supremacist worldview that fosters violence toward other animals. For more information, please visit PETA.org or follow the group on Twitter, Facebook, or Instagram.