For Immediate Release:
October 24, 2023
Contact:
Brittney Williams 202-483-7382
Sanpete County, Utah – Following a just-released U.S. Department of Agriculture (USDA) report revealing that a worker at the Pitman Farms Inc. slaughterhouse near Moroni was caught on video repeatedly striking a live turkey against metal shackles, PETA sent a letter to Sanpete County Attorney Kevin L. Daniels calling on him to investigate and file appropriate criminal charges against those responsible.
According to the report, on April 12 a USDA inspector saw a worker grab a live turkey by her legs and drop her after she flapped her wings "trying to get away." The worker immediately picked up the bird and "in a sideways swinging motion, forcefully struck the turkey" two times against solid metal shackles, hitting her back, wings, neck, and head before hanging her in shackles and laughing.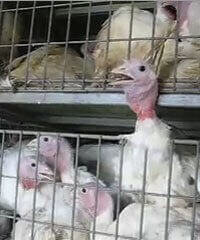 Turkeys are confined to cages in a transport truck. Photo: PETA
"At this hell on Earth for animals, a turkey already heading to slaughter endured the extra pain and fear of being violently assaulted," says PETA Vice President of Evidence Analysis Daniel Paden. "PETA urges anyone who still eats turkeys to spare a thought for the suffering of this vulnerable bird and go vegan."
This is not the first time Pitman Farms has been cited by the feds. In April 2021, USDA inspectors documented that slaughterhouse workers left severely injured turkeys to languish for hours after they were crushed in an overturned truck.
PETA is pursuing charges under state law because federal officials haven't prosecuted any inspected slaughterhouses for acts of abuse since at least 2007.
PETA—whose motto reads, in part, that "animals are not ours to eat"—opposes speciesism, a human-supremacist worldview. For more information, please visit PETA.org, listen to The PETA Podcast, or follow the group on X (formerly Twitter), Facebook, or Instagram.
PETA's letter to Daniels follows.
October 24, 2023
The Honorable Kevin L. Daniels
Sanpete County Attorney
Dear Mr. Daniels:
I'm writing to request that your office (and the Sanpete County Sheriff's Office, as you deem appropriate) investigate and file applicable criminal charges against the individual responsible for repeatedly striking a live turkey against metal shackles on April 12 at the Pitman Farms Inc. (aka "Moroni Turkey Processing") slaughterhouse located at 350 S. 300 West St. near Moroni. The U.S. Department of Agriculture's Food Safety and Inspection Service (FSIS) documented the incident in the attached report, which the agency just made available to the public.
An inspector saw a slaughterhouse employee drop a live turkey, who had flapped her wings when the worker grabbed her by the legs. According to the report, the worker "immediately picked up the live turkey … and in a sideways swinging motion, forcefully struck the live turkey against the metal shackles two times. … [T]he back, wings, neck, and head of the live turkey struck the solid shackles. The [inspector] observed the turkey to become motionless. … Immediately after hanging the turkey … the employee laugh[ed] out loud."
Pitman Farms management located video footage of the incident, concurred that it constituted "mistreatment," and identified the perpetrator.
This conduct appears to violate Utah Code § 76-9-301 (4) (a). Please note that the FSIS' report carries no criminal or civil penalties and does not preempt criminal liability under state law for acts of cruelty to animals. Given that the FSIS hasn't initiated a criminal prosecution for inhumane handling at a licensed slaughterhouse since at least 2007, charges under state law are this victim's only chance at a measure of justice
Thank you for your time and consideration.
Sincerely,
Daniel Paden
Vice President of Evidence Analysis
Cruelty Investigations Department
PETA
cc:       Sheriff Jared Buchanan, Sanpete County Sheriff's Office