USDA Also Slams Facility for Telling Staff to Kick Cubs Following PETA Exposé
For Immediate Release:
September 14, 2023
Contact:
David Perle 202-483-7382
Rapid City, S.D. – After PETA alerted the U.S. Department of Agriculture (USDA) to its undercover investigation showing Bear Country U.S.A. supervisors kicking cubs and admitting to using bottle rockets, chainsaws, and fireworks to scare mother bears out of and away from their dens so that they could snatch the cubs to be put on display, the agency just cited the local roadside zoo for causing "trauma, behavioral stress, physical harm, or unnecessary discomfort" to bears. Based on PETA's tip and evidence from the undercover investigator, the agency has also cited Bear Country U.S.A. for allowing lynx to repeatedly escape from an enclosure.
As revealed in the shocking exposé, workers at the roadside zoo set off fireworks to keep mother bears from being able to protect their babies, even standing by with shotguns and running loud chainsaws so the mothers couldn't hear the babies crying. In nature, cubs stay with their mothers for at least 16 months, while Bear Country U.S.A. forcibly separates them when they're no more than 8 weeks old and keeps them in cardboard boxes, then exploits them by letting people handle them.
"Bear Country U.S.A. knows that separating bear cubs from their mothers is deeply traumatic to both mother and cub, so it devised nefarious means to terrify the mothers and to drown out the cubs' screams," says PETA Foundation Director of Captive Animal Welfare Debbie Metzler. "These government citations are a step in the right direction, and now PETA is urging the USDA to prevent this abusive facility from breeding any more bears for public display."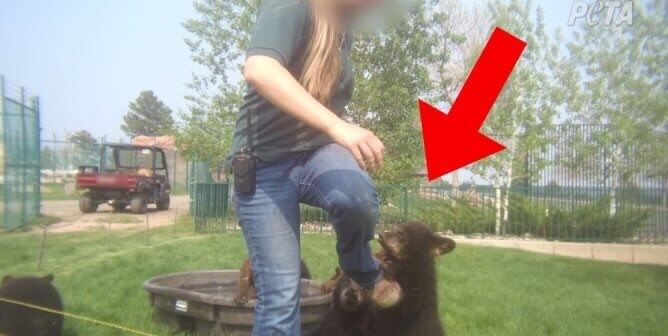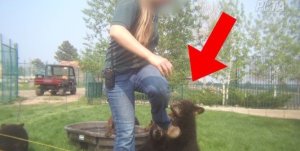 Because the inspection report doesn't acknowledge that Bear Country U.S.A. separates cubs from their mothers primarily so that it can put the cubs on display, today PETA sent a letter to the USDA urging the agency to make it clear to the roadside zoo that cubs should only be separated from their mothers briefly in rare medical emergencies. As a supervisor admitted to PETA's investigator, the animals are bred each year because they "are nice out front for people to see. People enjoy the babies more than anything."
PETA—whose motto reads, in part, that "animals are not ours to use for entertainment"—opposes speciesism, a human-supremacist worldview. For more information on PETA's investigative newsgathering and reporting, please visit PETA.org, listen to The PETA Podcast, or follow the group on X (formerly Twitter), Facebook, or Instagram.