Officer Frees Gosling Tangled in Balloon String
For Immediate Release:
May 20, 2016
Contact:
Megan Wiltsie 202-483-7382
Cincinnati, Ohio – Courtesy of PETA, a Compassionate Police Department Award is on its way to the Cincinnati Police Department for its rescue of a gosling who was tangled in a balloon string. The award follows an incident on May 9 in which a mother goose approached a police car and pecked at the door until Officer James Givens came out. Givens followed the mother to her baby, who was badly tangled in the string, and radioed for assistance. While the mother goose looked on, Officer Cecilia Charron arrived and safely untangled the gosling.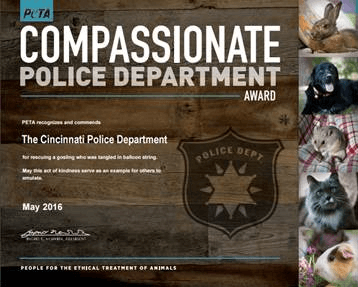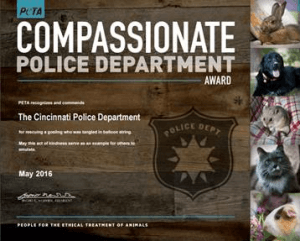 "This mother goose knew what she was doing when she pecked on a police car door, and the officers' kindness saved a terrified baby bird from a potentially deadly ordeal," says PETA Vice President Colleen O'Brien. "PETA urges everyone to dispose of garbage properly to avoid harming wildlife—and always to come to the aid of any animal in need."
The Cincinnati Police Department will receive a framed certificate and some delicious vegan cookies from PETA.
PETA—whose motto reads, in part, that "animals are not ours to abuse in any way"—offers tips for helping wildlife on its website. Wildlife rehabilitators suggest celebrating birthdays and other events without balloons—which often end up polluting the environment—and stress the importance of crushing recyclable and nonrecyclable cans and cups as well as cutting through all plastic rings so that animals do not become stuck in them.
For more information, please visit PETA.org.