For Immediate Release:
November 9, 2023
Contact:
David Perle 202-483-7382
Norfolk, Va. – "I knew it was bad, but I just didn't know it was this bad" and "That should be criminal." This is how celebrities—including actors Emilio Rivera, Theo Rossi, and Kate del Castillo—are reacting to disturbing video footage from PETA that reveals how animals are mutilated and killed in the laboratory experimentation industry.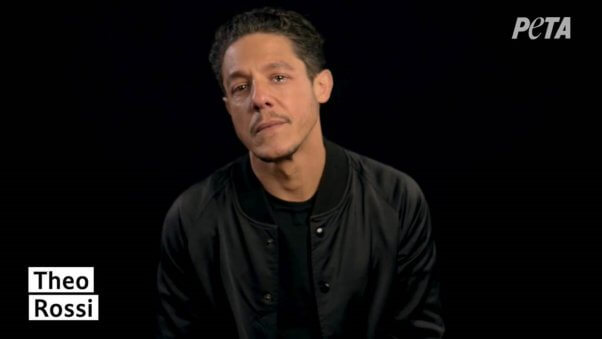 Sitting in front of a monitor, each celebrity watched actual footage of experimenters tearing baby monkeys away from their mothers and implanting electrodes in their skulls, crushing cats' spines, force-feeding dogs toxic chemicals, mutilating owls' brains, puncturing the intestines of mice so that feces leaked into their stomachs, and terrorizing songbirds with the sounds of predators.
"I don't understand how they sleep," a tearful Rossi says about the experimenters. Outraged, his former co-star Rivera adds, "What are we gonna learn from that?"
Studies show that 90% of basic research—most of which involves animals—fails to lead to treatments for humans and that 95% of all new medications that test safe and effective in animals later fail in human clinical trials. Yet every year, 110 million animals die in U.S. laboratories and the National Institutes of Health spends $20 billion—nearly half its annual budget—on animal studies. PETA scientists' Research Modernization Deal presents evidence of the failure of animal experimentation and provides a strategy for replacing such experiments with superior, human-relevant methods.
PETA—whose motto reads, in part, that "animals are not ours to experiment on"—opposes speciesism, a human-supremacist worldview. For more information on PETA's investigative newsgathering and reporting, please visit PETA.org, listen to The PETA Podcast, or follow the group on X (formerly Twitter), Facebook, or Instagram.