'Jessica Jones' Actor Urges Marine Park to Retire Long-Suffering Orcas to Seaside Sanctuaries
For Immediate Release:
August 4, 2016
Contact:
Moira Colley 202-483-7382
Los Angeles – Jessica Jones star Krysten Ritter has proved that she's a real-life superhero for animals by starring in a new PETA campaign urging SeaWorld to free the orcas imprisoned in its tiny tanks. In a new print ad— available here and shot by famous underwater photographer Michael Muller—the beautiful actor floats inside a tank in a black-and-white bikini with her hands pressed against broken glass, next to the words "Break Free. Help Free the Orcas From SeaWorld."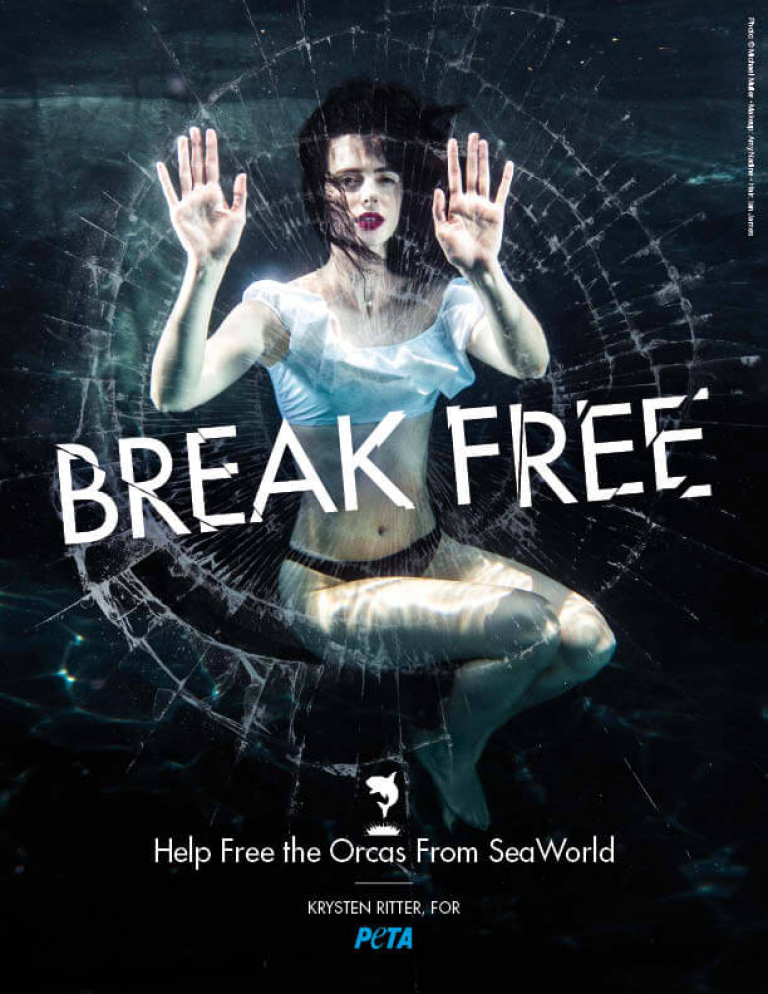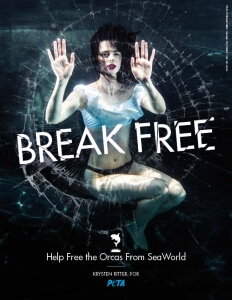 Orcas imprisoned at SeaWorld swim endlessly in circles, break their teeth by gnawing on metal tank bars, and are often given the drug diazepam to manage stress-induced, aggressive psychotic behavior. In an exclusive interview with PETA, Ritter says, "Orcas are meant to swim for 100 miles a day. They would have to swim back and forth 3,100 times in their tank to make up for that exercise."
She also explains that orcas have complex communication systems and typically spend their entire lives in close-knit family groups—but at SeaWorld, families are torn apart and orcas are housed with incompatible tankmates. She adds, "They are paired with other orcas who maybe don't even speak their same language. It would be like you and I trapped in a bathtub and you spoke French and I spoke English. There [would be] no way for us to communicate."
Muller, who is best known for his photographs of free-swimming great white sharks, currently has a collection on display at Taschen Gallery in Los Angeles.
Ritter has previously starred in several campaigns for PETA—whose motto reads, in part, that "animals are not ours to use for entertainment"—and now, she joins a long list of celebrities—including Jason Biggs, Lily Tomlin, Marisa Miller, Joan Jett, Tommy Lee, Bob Barker, Joanna Krupa, and Laura Vandervoort—who have teamed up with PETA to speak out against abusement parks that keep intelligent marine mammals in captivity.
For more information, please visit PETA's website SeaWorldOfHurt.com.