For Immediate Release:
November 2, 2023
Contact:
Brittney Williams 202-483-7382
Dallas – "Would you like some vegan cheese with that wine?" Attendees at Saturday's Drink North Texas Wine Festival will get a tasty treat from PETA supporters, who—accompanied by a pair of giant inflatable babies—will hand out free Babybel Plant-Based cheese snacks, reminding people that cow's milk is for calves and that their favorite wines pair perfectly with delicious vegan hors d'oeuvres.
When:    Saturday, November 4, 1 p.m.
Where:    Outside The Sound at Cypress Waters, 3111 Olympus Blvd., Dallas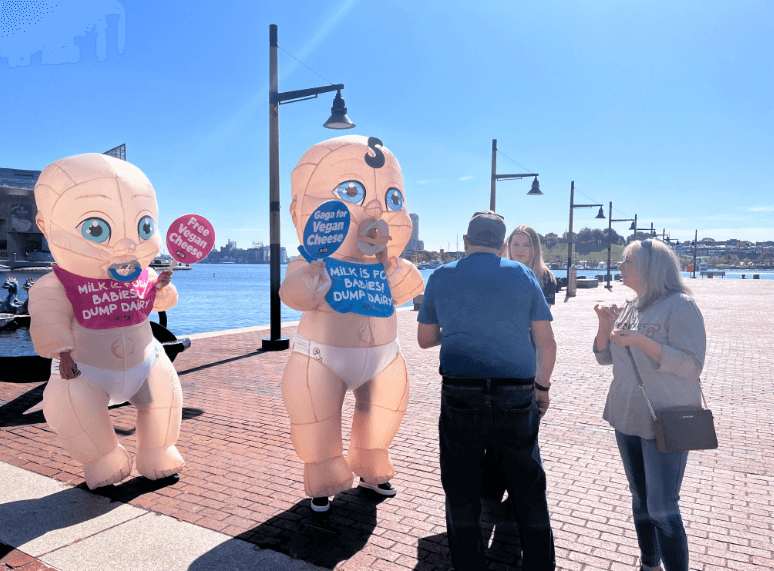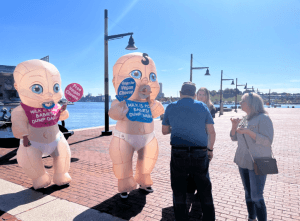 Photo: PETA
"Cows love their calves, and cow's milk is meant for baby cows, not for humans," says PETA Executive Vice President Tracy Reiman. "PETA encourages everyone to ditch dairy and instead serve their vino with some of the many delicious vegan cheeses available."
In the dairy industry, calves are torn away from their mothers within a day of birth so that the milk meant for them can be stolen and sold to humans as cheese, yogurt, and other "products." PETA's investigations into dairy facilities have found workers electroshocking cows in the face, hitting them with poles and a cane, and abusing them in other ways. Once their bodies wear out from repeated pregnancies, they're sent to slaughter.
PETA—whose motto reads, in part, that "animals are not ours to eat or abuse in any other way"—opposes speciesism, a human-supremacist worldview.
For more information, please visit PETA.org, listen to The PETA Podcast, or follow the group on X (formerly Twitter), Facebook, or Instagram.