US
Mayans M.C. Star: Dogs Belong Inside
Actor Emilio Rivera knows there's nothing macho about abusing animals. Rivera was near tears as he talked about dogs who are chained outdoors 24/7: "Yeah, sometimes you think, Why is my dog barking so much? Because you got him chained up. That's why he's screaming. He wants your help. It's heartbreaking, because they give us so much love." PETA's fieldworkers routinely find chained dogs who endure scorching heat, freezing cold, and severe neglect. Some have even been found dead on their chain.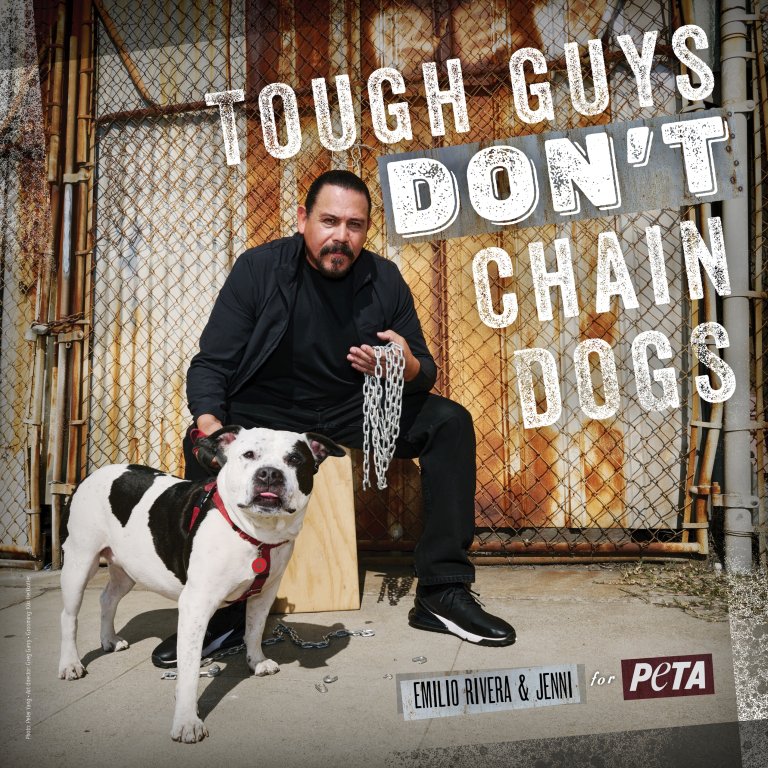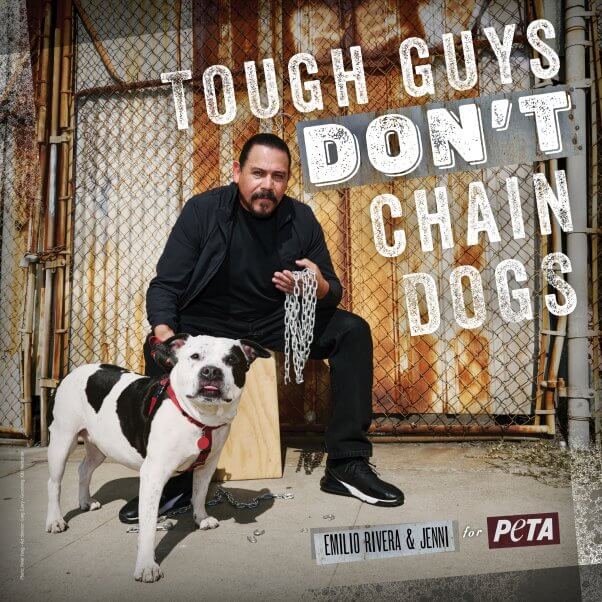 © Photo – Peter Yang | Art director – Greg Garry | Grooming: Kiki Heitkotter
Be Part of It!
Catch a video from Rivera and a surprise Sons of Anarchy costar, and share it with everyone you know.
INDIA
BOOM! Maharashtra Prohibits Manja and Protects Pigs
PETA India spoke up, and the Maharashtra government stepped up – with a ban on deadly manja. Used in kite-flying contests, this string coated with finely crushed glass, metal, or other substances slashes and even cuts off the wings or feet of thousands of birds every year.
The state government also instructed local officials to comply with PETA India's request to ban gestation and farrowing crates in pig farming. These crates are so small that sows can't turn around or stand up in them.
Following PETA India's appeals, Haryana also banned manja, and Assam and Odisha outlawed gestation and farrowing crates.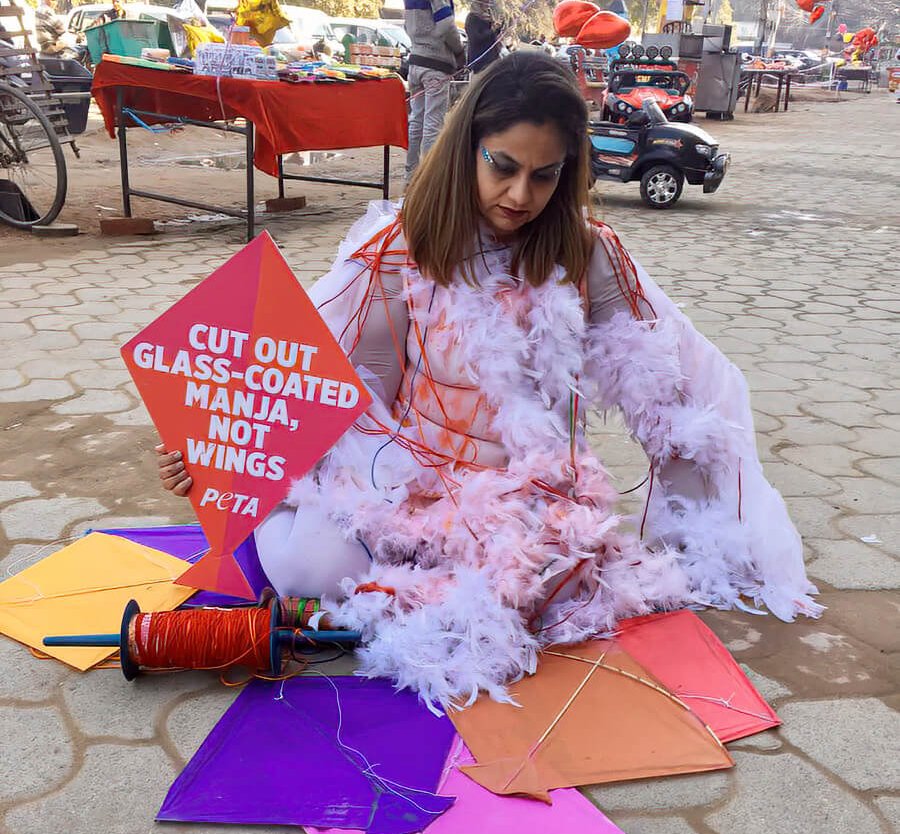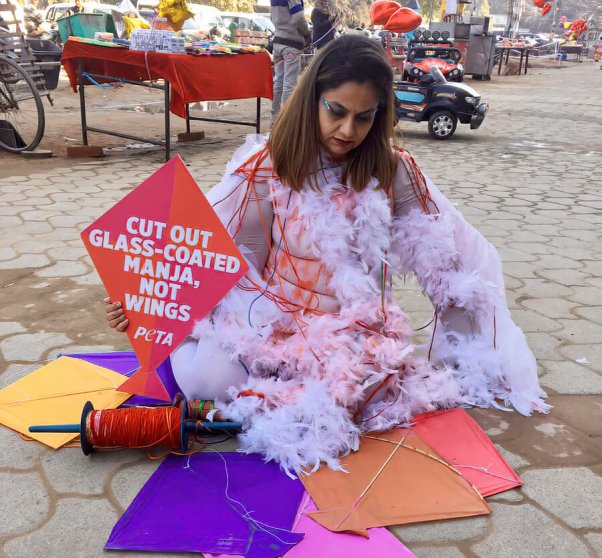 Be Part of It!
Pigs dream, know their own names, and enjoy music. Help them and other animals by trying vegan recipes.
UK
Cruelty in Every Blink
Emily Miller, star of the steamy reality show Too Hot to Handle, teamed up with PETA UK to urge fans to keep their bedroom eyes cruelty-free with synthetic lashes. "Some companies may claim they sell 'cruelty-free' mink lashes, but that is a scam," Miller says.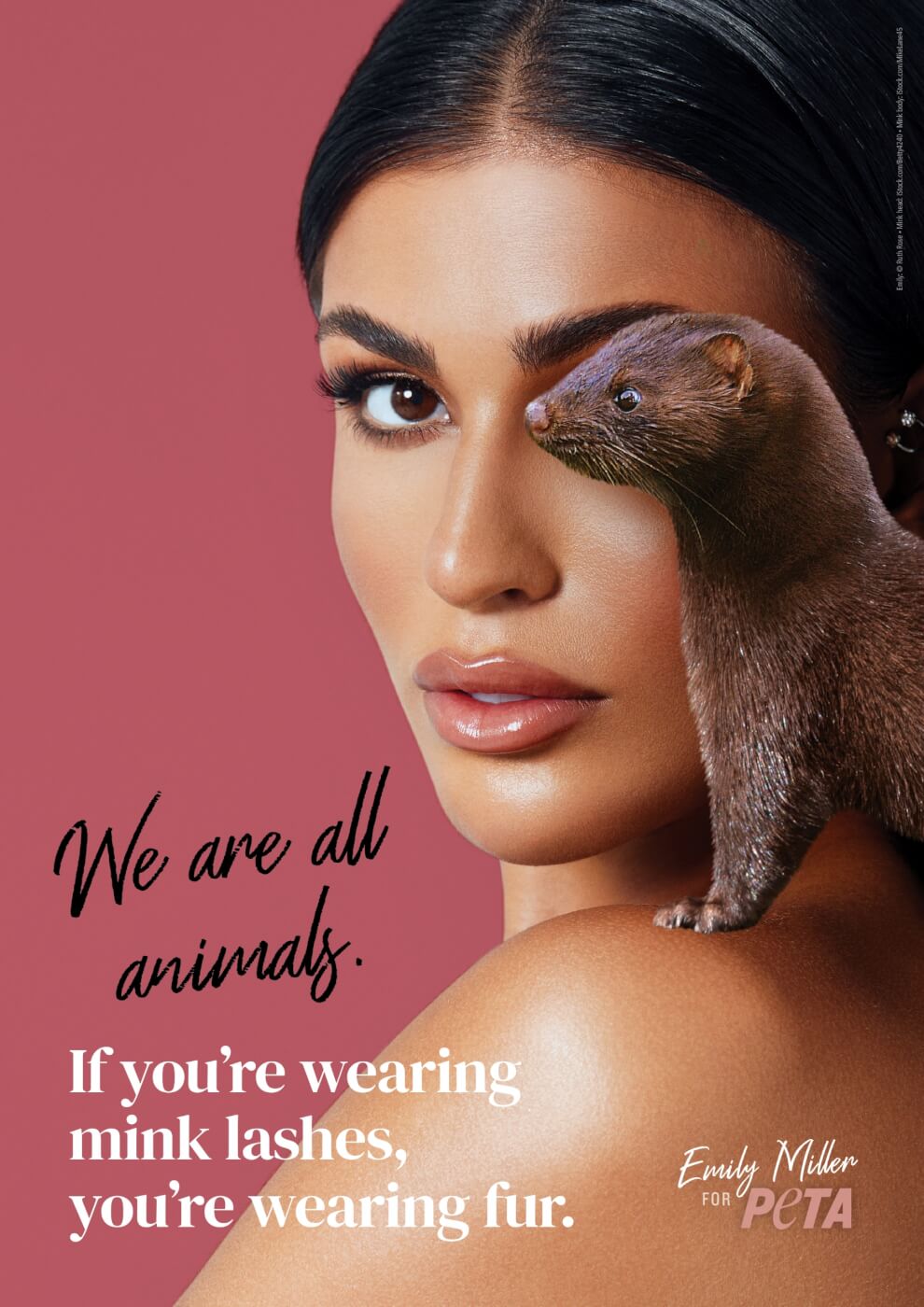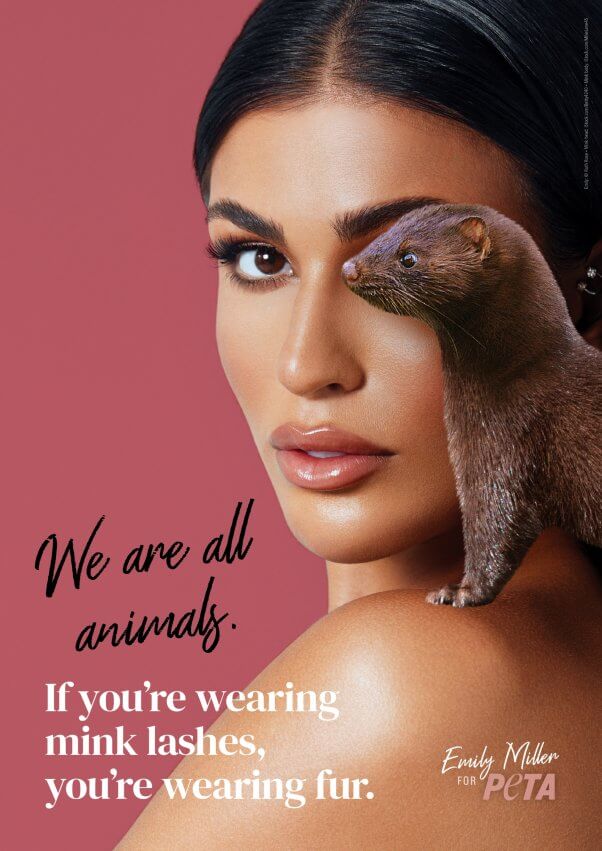 © Photo – Ruth Rose | Mink head – iStock.com/Betty4240 | Mink body – iStock/MikeLane45
Be Part of It!
Urge Lilly Lashes to drop fur lashes immediately.
USA
VICTORY! PETA Stops Med School's Pig Mutilations
When 97,000 PETA supporters – including PETA Honorary Director James Cromwell – demand action, they get results. Following a PETA campaign against the University of Tennessee Health Science Center – in which we confronted its chancellor and other officials during campus events and spoke at trustees' meetings – the university stopped using live animals to train surgeons and emergency physicians on its Chattanooga campus.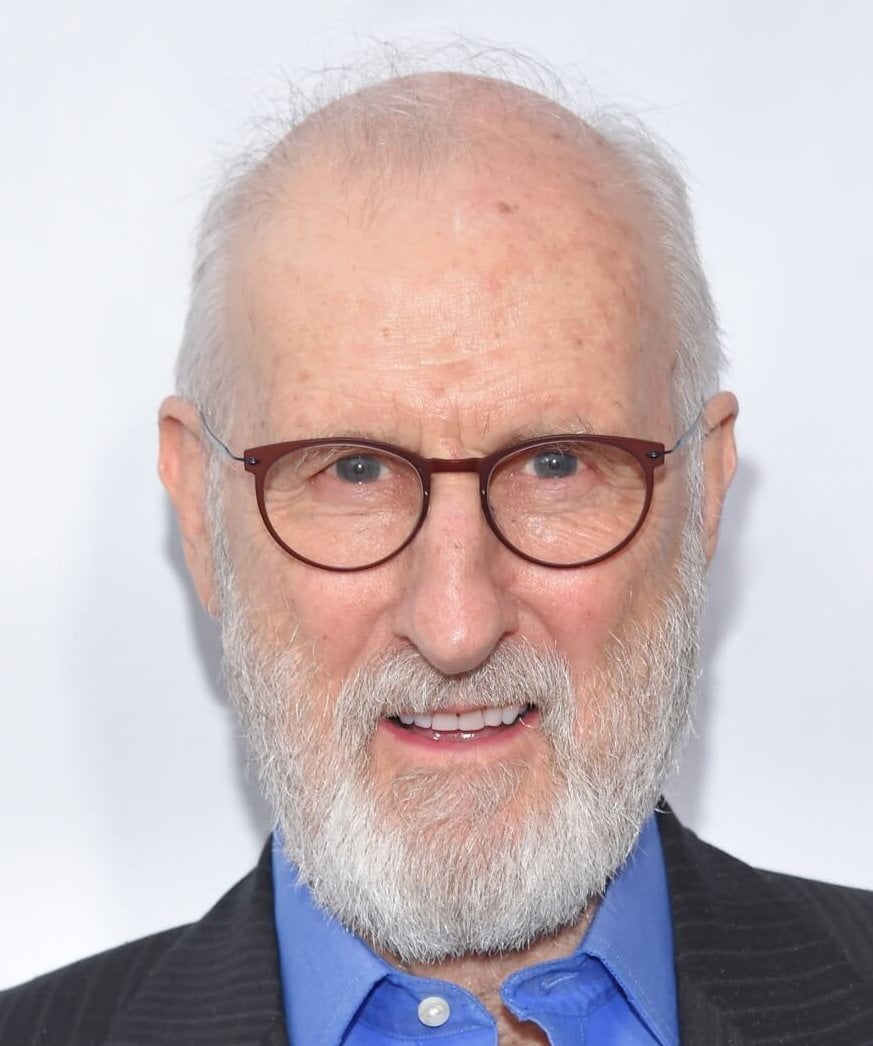 © DFree/Shutterstock.com
GLOBAL
WIN! HelloFresh Drops Thai Coconut Milk
Following PETA Asia investigations and nearly 100,000 e-mails from our supporters, meal kit delivery giant HelloFresh removed Thai coconut milk products from its supply chain. In Thailand, infant macaque monkeys are kidnapped from their forest homes and chained, beaten, and forced to pick coconuts. PETA UK "monkeys" dumped humanely picked coconuts outside Whole Foods, demanding that it join retailers – including supermarket chain ASDA – that have banned Thai coconut milk.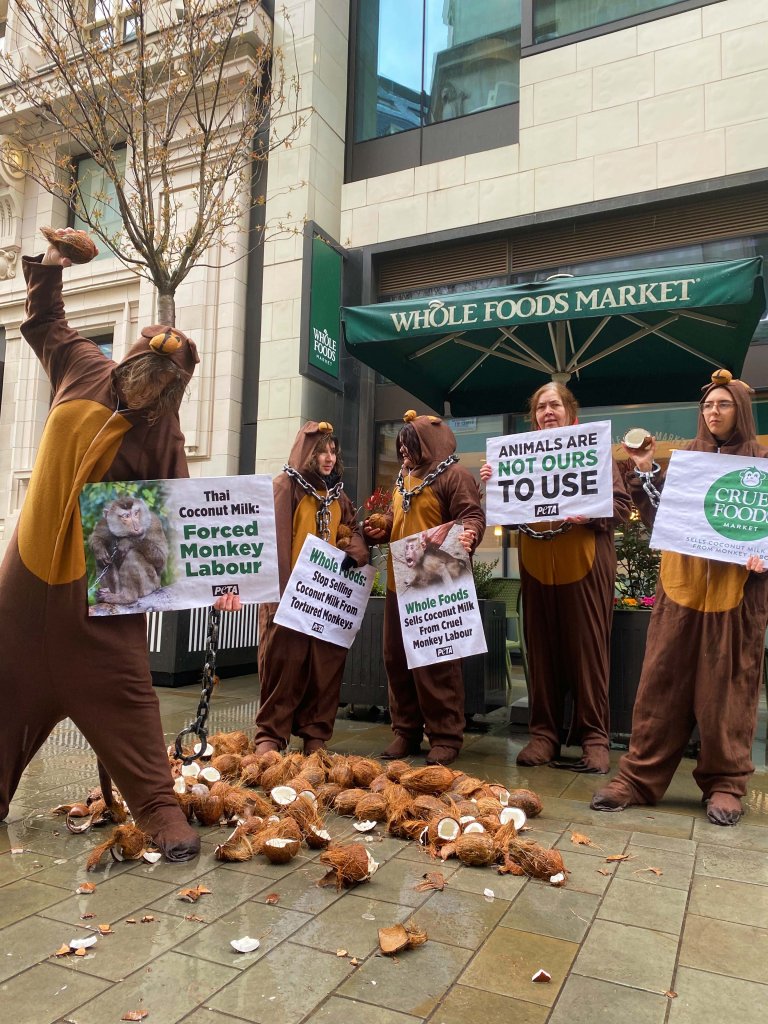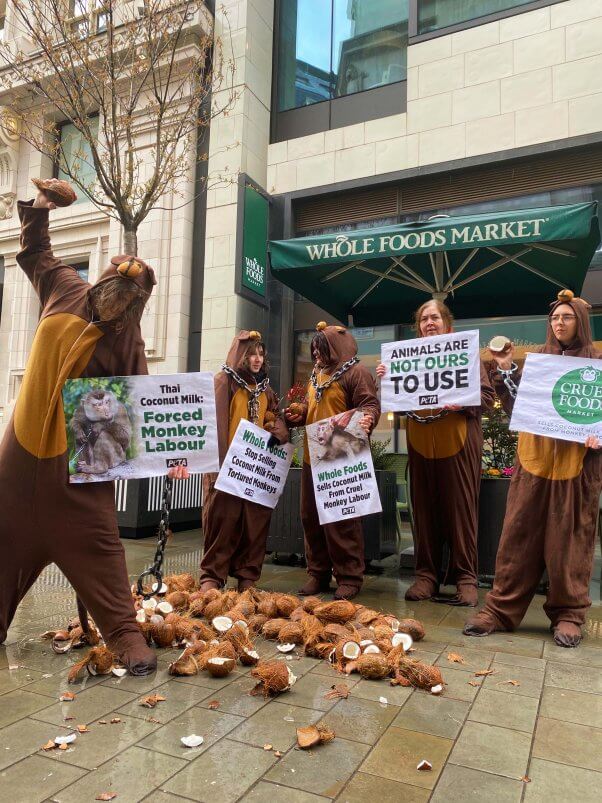 Be Part of It!
Urge Whole Foods to end 365 brand Thai monkey labor.
INDIA
BIG WIN! Robots vs. Real Elephants in Temples
After the Irinjadappilly Sree Krishna Temple pledged never to use real elephants, PETA India and actor Parvathy Thiruvothu presented it with a jumbo gift: a realistic, life-size animatronic elephant who waggles his ears, lifts his trunk, moves his head, and performs ceremonies, even spraying water. As highly social beings, elephants need to live with their families and walk miles every day, but those used in temples are beaten, chained, and isolated. PETA India has freed some – including Sunder and Gajraj, who went to sanctuaries – and urges all temples to use only mechanical elephants. As this temple's priest says, "Real worship is to protect all forms of life created by God."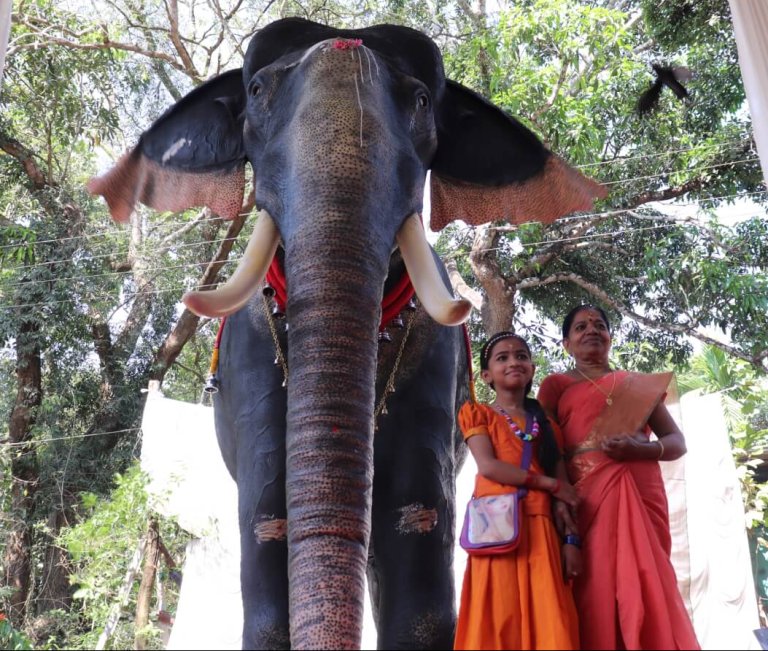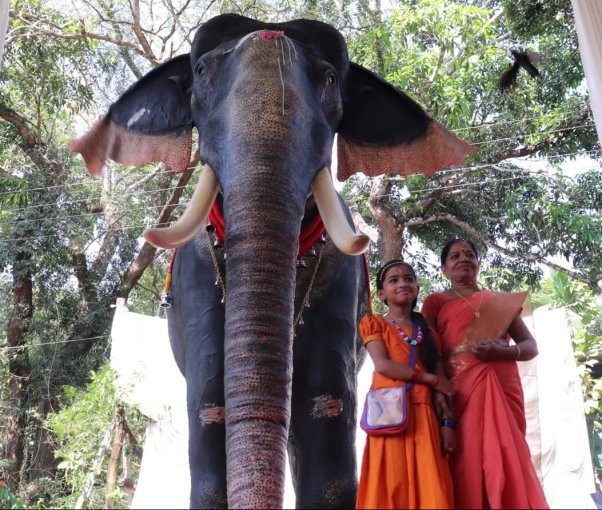 GLOBAL
Get the Feathers Out, H&M
PETA supporters flew to H&M's flagship store in Tokyo to warn shoppers about down from ducks who suffer from gaping and bloody wounds, languish in dirty sheds, and are stabbed in the neck while conscious. PETA Asia's investigation revealed that's what birds endure on Vietnamese duck farms and in slaughterhouses that sell "responsible" down – including a producer that confirmed it supplied to H&M.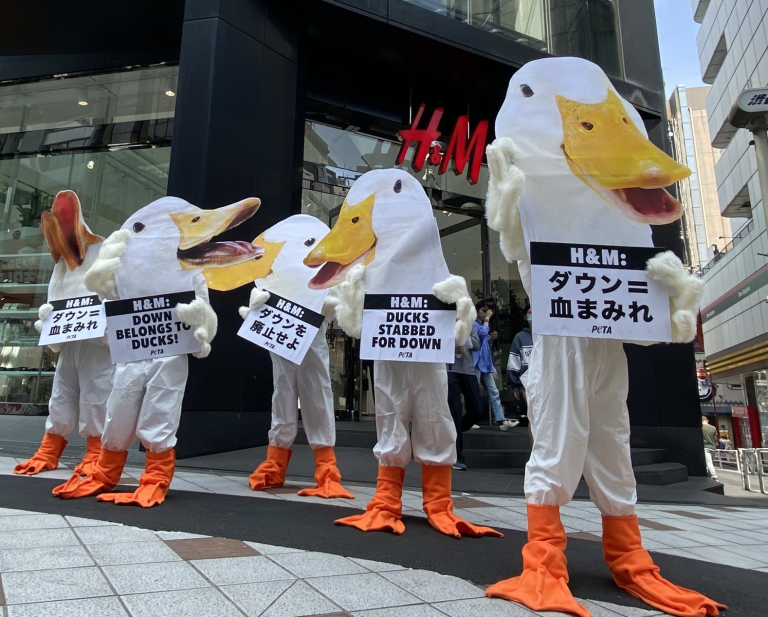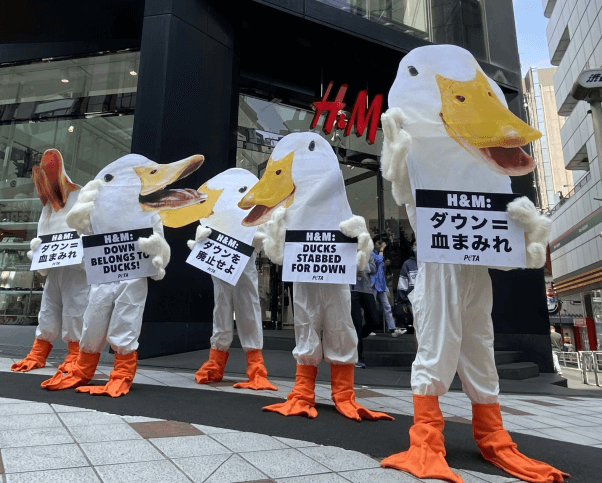 Be Part of It!
Ducks are individuals who value their lives and love their families. Please ditch down, and tell H&M to do the same.
USA
Mike Posner: Let Vegan Grow On You
PETA teamed up with singer-songwriter Mike Posner, who is using his clout – and sprouts – to promote the power of plants. "There's a lot of different reasons to eat vegan, and they're all good!" says the environmentally conscious, Grammy-nominated artist, who walked across the US and climbed Mount Everest before releasing the moving "I'm Not Dead Yet." In addition to reducing their risk of heart disease and diabetes, each vegan saves nearly 200 animals a year.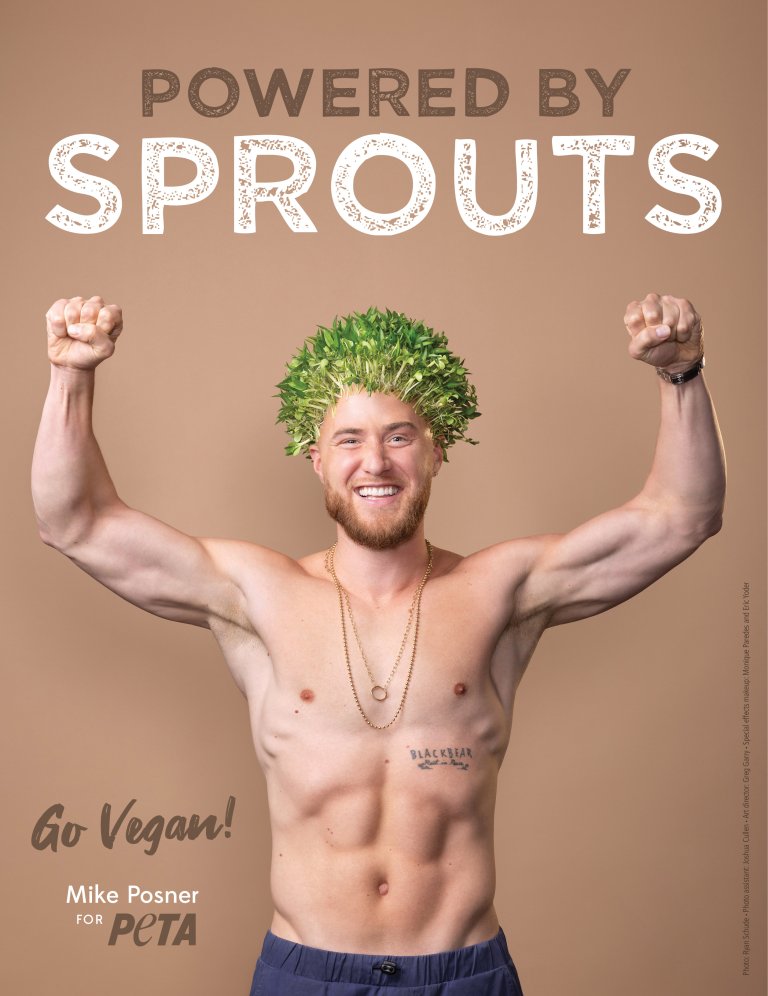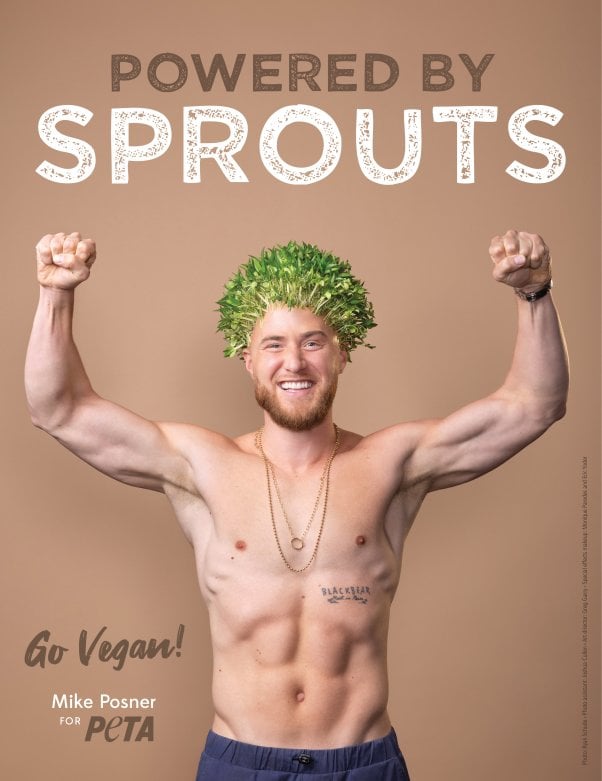 © Photo – Ryan Schude | Photo Assistant – Joshua Culler | Art Director – Greg Garry | Special Effects Makeup – Monique Paredes and Eric Yoder
USA
VICTORY! Walmart Pulls 'Rape Racks'
After a push from PETA, Walmart stopped selling dog-breeding immobilizing stands. These "rape racks" restrain distressed female dogs so that they can't flee or fight back when they're mounted.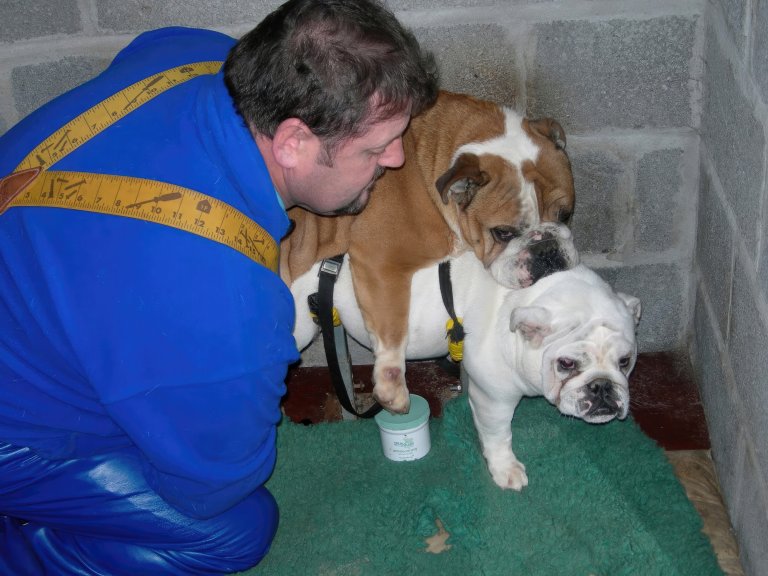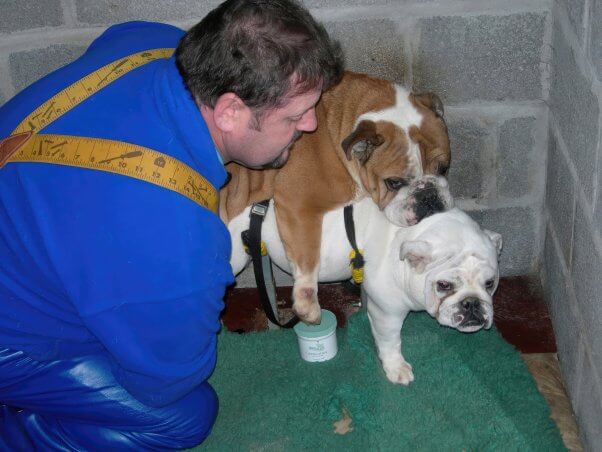 Be Part of It!
Mother dogs are treated as puppy-making machines in the cruel breeding industry. Always adopt animal companions – never buy them.
USA
WIN! Animal Oversight Board Has No First Amendment Right to Anonymity
In 2021, PETA submitted public records requests to find out who sits on the University of Washington (UW) Institutional Animal Care and Use Committee (IACUC) – the group that rubber-stamps experiments at UW's notorious primate research center. UW IACUC members filed a lawsuit to block disclosure, PETA appealed, and in a historic victory, a circuit court agreed that IACUC members have no right under the US Constitution to keep their identities secret.

Be Part of It!
Call for the immediate closure of the Washington National Primate Research Center.
USA
Thanks to Banks for Sparing Bears
For using cutting-edge computer-generated imagery rather than a real bear in the blockbuster film Cocaine Bear, PETA gave director Elizabeth Banks a "Beary Best" Award. PETA investigations reveal that animals used in movies and TV are deprived of a real life and are routinely whipped, shocked, starved, and abused in other ways to force them to perform.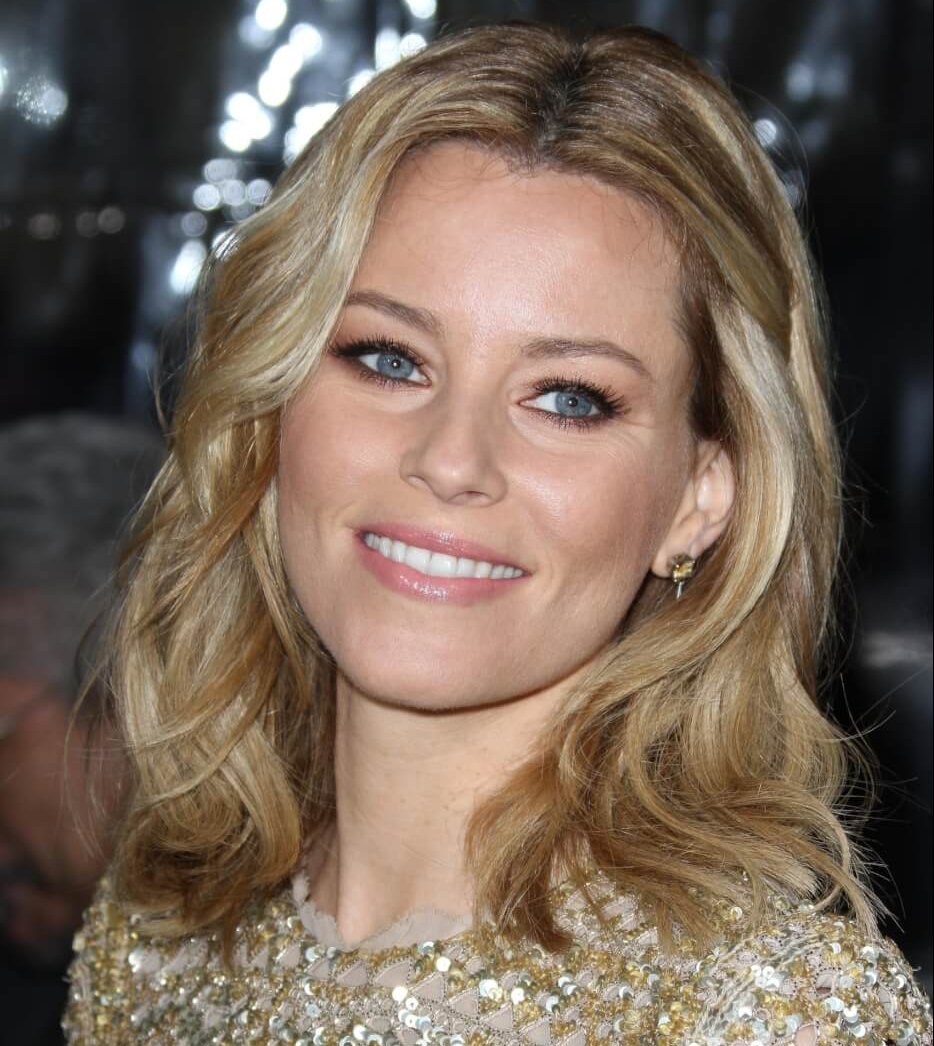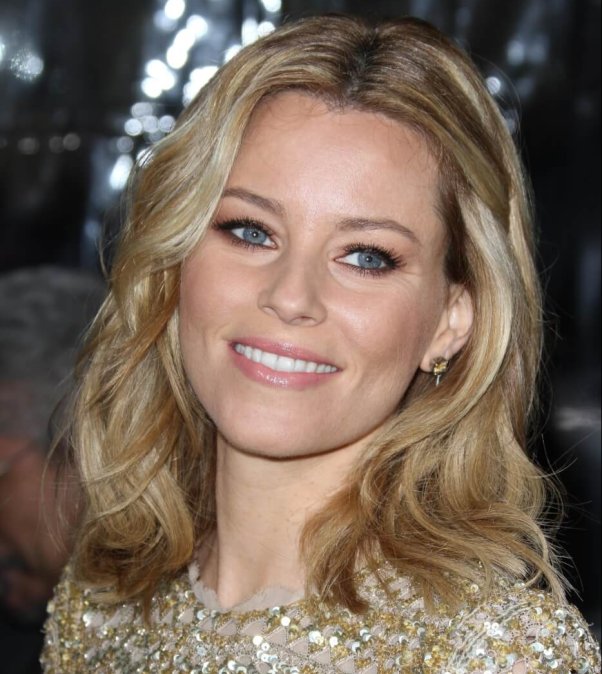 © Sbukley/Dreamstime.com
Be Part of It!
Spot an animal used for film or television? Report the abuse online or call our whistleblower hotline at 323-210-2233.
UK
PETA UK's Singing Puppets: Animals Aren't Fabric!
Playing on the nostalgia of childhood puppet shows, PETA UK's new sing-along video reveals the horrors of using animals for clothing. Harry Potter actor and comedian Jessie Cave joins Sheepy, Goosey, Cowey, and Snakey, who sing in graphic detail about how their real-life counterparts are treated for clothing.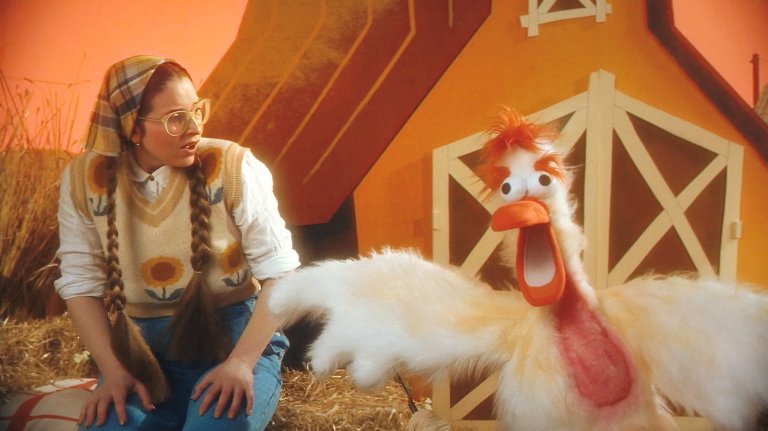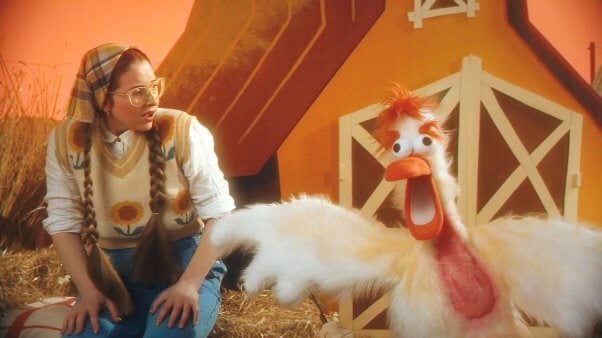 Be Part of It!
Tell everyone you know never to buy shoes, belts, bags, sweaters, or anything else made from animals. Clothe yourself in compassion with a message tee or bag from the PETA Shop.
TAIWAN
WIN! Reason to Smile! Animals Saved From Dental Tests
More than 52,000 PETA supporters spoke out when we reported that food and beverage companies in Taiwan fed sugar water and bacteria to rats and then killed them and dissected their mouths. Why? To make dental health claims about their products. All those e-mails convinced the Taiwan Food and Drug Administration to end the experiments and require only safe and effective human tests.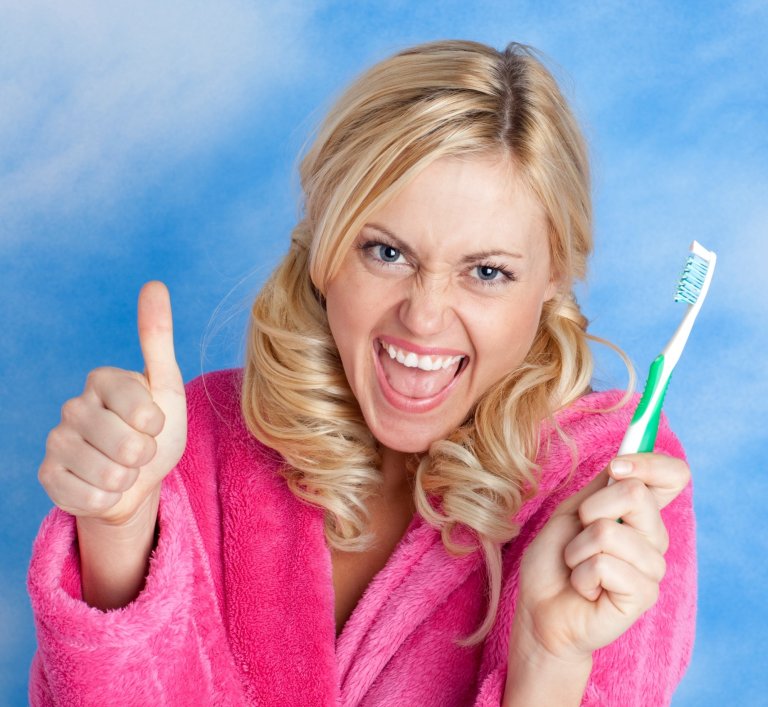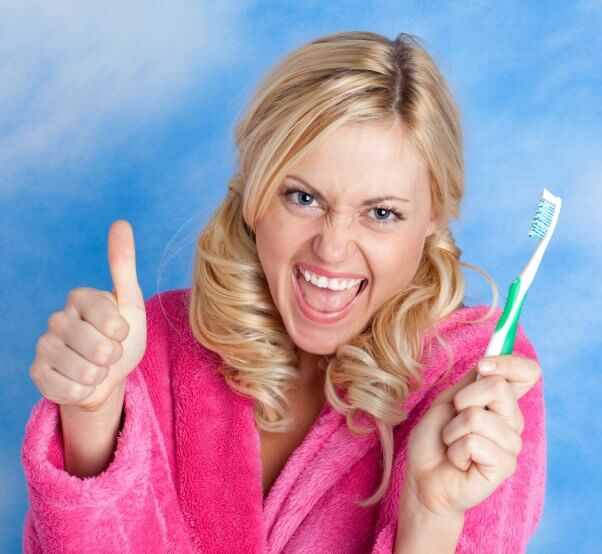 © iStock.com/hundreddays
Be Part of It!
Urge Taiwanese food and beverage companies to end all animal tests.
---