Published by .
Your hotel can make or break your vacation, so it's important to find the right one—and that includes considering the impact your stay will have on animals. Luckily, there are vegan hotels that offer animal-free menus, cruelty-free toiletries, and down- and wool-free bedding in some of the most beautiful places in the world. By booking your stay at one of these mindful establishments, you can rest easy knowing that your choice will spare the lives of countless animals.
Let loose while keeping animals in mind at one of these 100% vegan hotels:
Beck Hall (Malham, United Kingdom)
Situated in picturesque rural England, Beck Hall is the country's first all-vegan hotel. Its 20 rooms are tastefully decorated, complete with down-free bedding and cruelty-free toiletries. The streamside restaurant offers complimentary daily breakfast and traditional British fare, such as Sunday roasts and afternoon tea.
Located in the quiet inland village of Ano Mera in Mykonos, Koukoumi Vegan Hotel offers modern luxury amenities with animals and the planet in mind. Its restaurant features a unique nine-course fine-dining experience that mixes the flavors of the Mediterranean with Japanese-inspired recipes.
Perched atop the cliffs of Santorini, this boutique hotel merges contemporary elegance with the island's timeless allure. Indulge in gourmet vegan Mediterranean food, relax in a private outdoor hot tub, and enjoy a guided vegan food and wine tasting surrounded by the beauty of the island. The MOD concierge also offers travel experiences, including a private catamaran cruise and scuba diving.
If you're looking for a relaxing retreat, book a stay at Mother Earth Luxury Boutique Hotel. This eco-friendly vegan hotel features spacious rooms, yoga classes, and massages. Enjoy breakfast at its poolside vegan restaurant before spending the day exploring the beautiful Costa Rican beaches.
Indulge in the all-inclusive trip of a lifetime at this vegan wellness resort in Riviera Maya, Mexico. This secluded sanctuary features swim-up suites, a jungle spa, a private white sand beach, five vegan restaurants, and more. Whether you prefer an adults-only retreat with sound baths and cacao ceremonies or a family-friendly experience with children's activities led by certified Waldorf educators, you're sure to find what you need at this animal-friendly resort.
The Stanford Inn by the Sea is a small getaway on the coast of Northern California that offers cozy rooms and suites designed with animal-free decor and a variety of amenities, such as a solarium, a heated saltwater pool, a sauna, yoga classes, and massage services. The on-site Ravens Restaurant features local seasonal fare and complimentary afternoon tea.
Perfect for a romantic getaway or a solo retreat, LA VIMEA is a vegan sanctuary where you can relax and enjoy its many amenities, including yoga, meditation, and massages. Its vegan restaurant is 100% organic, with a rotating daily menu that highlights seasonal flavors.
At Volcano Eco Retreat, you can explore the majesty of the Big Island by day and return to an eco-friendly sanctuary at night. Wake each day to enjoy a made-to-order vegan breakfast, with freshly brewed Kona coffee and the sweetest selection of Hawaiian fruit.
From yoga retreats to healing ceremonies, Willka T'ika is more of a spiritual experience than simply a resort. Its location in Peru's fertile Sacred Valley allows guests to explore the history of the area along with its stunning scenery, all while enjoying animal-free meals.
The Yucca (Desert Hot Springs, California)
The Yucca is your gateway to the Coachella Valley, located between Joshua Tree National Park and Palm Springs. Its luxury, adult-only accommodations are designed to be sustainable and animal-friendly, with vegan meals and cruelty-free spa services.
---
This list is by no means extensive. Search VeggieHotels to find many other vegan and vegan-friendly hotels, inns, and bed-and-breakfasts worldwide.
Whether you're looking for a smooth time at the airport or helpful trip tips, PETA has you covered.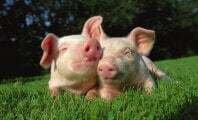 Order Your FREE Vegan Starter Kit