Published by .
Music festivals can be a blast if you're well prepared or a disaster if you're not! Here's my vegan survivor guide for doing them right.
Smell good.
It took me a while to find the perfect cruelty-free deodorant. I use Crystal Body Deodorant, and it keeps me fresh without added scents. If you would like a light aroma, the company also makes roll-on deodorants available in three natural scents.
Be cool on top.
Make a statement while staying cool and comfortable in this 100 percent cotton cat crop top.
Don't get burned.
It is so important to protect your skin from the elements. Try Ocean Potion for a cruelty-free sun shield.
Walk on clouds.
At the festival, you'll likely be walking and dancing your heart out. Let the cute bats on these shoes keep you afloat.
Keep calm and carry on.
The perfect bag is essential. This wristlet will carry the essentials but won't weigh you down.
Stay fresh.
Having a travel-sized packet of wipes is a perfect idea for a summer festival. They'll help you cool off and clean off your hands before your vegan lunch.
Shade yourself.
Add to the feline fun with these chic leopard-print sunglasses.
Don't crack!
The sun can be unforgiving, but with the perfect lip balm, your lips will stay soft and moisturized.
Hydrate, hydrate, hydrate!
These adorable water bottles have an important message.
Dress your tresses.
Be functional and trendy by wearing a flower-laden headband. It will keep the hair out of your face and avoid the use of leather or any other animal products in the process.
Be prepared for the nighttime chill.
Most days start out sweltering, but once the evening creeps up, you'll need something that's warm but not too heavy to carry around all day. Try a light wool-free spring sweater.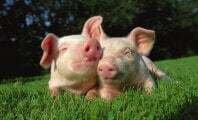 Order Your FREE Vegan Starter Kit