Published by .
PETA Presents is the perfect place to find the perfect gift for all the perfect people in your life. (Hey, it's the holidays, and let's face it, everything looks a little more perfect at this time of year!) Whether you're looking to find something heartwarming for your grandma or a gag gift for your younger brother, PETA Presents is your one-stop-shop for the holidays.
Giving through PETA Presents is fun and easy, and it helps animals! Here's how it works:
Choose your gift.
Personalize the e-card that you'd like to send.
Stand tall as your donation goes right to work to end animal suffering.
Need some inspiration? Check out the following two items on my shopping list:
With several gifts choices over a range of budgets, plus the option to create your own gift, the possibilities are endless. Which PETA Present are you planning to give?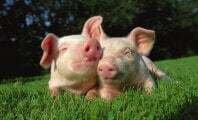 Order Your FREE Vegan Starter Kit