Published by .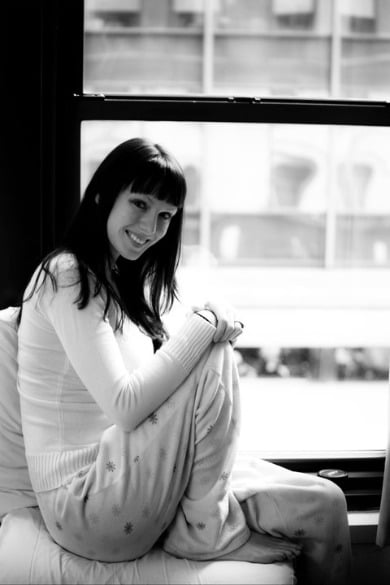 The following article was written by PETA's 'Win an All-Expenses-Paid Thanksgiving Vacation to NYC' contest winner, Kate Veltkamp. Kate cinched the win with her heartfelt video and is proof that good things come to good people. Continue reading for a look at her magical holiday experience.
It was a day like any other when I opened my e-mail to see a message from PETA. The e-mail asked for entries to a contest to "win an all-expenses-paid trip to New York City," and after reading the details, I decided to enter. I was to answer the question, "Why are you taking a stand and leaving turkey off the table this Thanksgiving?" And so I sat with pen and paper (so rare nowadays) and jotted down my beliefs. Why am I not eating turkey like millions of other Americans on this holiday? Turkey on Thanksgiving is pretty much an American staple, so I must have a good reason. Sure, I have been vegan for two years now, and I haven't looked back. But explaining my reasons to others in a cohesive and convincing way is a lot more challenging than living up to them in my own mind. I thought of turkeys, of their suffering, and I felt horror. I usually don't dwell on those negative thoughts—I just acknowledge them and work to find a way to convince others to end the needless suffering of animals used for food. For this assignment, however, I had to tell others of it. I had to remember what it was I used to eat and how I used to be ignorant and seemingly blissful when neglecting the pure agony that I had been ingesting at nearly every meal. I had to be the animals, to feel their pain. People were going to see this video. Friends, family, and strangers would watch as I attempted to explain why it is that I have changed my holidays, why I have signed on for interrogations during what is meant to be a peaceful family dinner, why I "settle for blocks of tofu when animals don't even have the ability to decide whether they want to live or not." There are so many negative attitudes toward those who are vegetarian or vegan, some are even hostile to us as though we are hurting someone by making this life choice. So, I had to do this. I had to use this opportunity to share my beliefs—not for me, not for a trip to New York City, but for those who are ignorant as I once was, whether truly oblivious or simply avoidant of uncomfortable truths.
My husband, Scott, filmed the short video of me on a fall day outside our house. The air was calm, and I attempted to emulate it, but I could not. We had to shoot several takes because I got worked up, but eventually, I got my point across. I showed the video to everyone I could. Some were thoughtful, some were accusatory, some poked fun—this was all to be expected. It's human nature to feel uncomfortable when someone calls you out on facts regarding a decision so apparently revolutionary as refraining from eating meat. I didn't really think much else about it after that. Being that the contest was for PETA, I knew there would be countless impressive entries and was simply glad for the opportunity to make the video.
A few days later, I glanced at my phone to see a voicemail from Virginia. "Who do I know in Virginia?" I asked Scott. "Um … isn't PETA headquartered there?" he replied. I listened to the message informing me that I had won. I was so shocked! I screamed, smiled, made calls, posted, tweeted, and shared with the world what I won and how I won it. I got more remarks and more insightful questions than ever. People in my life began to treat my vegan lifestyle more seriously and actually listened to the message in my video. As time passed by seemingly slowly, I corresponded with a PETA staffer about the details of my trip. Soon enough, it was time to embark.
Scott and I arrived in New York City the day before Thanksgiving, when the whole city was abuzz with excitement for the annual Macy's Thanksgiving Day Parade. A personal driver chauffeured us to the Park Central Hotel, a beautiful building rich with history and as much a staple of the Big Apple as the subway. A quick drop-off of our bags showed us our beautiful suite overlooking Seventh Avenue. Before long, we were off to explore the vastness that is Manhattan. We stopped at a street vendor's stall for lunch, where we stuffed ourselves with falafel sandwiches. Unlike my hometown, New York is chock full of tasty options for vegetarians and vegans alike. Many who reside there choose the lifestyle, so even the heartiest of steakhouses are familiar with modifying their menus to cater to us "veg heads." In the afternoon, we shopped, and for dinner, we walked to Istanbul Cafe, a Turkish restaurant where we dined on several courses for hours. Next up? A romantic, autumn-in-New-York walk to grab some vegan cocktails at the plethora of bars in Midtown. We crashed early on in the evening so that we could catch the parade early on Thanksgiving morning.
We woke to see the streets swarming with people anxious to see the historical event. Floats flew by, and celebs waved on. We watched on TV, as we normally do from our home, and it was so neat to see the parade in first person, from the comfort of our suite. (Let me tell you, it was quite cold out that morning, so we were grateful for the indoor view!) As the parade died down, we grabbed some coffee and went for a walk to Times Square. Seventh Avenue, the street on which the parade was held, was closed for several hours afterward for cleanup, so we were able to stroll down the middle of one of the busiest streets in Manhattan! The air was cheery this Thanksgiving, and the stores were packed, so we just walked around, taking in all the lights and sounds. We grabbed a quick veggie wrap at a deli in Times Square then headed back to get gussied up for a fancy and much anticipated dinner at Café Blossom.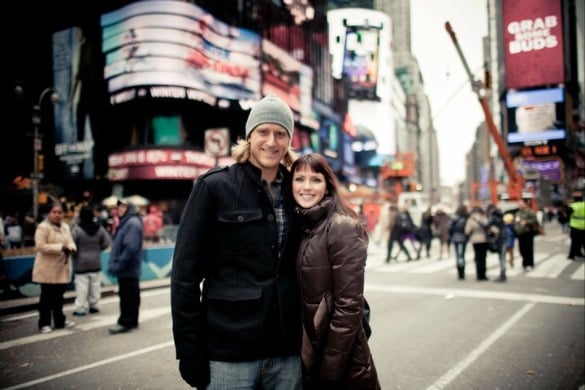 The experience at Café Blossom was perfect. The four courses were crafted with care and creativity; the chef took Thanksgiving mainstays and molded them to the vegan diet, creating a magnificent meal about which one can only rave. I can't get the tasty dishes out of my mind, so I've tried emulating them in my own kitchen since first tasting them. For the first course, we had Kabocha Squash Soup (a rich purée of sweet Japanese pumpkin with toasted pumpkin seeds) and the Waldorf Salad, which was comprised of apples, celery, and raisins in romaine sheath with classic creamy dressing, complete with cranberry coulis. The second course was probably my favorite, simply because my love of mushrooms borders on obsession. I chose a roasted Portobello with minced oyster mushroom purée, parsnip mash, truffle-peppercorn cream, and frisée salad. My husband chose the Twice Baked Potato—a creamy potato and tempeh-bacon filling with balsamic port wine reduction and vegan béarnaise. Let me just tell you—that tasted like real bacon, but not as heavy. Amazing. For the main course, we chose the Thanksgiving Medley: mushroom phyllo pastry, roasted baby carrots and parsnips, crispy potatoes, sweet potato-pumpkin purée, mushy peas, and cranberry jus. And we had my favorite—Spaghetti Squash Alfredo With Soy Filet, which consisted of sautéed shallots, cherry tomatoes, asparagus, and leeks with marinated artichoke, sweet corn and avocado garnish. The Alfredo was so rich and creamy that even I had to check to see if it was just vegetarian or truly vegan.
Ahh, dessert. The fourth and final amazing course. We enjoyed the Poached Pear à la Mode, rich with cinnamon cranberry-apple sauce and vanilla "ice cream," and the vegan Trio of Seasonal Cashew Ice Creams, which were from New York City–based micro-creamery Lula's Sweet Apothecary.
The service was impeccable; the ambiance was relaxing. It was the best meal I've ever had! And even during dinner, I couldn't believe that I was sitting there in New York City, enjoying this magical trip with my husband, all courtesy of PETA. PETA, who gives so much to our world community as it is, was giving me this great Thanksgiving gift, all for sharing with the world what the group had already taught me. I am so thankful that organizations like PETA exist, that we have a unifying voice as advocates for animal rights. I am thankful for the animals who make this world beautiful, whose varying types of wisdom help guide me when the times as a human get stressful and when things such as jobs and deadlines and expectations block our minds from compassion and nature and true health. Knowledge of the suffering of animals, although difficult to swallow, is necessary for their liberation from suffering. We must keep fighting for those who do not have a voice, and with the help of PETA, we can and will. Go vegan, and make a change that the whole world will one day be thankful for.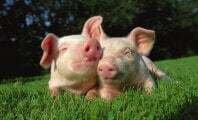 Order Your FREE Vegan Starter Kit