Published by .
A new vegan lifestyle show is premiering soon, and we absolutely cannot wait.
It's called Plant-Based by Nafsika and stars Nafsika Antypas, vegan lifestyle mogul and total inspiration.
The show will take viewers through plant-based cooking demonstrations and will feature interviews with celebrity guests, fashion icons, and vegan food experts.
Plant-Based by Nafsika proves what we already knew: 2016 is the year of the vegan. Even if you're not vegan, chances are that you know someone who is or you've seen vegan items on the menu at your favorite restaurants. The world is waking up to the fact that products derived from animals not only involve immense suffering but also can cause illness and are completely unnecessary given today's modern cruelty-free options.
The first season of Plant-Based by Nafsika begins on A&E's FYI on July 27 across the U.S. Tune in on Wednesdays at 7:30 a.m. EST to find out what all the fuss is about!
Click a button below to order our free vegan starter kit, or order one for a friend.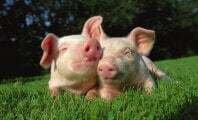 Order Your FREE Vegan Starter Kit