Published by .
Hollywood films usually have a splashy, star-studded premiere in the days before they open in theaters. The bigger the movie, the bigger the festivities tend to be. Then there's A Dog's Purpose: After devastating eyewitness footage was released by TMZ, which showed that a dog was forced into churning water on set despite his frantic attempts to resist, the immediate and widespread outrage was hard to ignore. The impact of the footage was so profound—even the film's director and the actor who voiced the main character expressed shock and sadness—that the companies behind the film (Universal Pictures and Steven Spielberg's Amblin Entertainment) canceled the planned premiere and media junket.
As the disturbing video spread around the world, an equally vast wave of anger and disappointment rose on social media.
Hollywood, music, reality, and internet stars alike took to Twitter and shared their outrage over an animal's suffering for the sake of entertainment, and many called for a boycott of the film:
Fuck the movie #ADogsPurpose after seeing them abuse a scared german shepard making the movie. Google the video. #BoycottADogsPurposeMovie

— Vinny Guadagnino (@VINNYGUADAGNINO) January 19, 2017
THIS IS SO HEARTBREAKING TO WATCH. DO NOT SEE OR SUPPORT @a_dogs_purpose MOVIE! RT TO CREATE AWARENESS! pic.twitter.com/gFpTKEMJGp

— Joey Graceffa #JoeysKingdom (@JoeyGraceffa) January 19, 2017
I cannot BELIEVE what I just saw.. "A Dog's Purpose" should be ashamed of themselves…

— Savannah Outen (@therealsavannah) January 19, 2017
https://twitter.com/KateDrummond_/status/821877404633206784
Wow this is fucking gross https://t.co/aeM9SKOH9d @adogspurpose you should be ashamed of yourselves.

— Abigail Breslin (@yoabbaabba) January 19, 2017
https://twitter.com/eTYMrak/status/821936810943098881
You know it's bad when a media consultant chimes in with calls for a boycott:
Holy Crap! What were they thinking? I usually think @peta is just nuts, but agree -BOYCOTT "Purpose of a Dog" https://t.co/rNNUttQSq1 #CRUEL

— (((B.L. Ochman))) (@whatsnext) January 19, 2017
https://twitter.com/KianLawley/status/822176711177441280
Abhorrent behavior
Hollywood. No excuse. #ADogsPurpose

— Crystal Reed (@CrystalmReed) January 19, 2017
Is this footage from #ADogsPurpose for real??! I'm gonna throw up.

— Anna Camp (@TheRealAnnaCamp) January 19, 2017
Smh I was really looking forward to watching a Dogs Purpose smh

— Alfredo Flores (@AlfredoFlores) January 19, 2017
REDIC https://t.co/zKeRRaCeu1

— DJ MEECHIE (@DJMEECHIE) January 18, 2017
omg this is awfullllllllll https://t.co/kn1PMjztCG

— michelle visage (@michellevisage) January 19, 2017
The clip of the German Shepard during filming for #ADogsPurpose is breaking my heart. Is it really from on set?! #PETA @peta

— Lucie Jones (@luciejones1) January 19, 2017
This is not okay. I will not watch A Dogs Purpose now. What the heck is wrong with people man…….. https://t.co/dixfQ0B1Dp

— Adriel Diaz (@RealAdrielDiaz) January 19, 2017
Seriously, though—anyone with a heart had a reaction:
I'm not an animal activist but I have a heart ❤️ https://t.co/0s9Ar1v2Cz

— Tiffany Doll (@Tiffanydollxxx) January 19, 2017
https://twitter.com/RoryAlbanese/status/822207470647050241
https://twitter.com/Jason/status/821974242036051968
what in the actual FUCK were they thinking! #SHAMEONYOU

— Shanna Moakler (@ShannaMoakler) January 19, 2017
Hey, fuck A Dogs Purpose. That video is awful. Don't go see it, k bye.

— Chris Mintz-Plasse (@MintzPlasse) January 19, 2017
https://twitter.com/raymamrak/status/822096185548800000
https://twitter.com/DashWilderWWE/status/822215735917379584
https://twitter.com/oscar_guerra21/status/821985637972574209
Oh fuck this film then. Fuck everyone on it. https://t.co/feEtoViMbf

— Leslye Headland (@LeslyeHeadland) January 19, 2017
then do not support the film. No press. No interviews. No screenings. Put your money where your mouth is.

— Luke Tyler (@ThatLukeTyler) January 19, 2017
https://twitter.com/MissCallyJane/status/821839843667968004
If you planned on seeing #ADogsPurpose in theaters before does this video change your mind now? https://t.co/NLtf7Bfy4s

— Matthew A. Cherry (@MatthewACherry) January 19, 2017
If you're going to make a movie celebrating the glory of #dogs,best not to abuse them in the process.#ADogsPurpose #ADogsPurposeIsNotAbuse https://t.co/WswYKdigFo

— Jonathan Slavin (@slavin_jonathan) January 19, 2017
Unfortunately, mistreatment of animal "actors" is not uncommon:
In 'We Are All Completely Beside Ourselves' by Karen Joy Fowler, she said most showbiz animals are treated horribly https://t.co/kXraLjjN7d

— Danielle Binks (@danielle_binks) January 19, 2017
Dogs just like all animals have rights. Just cause they don't have a voice doesn't mean we are superior to them. https://t.co/6i1VaCpbk8

— Ian Seau (@Isayow8) January 19, 2017
https://twitter.com/abiphillipsuk/status/822013091881906176
Why the hell did I watch the video from A Dog's Purpose that angered PETA? Everything is a metaphor these days. Pls send GIFs of happy pups.

— Maris Kreizman (@mariskreizman) January 19, 2017
#ADogsPurpose looked horrendous enough as is…let alone almost killing a dog to make the damn thing.

— Brett Anderson (@_BAnderson30_) January 19, 2017
Fuming. Are you going to bother with the release now @a_dogs_purpose? https://t.co/lbeskF2H9s

— Jack Derges (@mrjackderges) January 19, 2017
#ADogsPurpose has canceled its premiere AND press junket! Way to go, @peta! https://t.co/K2C6oLlO4C

— Perez Hilton (@PerezHilton) January 20, 2017
Phora sums it up perfectly:
A dogs true purpose is to be LOVED and respected…. pic.twitter.com/Hs9sjUdZ2U

— PHORA (@PHORAONE) January 19, 2017
This terrible incident and video may come as a gut-wrenching surprise to well-meaning moviegoers who care about dogs. But those who are aware of the chronic neglect uncovered at a facility operated by Birds & Animals Unlimited (BAU)—the company that, according to a facility manager, supplied the dogs used in the film—know that this incident is, unfortunately, just one example of a widespread problem.
BAU, operated by Hollywood animal trainer Gary Gero, provides animals for use in film, television, and advertisements. It has rented out animals to hundreds of other productions, including The Hangover, Marley & Me, Game of Thrones, and Pirates of the Caribbean. An eyewitness who worked at BAU documented chronic neglect: Sick and injured animals were denied adequate veterinary care, the enclosures were filthy, and animals were denied food so that they would be hungry while trained to do tricks.
Sadly, such abuse appears to be the norm, not the exception, in the entertainment industry, where animal suffering is just "business as usual" for humans trying to make a buck.
Pledge to avoid contributing to this cruel practice by not buying tickets to A Dog's Purpose or any other movies that use live animals.
Show everyone why they should #BoycottADogsPurpose! Tag @peta in a post of your dog & their special purpose ❤️ https://t.co/2yRgPkfFFQ pic.twitter.com/97F19RMaO2

— PETA (@peta) January 19, 2017
Share this video with your family and friends who care about dogs—and all animals. Let them know that animals aren't "actors" and that they often suffer both on and off camera when used for entertainment.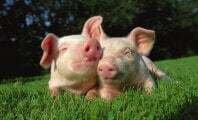 Order Your FREE Vegan Starter Kit