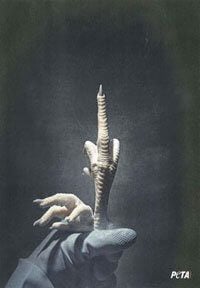 Marc Guilbault and Pierre Bouahom of BBDO Agency in Montréal, Canada won the People's Choice Award and received an assortment of top-shelf Pantone® color products worth more than $200!
Click here to learn more about the competition, and check out the other finalists below.
Chicken Scream
Agency: DDB Warszawa
Creatives: Anna Wolsztajn, Lukasz Owdziej
Poland

Barnyard Animals
Agency: Periscope
Creatives: Brian Boord, Chris Wareham
United States

Lucky One
Agency: Draft FCB
Creatives: Helder Romao, Filipe Graca
Portugal
Frisbee
Agency: Leo Burnett
Creatives: Fionn Geaney, Nora Al Sharif
United Arab Emirates

Mouthful
Agency: Draft FCB
Creatives: Helder Romao, Filipe Graca
Portugal

The Truth Is Hard to Swallow
Agency: Digitas LLC
Creatives: Teresa Coulter, Jesse Suchmann
United States
Mmm Mmm Torture
Agency: Taxi Canada Inc.
Creatives: Alexis Gropper, Johnnie Ingram
Canada

Plate
Agency: The Brand Agency
Creatives: Rikki Burns, Josh Edge
Australia

Factory Chickens Make Us Sick
Creatives: Amy Thexton, Jessica Neale
New Zealand
Stick It
Agency: OSL
Creatives: Frederic Noiseux, Luc Dupere
Canada
*Disclaimer

Babies
Agency: Meridian Communications Pvt. Ltd.
Creatives: Vinod Lal Heera Eshwer, Baadal N Nanjundaswamy
India

Torture
Agency: Welcomm Publicis
Creatives: Eunah Ko, Jihoon Park
Korea
Fork
Agency: Gibbous Inc.
Creatives: Tenda Teo, Keiko Koyama
Japan

Chickens Die Slowly
Creatives: Paul Parolin, Addie Gillespie
Canada

Suicide
Agency: Saatchi & Saatchi
Creatives: Helen Steemson, Matthew Swinburne
New Zealand
Finger
Agency: BBDO
Creatives: Marc Guilbault, Pierre Bouahom
Canada

Nobody Gives a Damn About a Chicken
Agency: UNIACC
Creatives: Felipe Parejas, Tomas Valles, Roger Fuentes, Andres Barahona, Juan Ignaciodeichler, Rodrigo Munoz, Felipe Nunez
Chile

Would You Do This to Your Cat?
Agency: ZZO Creative Singapore
Creative: Vincent Tay
Singapore
R.I.P. Here
Agency: Miami AdSchool
Creatives: Markus Wentlandt, Patrick Duver
Germany

Nazi
Agency: DM9DDB
Creatives: Fabio Cerdeira, Renato Butori
Brazil
*Disclaimer: This submission may be read as encouraging the stickering of other people's private property. Stickering other people's private property may be unlawful. PETA does not encourage or condone unlawful activities.