Just in time for the holiday season, PETA has launched its 2013 edition of U.S. postage stamps featuring 20 famous vegetarians and vegans. Whether it's to benefit animals, your health, or the environment, there are many reasons to embrace a compassionate, meat-free diet. Plus, you'll be in great company!
Order your stamps now, and then check out the quotes below from the personalities featured on the sheet to learn more about why they choose to be vegetarian or vegan!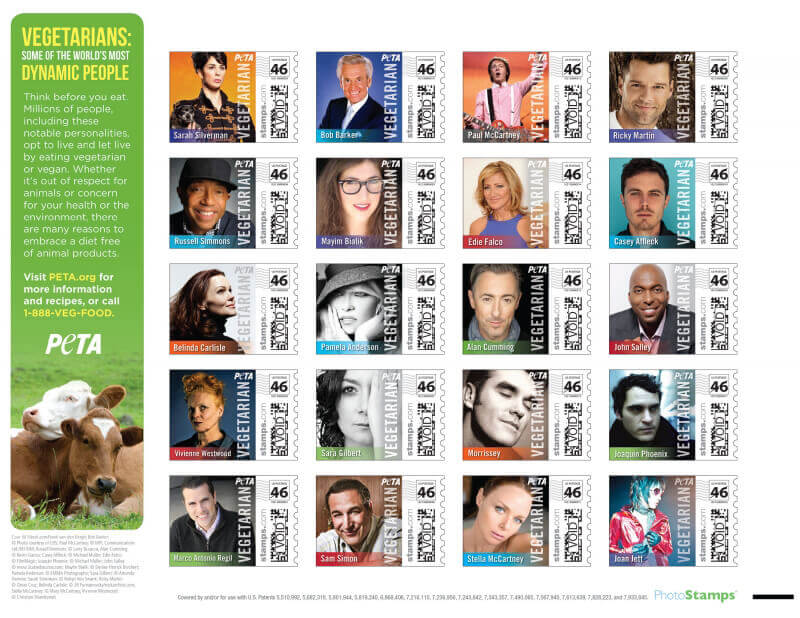 Ricky Martin: "Two years ago if you would have asked me, 'Would you become a vegetarian?' I would've been like, 'You're crazy! I love meat!' … I am not eating meat at all, and I feel amazing. … My cholesterol is stable …. My head is clearer, I sleep better, my energy is where it needs to be."
Stella McCartney: "[Vegetarianism is] a philosophy of how you conduct your life and time on the planet. … One of the things I was taught growing up was, 'Do unto others as you would have done to yourself.'"
Sarah Silverman: "When I was 9 or 10 years old, my dad took me over to a neighboring farm to help get stuff for the meal. The farmer, Vic, told me to look at all the turkeys and pick one out. I saw a cute one with a silly walk and cried, 'Him!' Before my pointing finger had even dropped to my side, Vic had grabbed the turkey by the neck and slit [the animal's] throat. Blood and feathers went flying. I had sentenced that turkey to death! Up until then, I didn't know where meat came from—and I've been a vegetarian ever since."
John Salley: "I'm a vegan because I'm only four pounds heavier than I was in 1989. I was a vegetarian first. I had high blood pressure at 27, everybody in my family died of cancer and I [knew] it was in the food so I changed my diet."
Bob Barker: "The answer to enjoying life is nutrition. I recommend that you become a vegetarian and exercise if you want to enjoy the golden years. … I became a vegetarian about 25 years ago, and I did it out of concern for animals. But I immediately began having more energy and feeling better."
Edie Falco: "Once you've seen [the undercover factory-farming footage], you can't pretend you didn't. It's over. The stamp is in my brain, and the idea that we commit such atrocities against animals—it will be our fatal flaw as humans, I think, to not bring the situation to light and stop it."
If you'd like to join these celebrities in improving the planet, your health, and the lives of countless animals, consider ordering a free vegan starter kit to help get you started today!