You know that singer-songwriter Vanessa Carlton is a talented, Grammy-nominated musician whose latest studio album, Heroes and Thieves, is a must-hear for any music lover. But did you know that Vanessa is also a hero for animals and always has her companion animals spayed or neutered? It's true. Vanessa knows that practicing your ABCs (Animal Birth Control) is the best way to end animal homelessness, and she has posed in an ad to help get this important message out.
Alongside the tagline "Hats Off for Getting Fixed," Vanessa tips her hat to her dog Victor for being a lifesaver by getting neutered.
Vanessa's ad addresses the issue of companion animal overpopulation and urges people to do their part by taking simple steps to help end this crisis.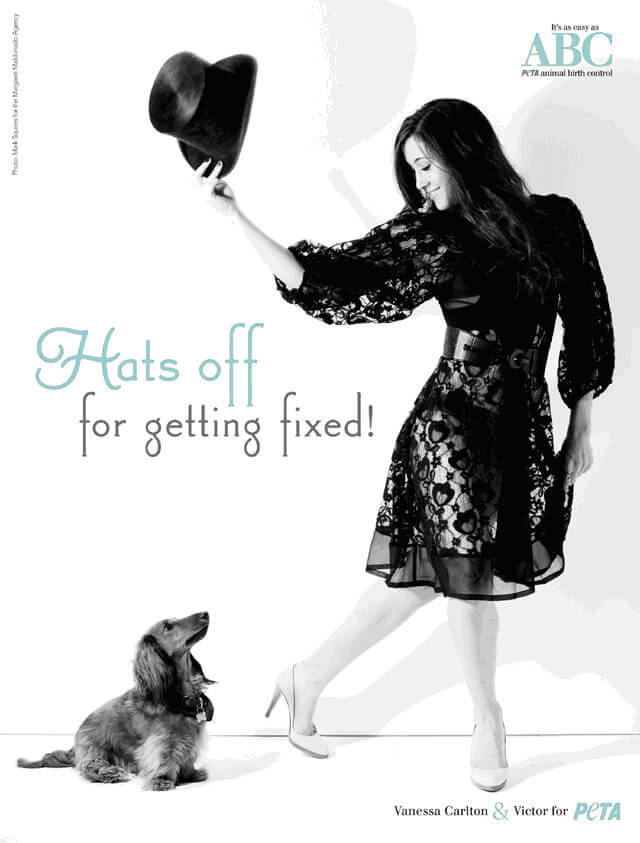 Vanessa tells us more about the costar of her ad, her beloved Victor, and about how important spaying and neutering companion animals is to saving lives.
PETA: Tell us a little bit about Victor. What are some of the things that you enjoy doing together?
Vanessa: Lord Victor is an extremely handsome little man. Though he is quite humble, he definitely has a mesmerizing effect on the ladies. He is a professional cuddler and world traveler. He's overjoyed when we stumble upon a rare twig on the city sidewalks. He loves to gather these sticks and bring them home, where he then proceeds to chew them up and inevitably regurgitate them. Another pastime that we both enjoy is making cocktails. When he hears the clank of ice cubes, he rushes over to the freezer. I give him a cube, and he proudly prances over to his bed, where he revels in the crunchy goodness.
PETA: Why is spaying/neutering companion animals important to you?
Vanessa: Most of the most well-adjusted and emotionally balanced dogs and cats are the mixed breeds found in shelters. Even if you're taking in an abused pet, the reward in rehabilitating the animal can be profound. I hope that this campaign will influence the way people buy and maintain their animals. Bottom line—always go to a shelter first. Personally, I think spaying and neutering should be an enforced law.
We couldn't have said it better! Close to 4 million dogs and cats are euthanized in animal shelters each year because there are simply not enough good homes. The good news is that we can all do something to help. Never buy a companion animal from a pet store or a breeder, and always have your animals spayed or neutered.