While practicing routine drills, Super Bowl champion Tyrann Mathieu is stopped dead in his tracks—he's chained to the goalpost. When he tries to break free, he's snapped back. This is what dogs kept chained outdoors endure daily, but unlike our star, they never get a chance at freedom.
I'm free to leave the field when I'm done with practice. But dogs who are chained up don't have that freedom.

—Tyrann Mathieu
Life on a chain or tether is torment for dogs, who are family-oriented social animals. Sentenced to be kept "out of sight, out of mind," chained dogs are typically deprived of adequate food, water, and veterinary care—and their emotional and social needs are completely ignored. Many are denied proper shelter and have only an overturned trash bin or plastic barrel—or nothing at all—to shield them from the elements. Countless chained dogs have frozen to death during cold snaps or died of heatstroke on sweltering summer days. As Tyrann says, "[T]hey're healthiest and happiest when they're indoors with their families."
For dogs, being chained is a life sentence without parole.
Tyrann was joined in the video by a well-loved pit bull named Lagertha, with whom he became instant friends. Unfortunately, not all pit bulls are so lucky: Instead of being treated like family, many are used as cheap burglar alarms or status symbols and kept outside on chains. Pit bulls are the most common victims of abuse and neglect, the breed found most frequently in animal shelters across the nation, and the most difficult dogs to place responsibly.
Given the cruel living conditions of chained dogs, it's no surprise that they often break loose and attack unsuspecting passersby. According to a study by the Centers for Disease Control and Prevention, chained dogs are more likely to attack than dogs who were not tethered. They're also more likely to bite due to chronic deprivation of basic necessities, lack of socialization, inadequate living space of only a few square feet, and the inability to flee from a perceived threat. Many communities have learned after serious, even fatal, attacks that chaining is not just an animal welfare issue—it's also a matter of public safety.
Join Tyrann Mathieu and Help Unchain a Dog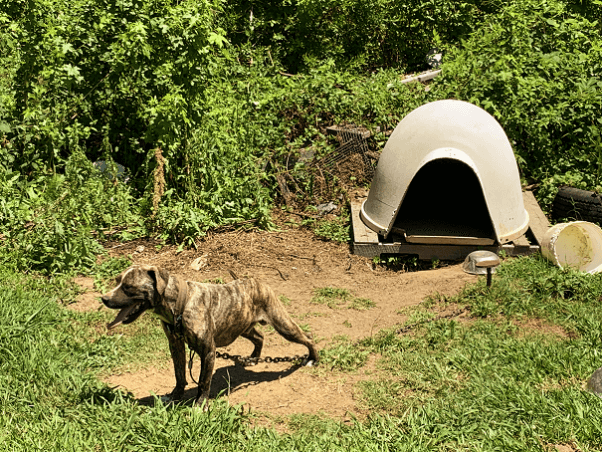 If you know someone who keeps a dog outside, talk to them about it, and if it's safe, offer to play with the dog and take them for walks. Bring treats and toys, which mean a lot to dogs who have little to do. Make sure they have adequate food, water, and shelter—all of which are required by law—and report abuse and neglect to authorities. Your call could mean the difference between life and death for an animal left outside.