In their pursuit of social justice, many people leverage their platforms to champion causes that resonate with them. Actor, producer, writer, and activist Ashley Jackson has added food justice to her plate. She joined with PETA for a campaign that seeks to address the ethical and environmental implications of the food industry, promote sustainable and cruelty-free food practices, and pave the way for a more equitable and compassionate world.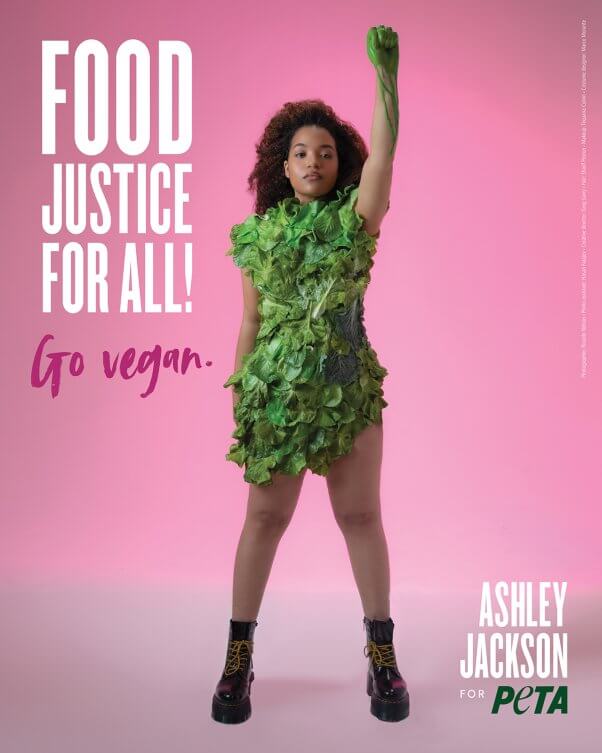 Photo: © Ricardo Nelson
"One piece of wisdom that my dad has passed on to me would be to dream impossible dreams, and I think that that allows me to give in new and inventive ways because there are no ceilings."

—Ashley Jackson
Ashley is the daughter of political activists the Rev. Jesse Jackson and Dr. Karin Stanford. She was raised vegetarian from birth but has since gone vegan. Although she had started eating vegan for her health, she quickly realized the positive impact her diet has on animals, the environment, and social justice.
For decades, the U.S. government has been subsidizing industries that are making people sick, harming the planet, and perpetuating extreme cruelty to animals. Each year, it spends approximately $38 billion in taxpayer funds to subsidize the meat, egg, and dairy industries but only about $17 million to subsidize the fruit and vegetable industries—even though government dietary guidelines encourage people to eat more produce and fewer animal-derived products.
"African-American communities are disproportionately affected by concerns about food injustice. There are over 6,500 food deserts in the United States of America alone. Not having access to clean water or healthy foods absolutely [impacts] the way that people are able to thrive in their communities. And if you have these pockets of people who cannot thrive, you start to see the deterioration of communities, so food justice and social justice are one and the same, in my opinion."

—Ashley Jackson
In many communities, food deserts—areas where healthy, fresh food is hard to find—perpetuate  a system of food injustice, forcing residents to rely on processed meats and snacks, thereby increasing their vulnerability to suffering from diabetes, heart disease, cancer, and strokes. Access to healthy, plant-based foods is crucial in combating these life-threatening issues. Through her campaign, Ashley endeavors to break the cycle of food injustice and empower individuals to make nutritious and compassionate food choices.
In addition, cruel animal agriculture industries exploit and kill sensitive cows, chickens, pigs, fish, and others who don't want to suffer or be served on a plate. Our fellow animals have families and complex lives, just as we do.
Join Ashley Jackson in the Fight for Food Justice
It's time to fight alongside Ashley for a fair, ethical, and sustainable food system. All families should have access to fresh vegan foods that are good for our health, other animals, and the planet. By going vegan, you can spare nearly 200 animals a year!
Urge your local, state, and national representatives to join you in advocating for food justice. Ask them to redirect funds that support the meat, egg, and dairy industries toward incentivizing grocers in food deserts to stock vegetables, fruits, and other healthy, humane vegan foods.