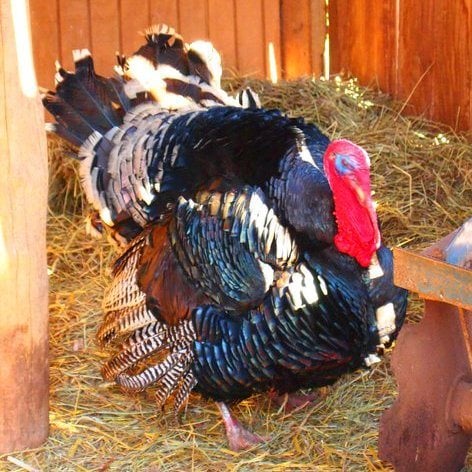 The holiday season is supposed to be a joyful time for all, but for animals who will end up on the dinner table, it's anything but joyful. More than 45 million turkeys are killed each year for Thanksgiving and more than 22 million are slaughtered for Christmas so that they can be the centerpiece of a holiday meal.
These gentle, intelligent birds deserve to live out their lives in the wild or at sanctuaries, but most turkeys spend their lives in filthy conditions on factory farms before they're slaughtered. Only a lucky few are ever rescued from these horrific conditions.
If you have rescued a turkey and spared him or her from a place on the dinner table, tell us about your bird friend for a chance to win the turkey the title of Turkey of the Year!
Use the form below to submit your photo and story by November 11, and we'll notify the winning turkey's guardian by November 16. One winning turkey, who will be chosen based on how compelling the rescue story is, will be featured on our website, and the turkey's guardian will receive his or her very own Turkey Burnout Baseball T-Shirt. No purchase necessary. Void where prohibited by law.
By submitting this form, you're acknowledging that you have read and agree to our privacy policy and agree to receive e-mails from us.