Did you know that around 300 million turkeys are killed in the U.S. each year, many for Thanksgiving and Christmas dinners? On factory farms, these kind, intelligent, feeling individuals endure short, stressful lives and are often unable to engage in natural types of behavior (yes, even on "humane" farms).
This Thanksgiving, make the compassionate choice to keep turkeys and all other animals off the table. To help with your search for the perfect centerpiece for your holiday feast, we've found restaurants, stores, and delivery services across the U.S. that can now boast about their vegan roasts. That's because they've all earned a top spot in PETA's national Vegan Roast Boast Awards. Here are the winners:
Vegan Holiday Roast (Three Girls Vegan Creamery, Guilford, Connecticut)
We love this savory and moist soy-free vegan roast, which features an Italian-inspired organic apple, sage, and "sausage" stuffing. The meal serves six to eight people and comes complete with an Organic Mushroom and Wine Gravy and Organic Cranberry Sauce. Just add nondairy mashed potatoes and a pumpkin pie and you'll have your whole meal ready in no time! Three Girls Vegan Creamery even ships its holiday roast nationwide for out-of-towners to enjoy, but locals can pick theirs up until the day before Thanksgiving.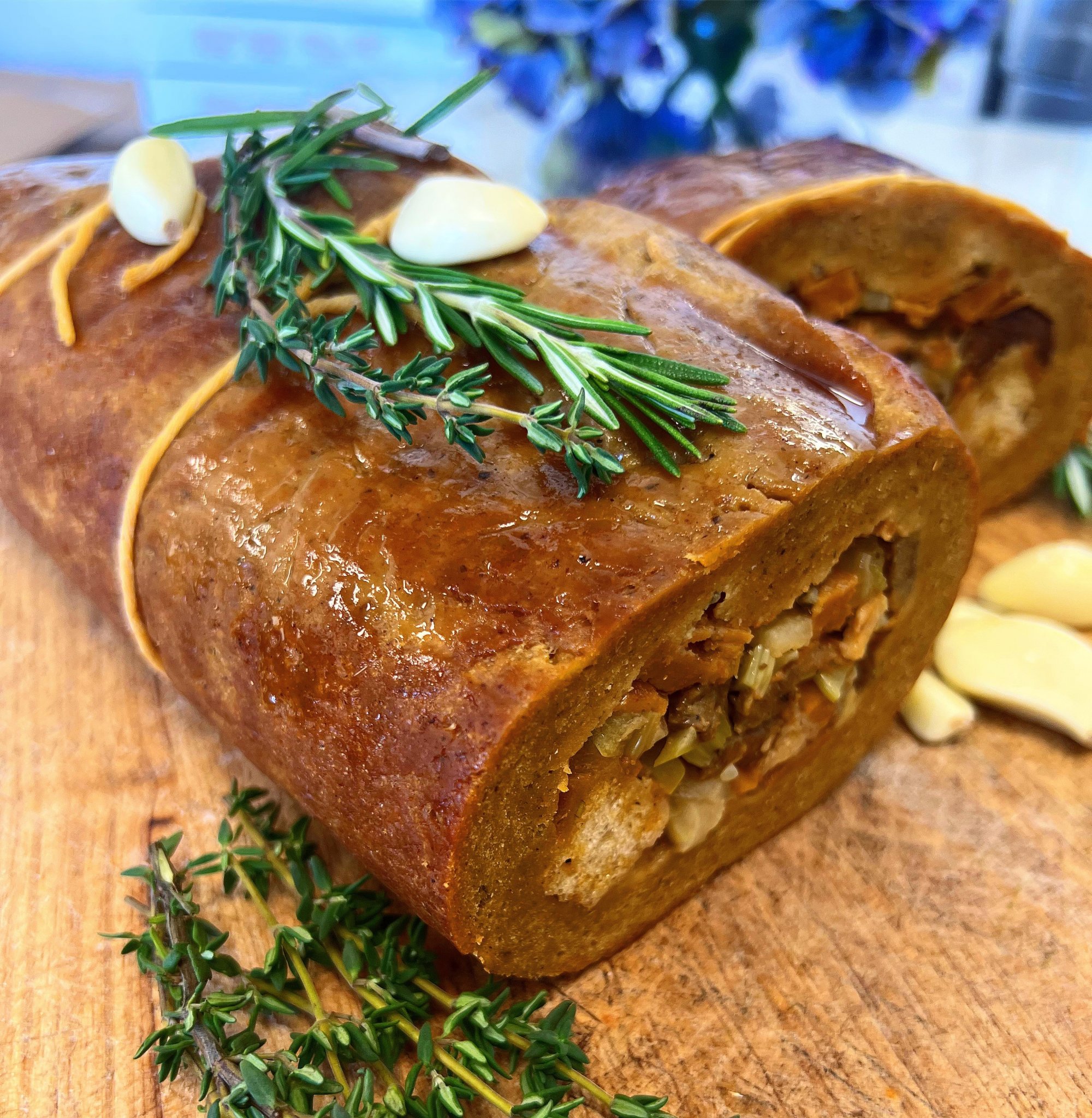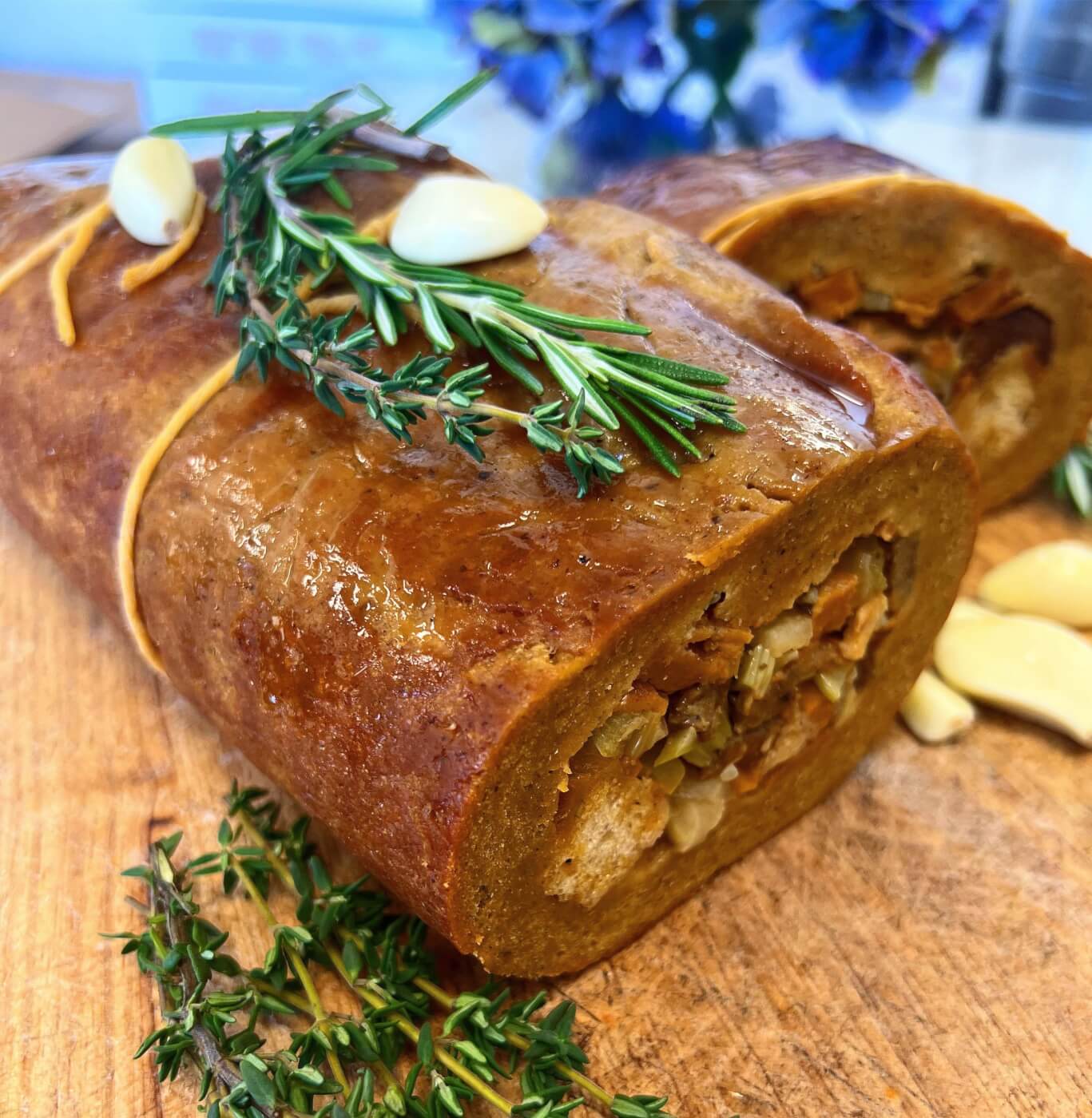 Seitan Turkey Breast with 'Giblet' Gravy (Green New American Vegetarian, Phoenix and Tempe, Arizona)
Green's ThanksLIVING meal features a crispy, crusted seitan "turkey" breast with a savory "giblet" gravy, and none of it contains any ingredients that harm turkeys or any other animals. It also comes with sides like Roasted Garlic Smashed Potatoes and Fried Brussels Sprouts as well as a Winter Berry Organic Oat Granola Cobbler for dessert.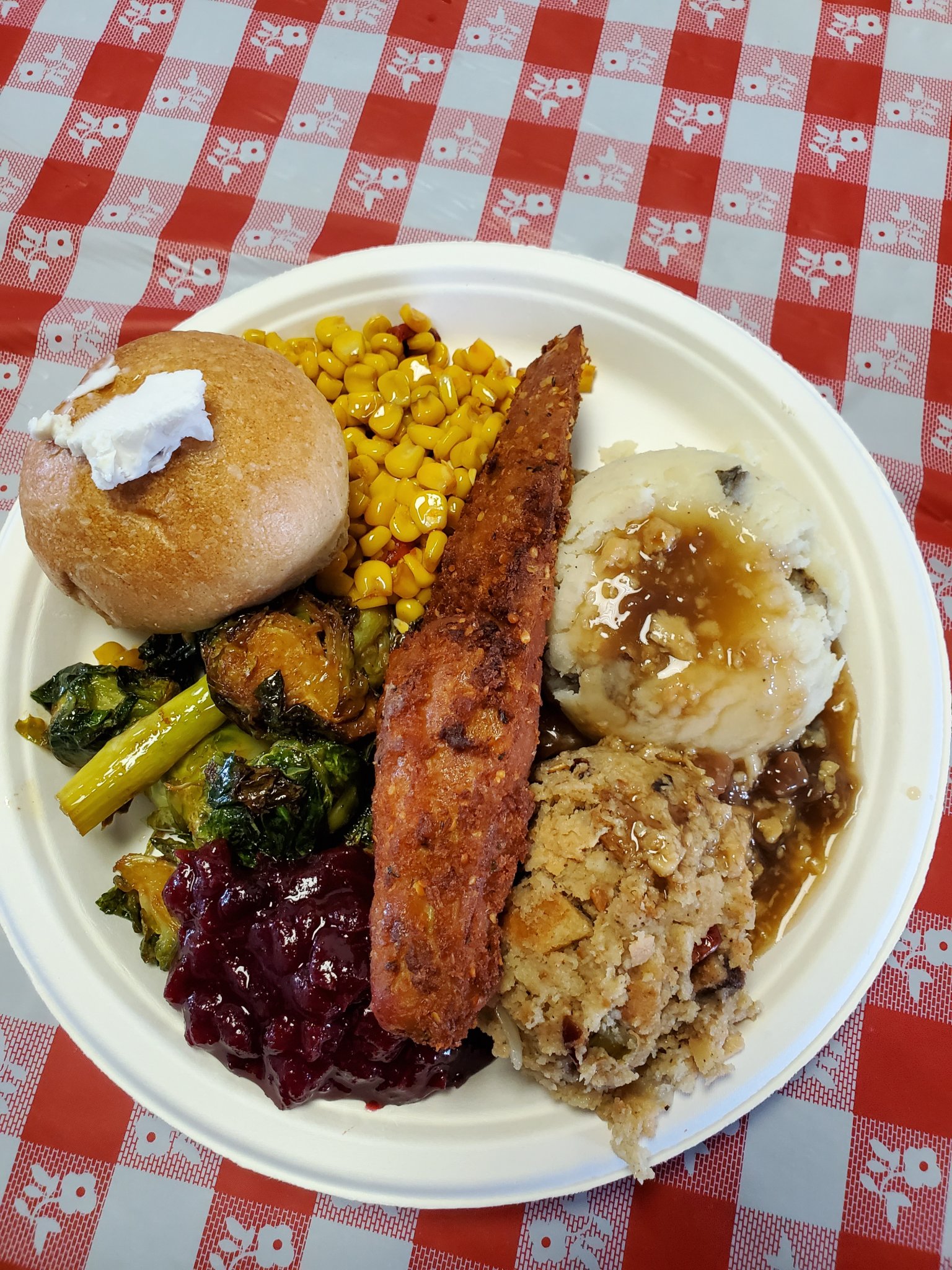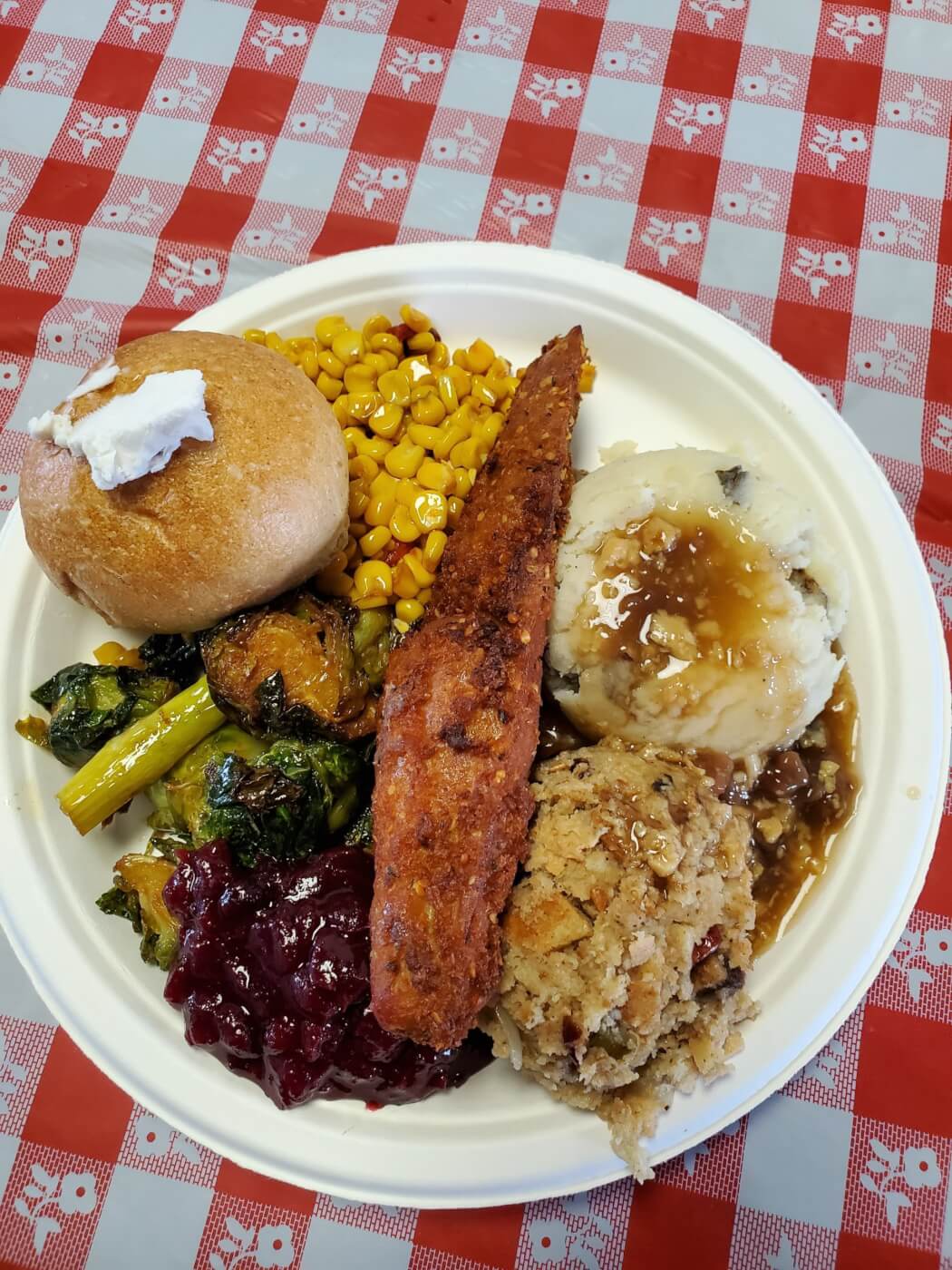 Shaved House Made Juicy Roasted Seitan Turkey (Parlor City Vegan, Binghamton, New York)
This juicy, roasted seitan turkey is part of Parlor City Vegan's Thanksgiving Feast, which comes in individual and family sizes. You can also get some tasty vegan sides to complement the main dish (Creamy Truffle Mac & Cheese, please!). Meals are available for local delivery or store pickup on Wednesday, November 23. Add a Thanksgiving Treat Box or an apple, pumpkin, or peach pie if you really want to impress your guests.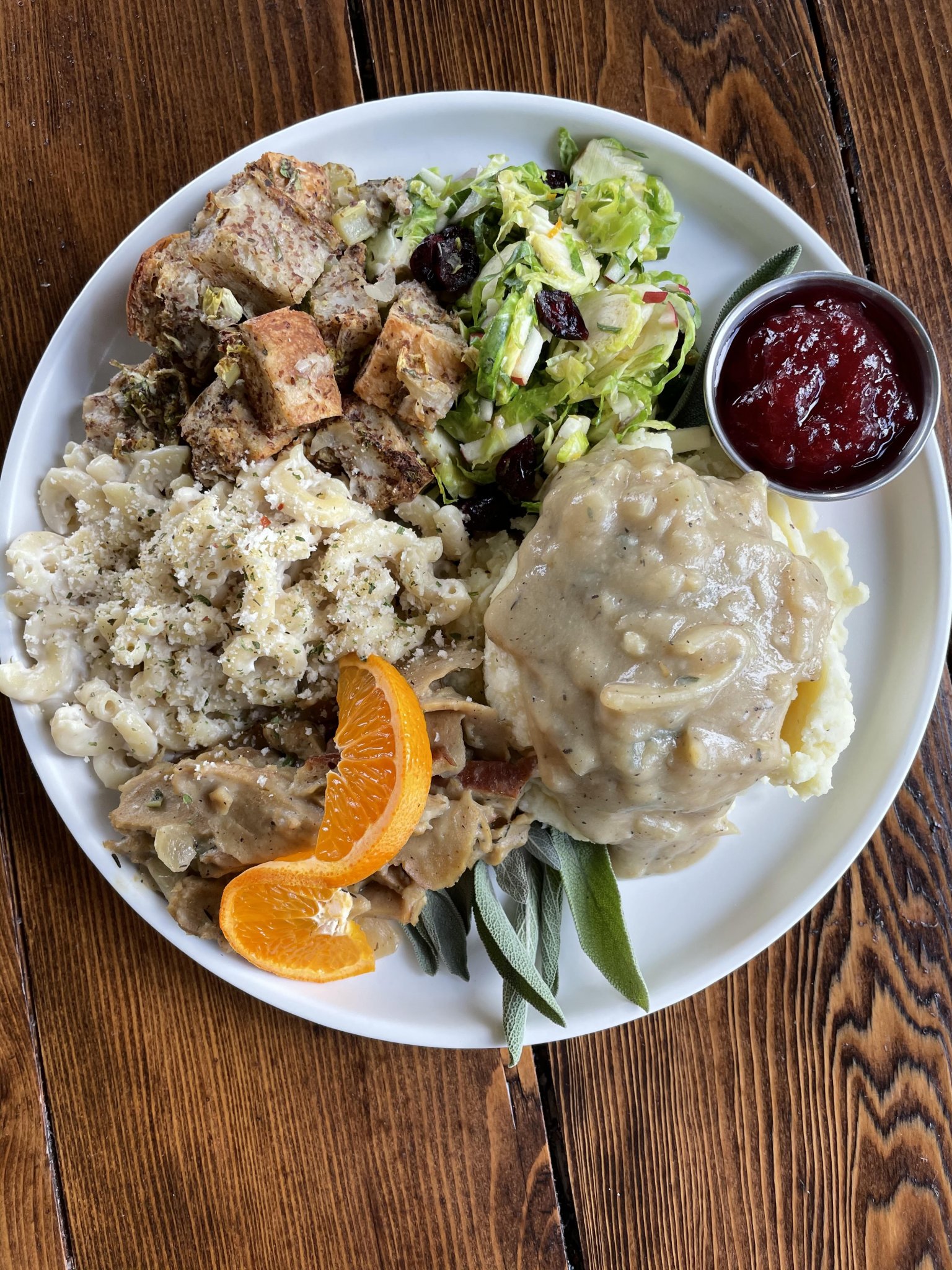 Stuffed Holiday Roast (Love Again Local, West Chester, Pennsylvania)
Love Again Local is a vegan deli and sandwich shop offering a tasty stuffed roast that's perfect when served over veggies and basted for extra moisture and flavor. It's available for in-store pickup on its own with sides of your choice, or you can choose the Holiday Feast Bundle, which includes the roast, gravy, mac and cheese, and a heart-shaped pumpkin cookie cake.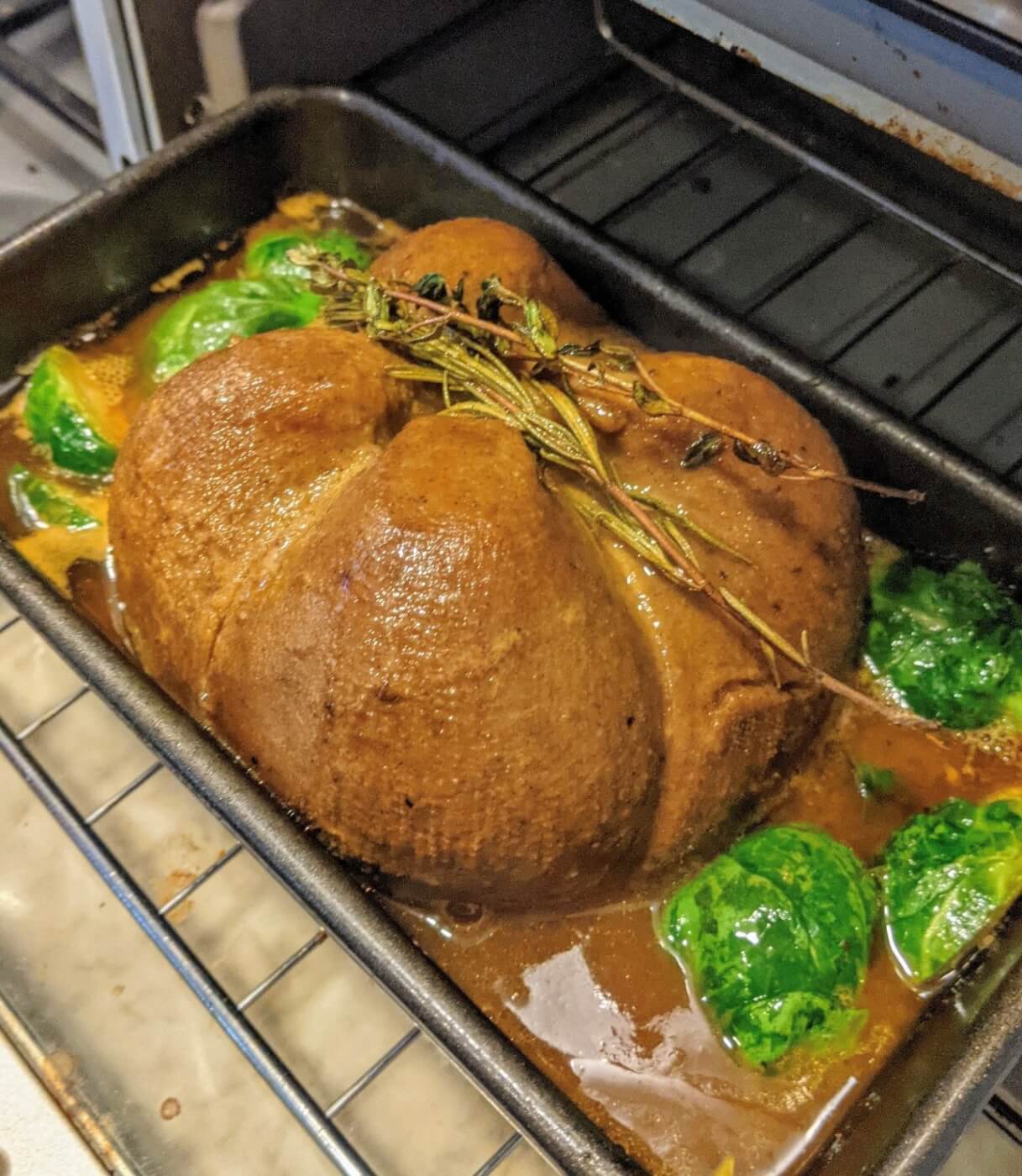 Crispy Skin Turkey (The Butcher's Son, Berkeley and Los Angeles, California)
The Butcher's Son has various vegan offerings, including a 1-pound vegan roast, sausage stuffing, shepherd's pie, cheesecakes, and eggnog, available for local pickup at both its Berkeley and Los Angeles locations and for nationwide shipping. Its "turkey" roast uses a soy paper wrapping that crisps up just like skin, but no animal had to die for you to enjoy it.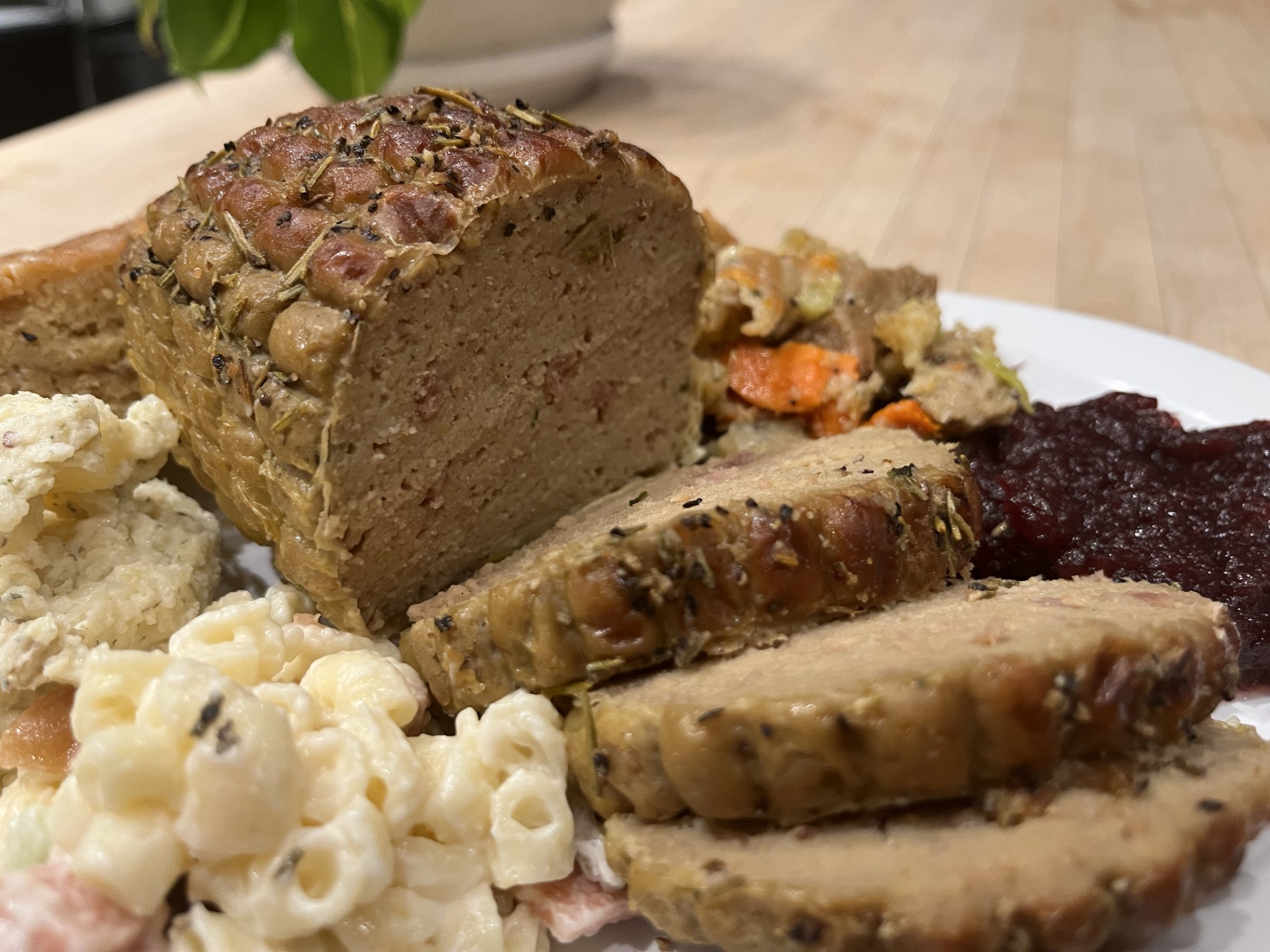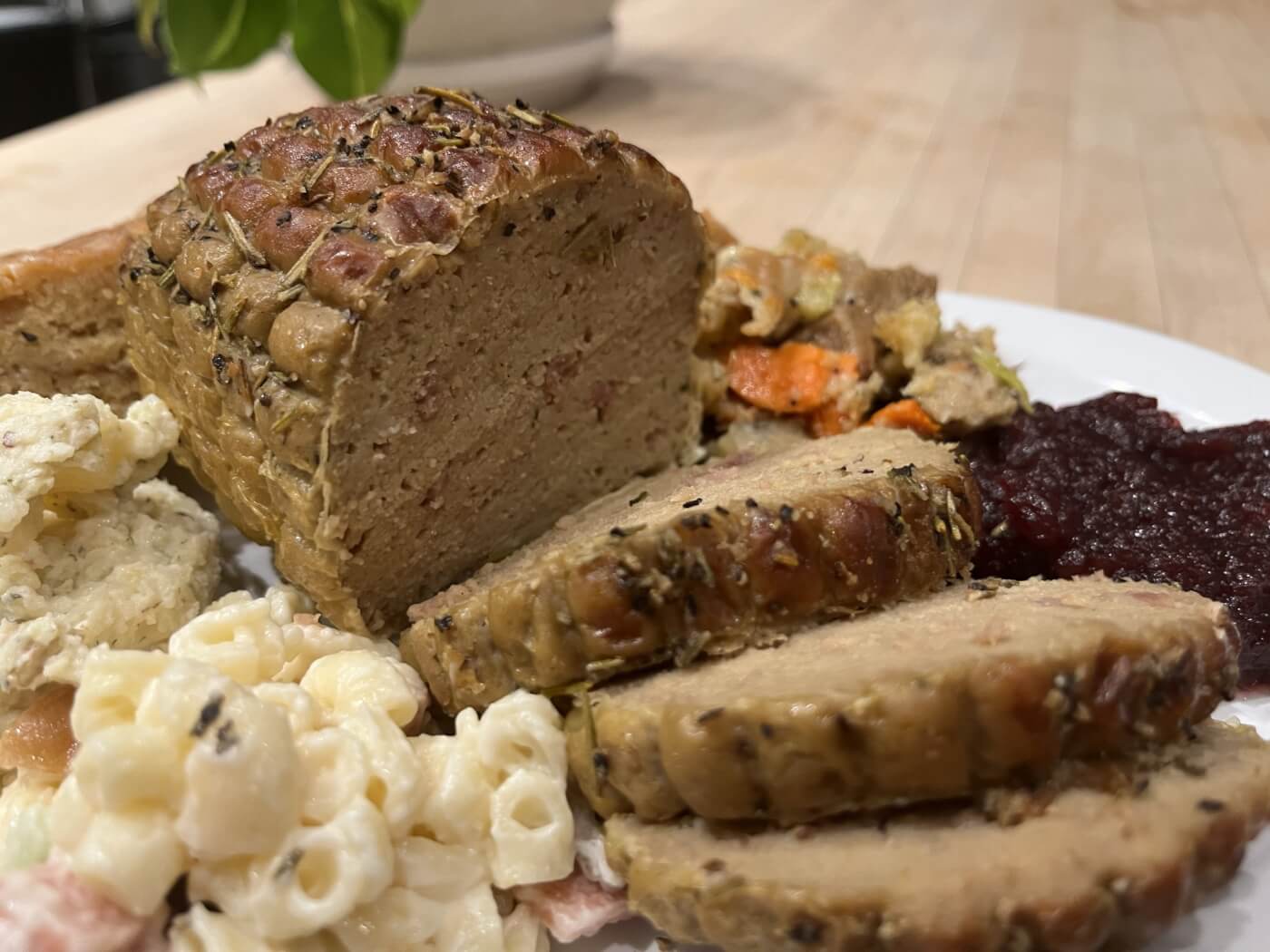 Nut Loaf (Lovin' Spoonfuls, Tucson, Arizona)
Sometimes a savory nut loaf is exactly what you want for your Thanksgiving centerpiece. This cashew-based one from Lovin' Spoonfuls uses simple ingredients packed with flavor. Plus, it's on the regular menu, so you can enjoy it year-round.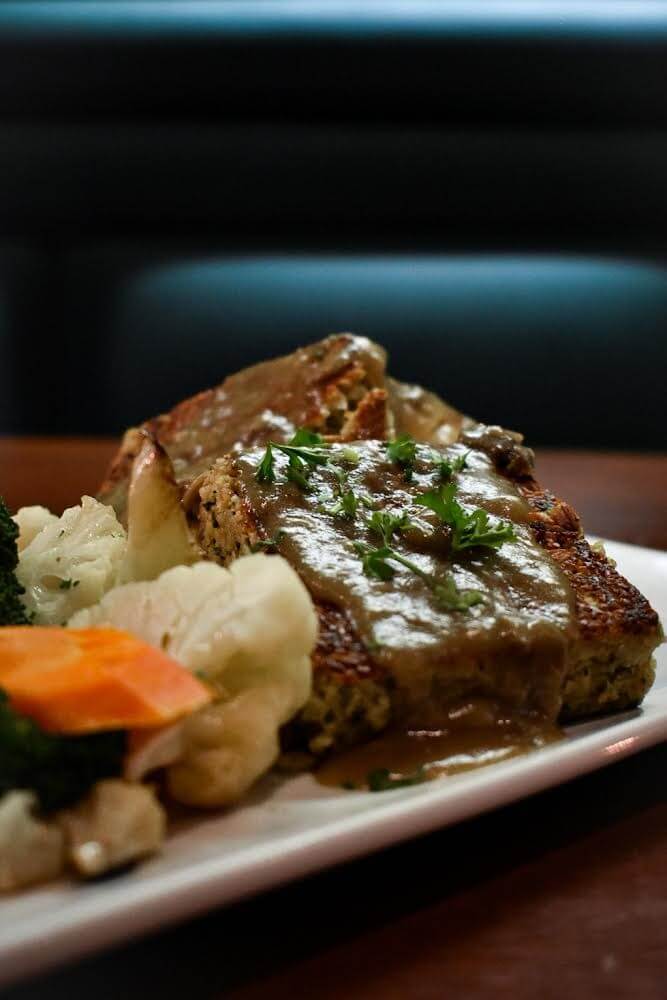 Stuffed Turkey (The Herbivorous Butcher, Minneapolis, Minnesota)
Vegan butcher shop The Herbivorous Butcher offers this 2.5-pound sage-spiced stuffed vegan turkey roast, along with 1- and 2-pound unstuffed roasts. The store's Turkey-Free Feast, available for free nationwide shipping or local pickup, includes other vegan meats and cheeses, marshmallows, and a gravy mix.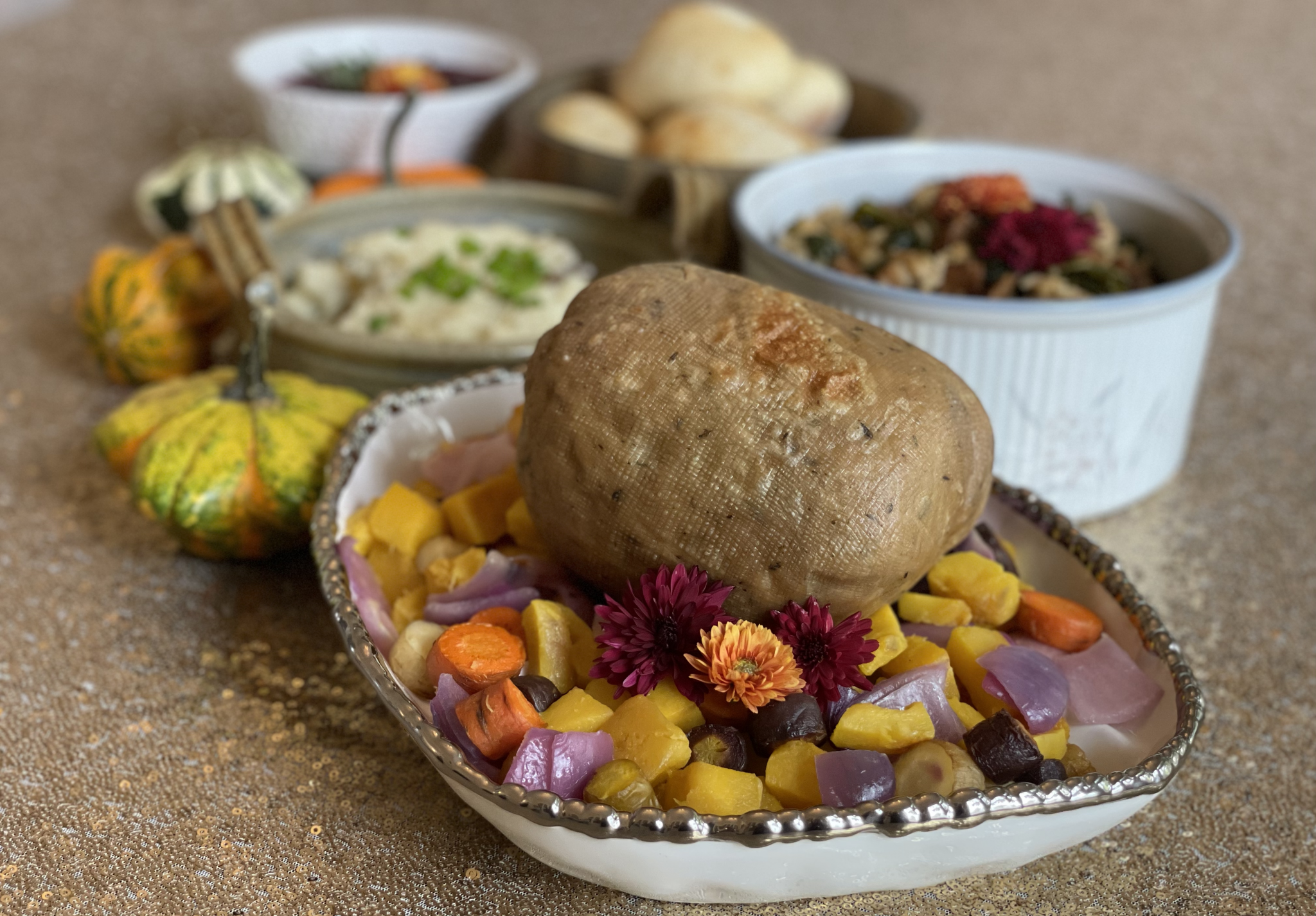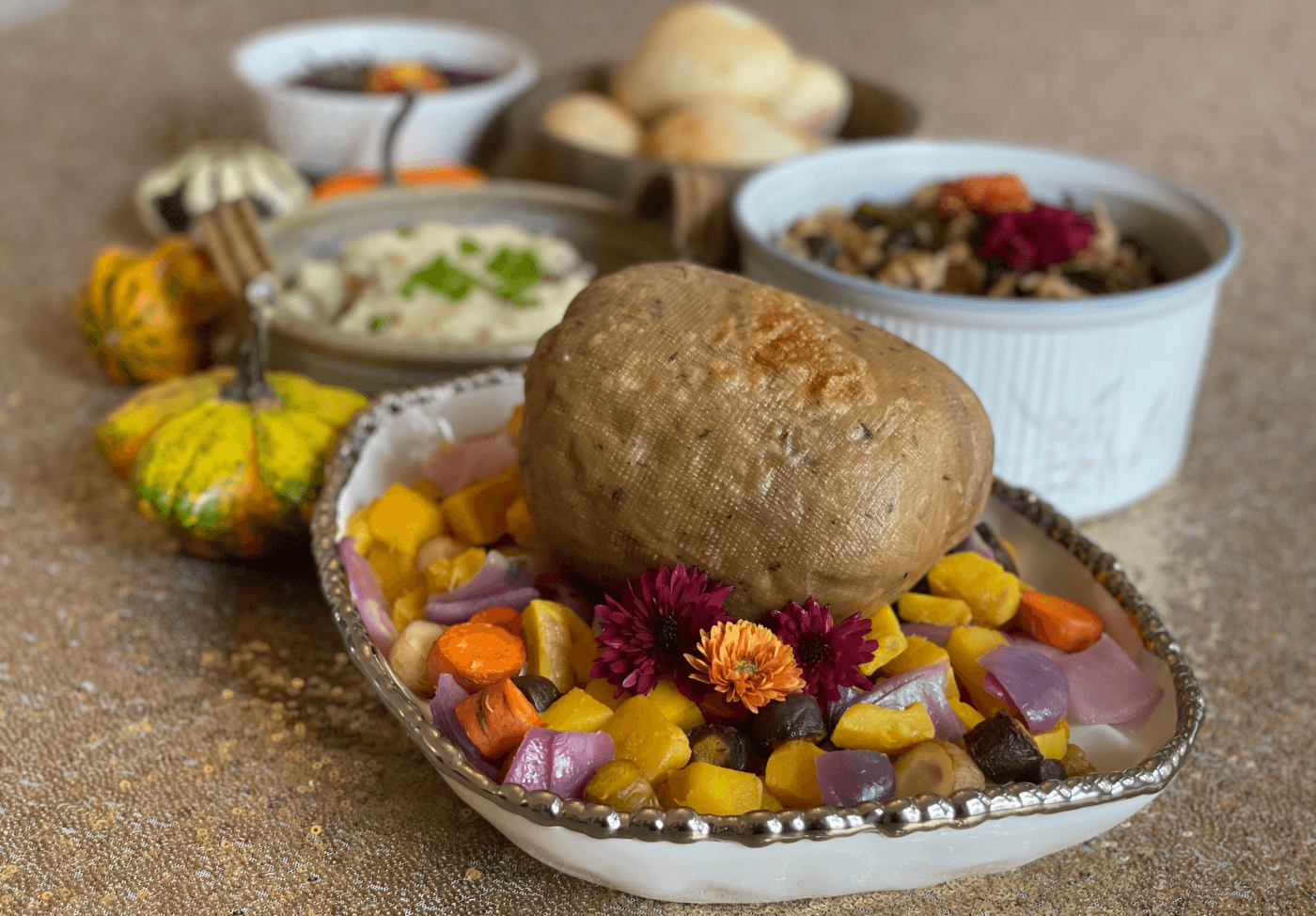 Smoked Tofu Chickwheat Roast (Monk's Meats, Brooklyn, New York)
Monk's Meats is a vegan barbecue spot that offers a special Thanksgiving menu, including its massive 5-pound Smoked Tofu Chickhweat Roast made with a proprietary blend of wheat, chickpeas, and tofu. It comes with chestnut fennel stuffing, is wrapped in yuba skin, and is rubbed with vegan sage butter before being smoked over hickory hardwood. Local pickup and delivery have been available since November 3.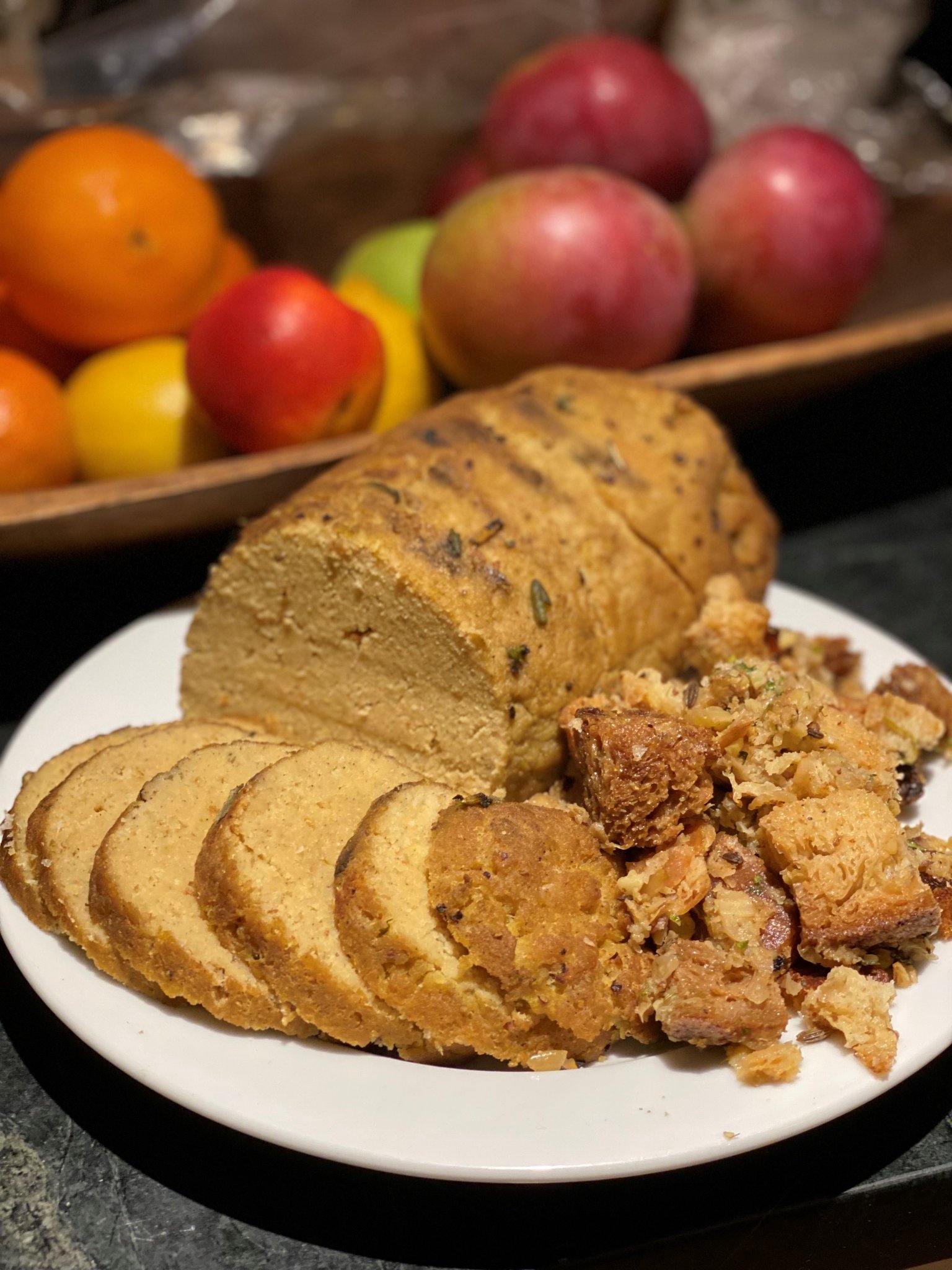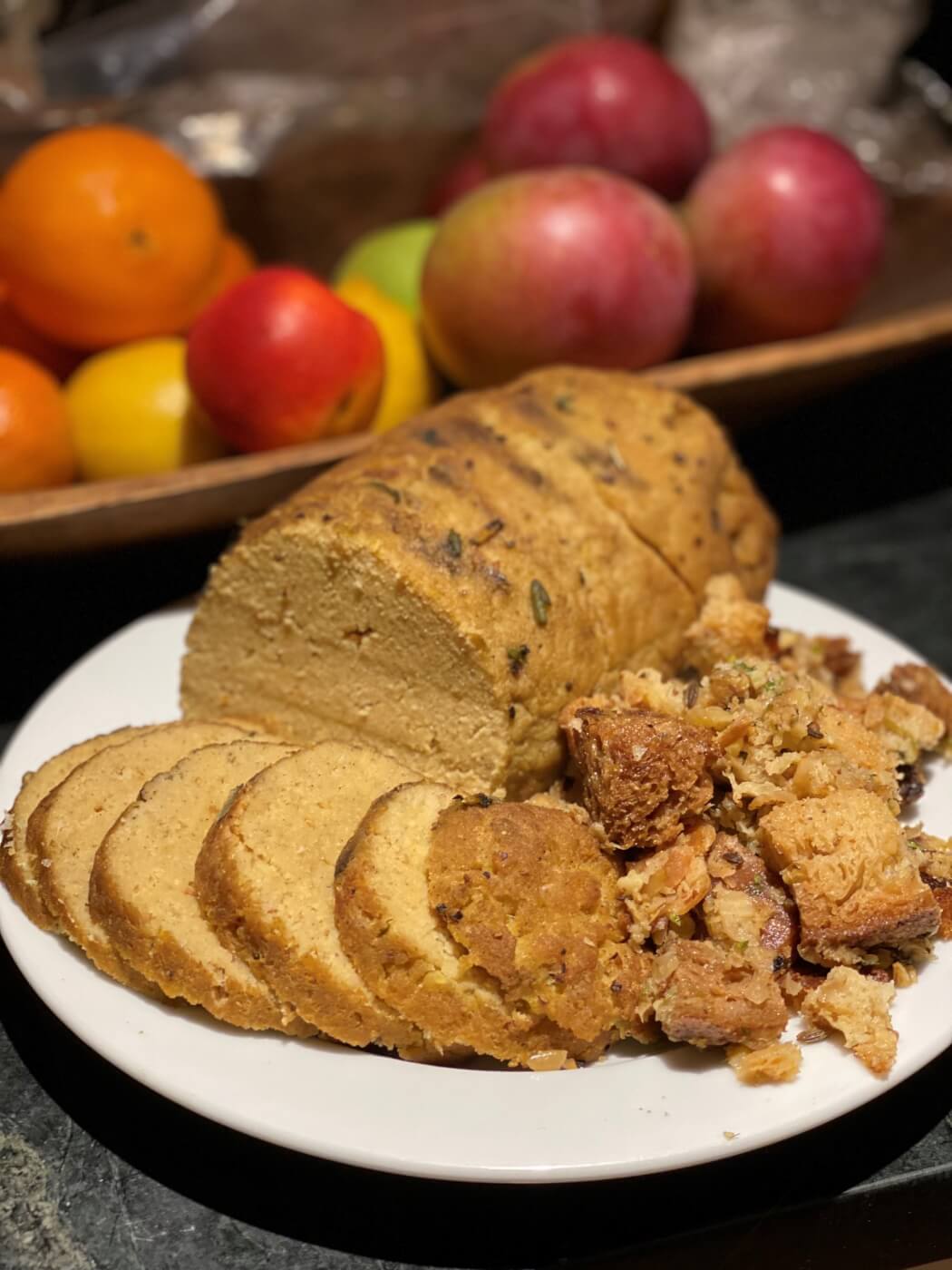 Holiday Roast (Grass Fed, Rochester, New York)
Vegan butcher shop and deli Grass Fed has a stuffed and unstuffed Holiday Roast made from seitan with a mushroom, fennel, and leek stuffing. It's also offering gluten-free Thanksgiving soy curls in a mushroom gravy, mushroom pâté, and a Sriracha-lime cheese ball for the holidays. Preorder is available with local pickup on November 17 and 18.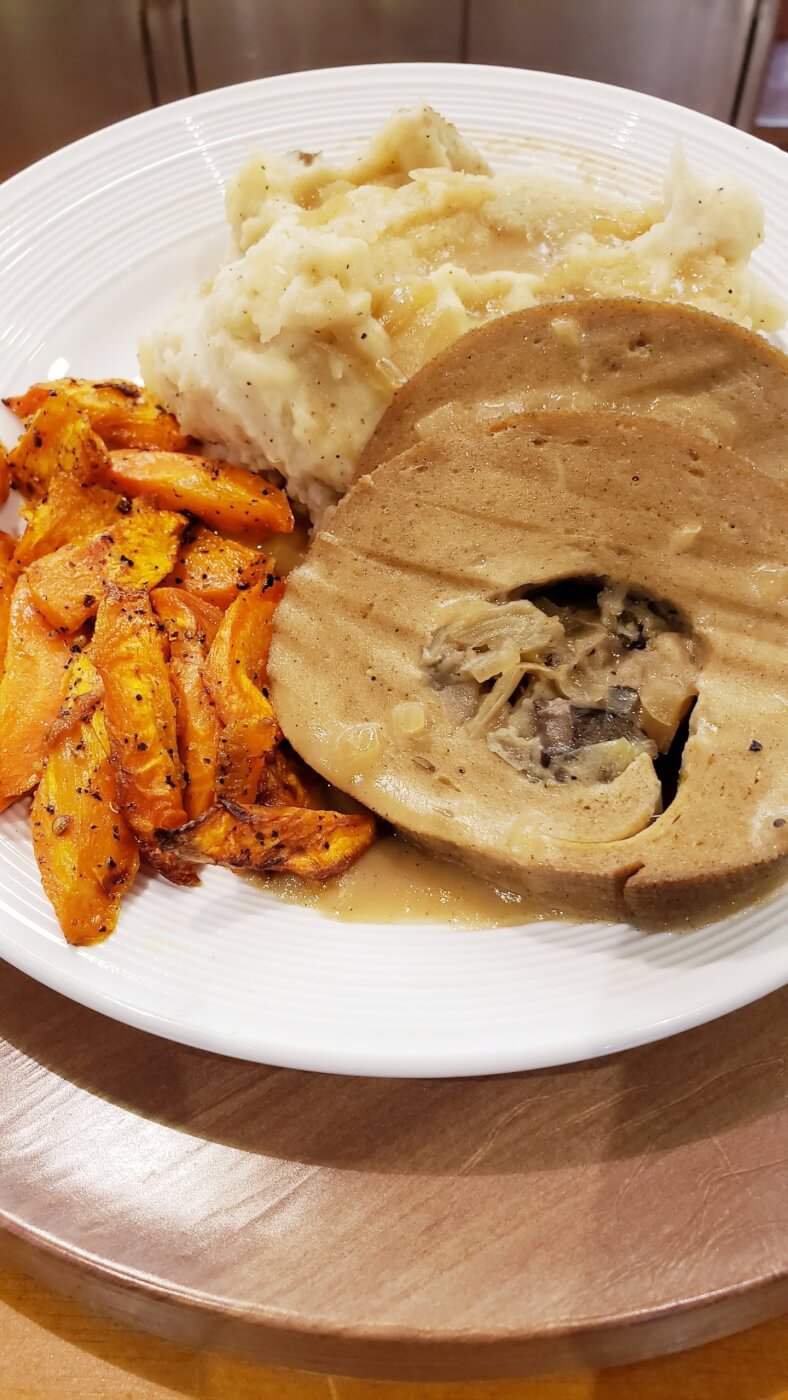 House Made Whole Apple Cider Basted Vegan Turkey Roast (Planted Table, Oakland, California)
Bay Area delivery service Planted Table's vegan turkey roast is made with savory roasted apples, carrots, and celery and covered with a crispy "skin." You can also get several delicious sides, including Mom's Cornbread Stuffing, Risotto Stuffed Acorn Squash, and a House Smoked Cauliflower Roast. Place your order for local delivery now through November 20.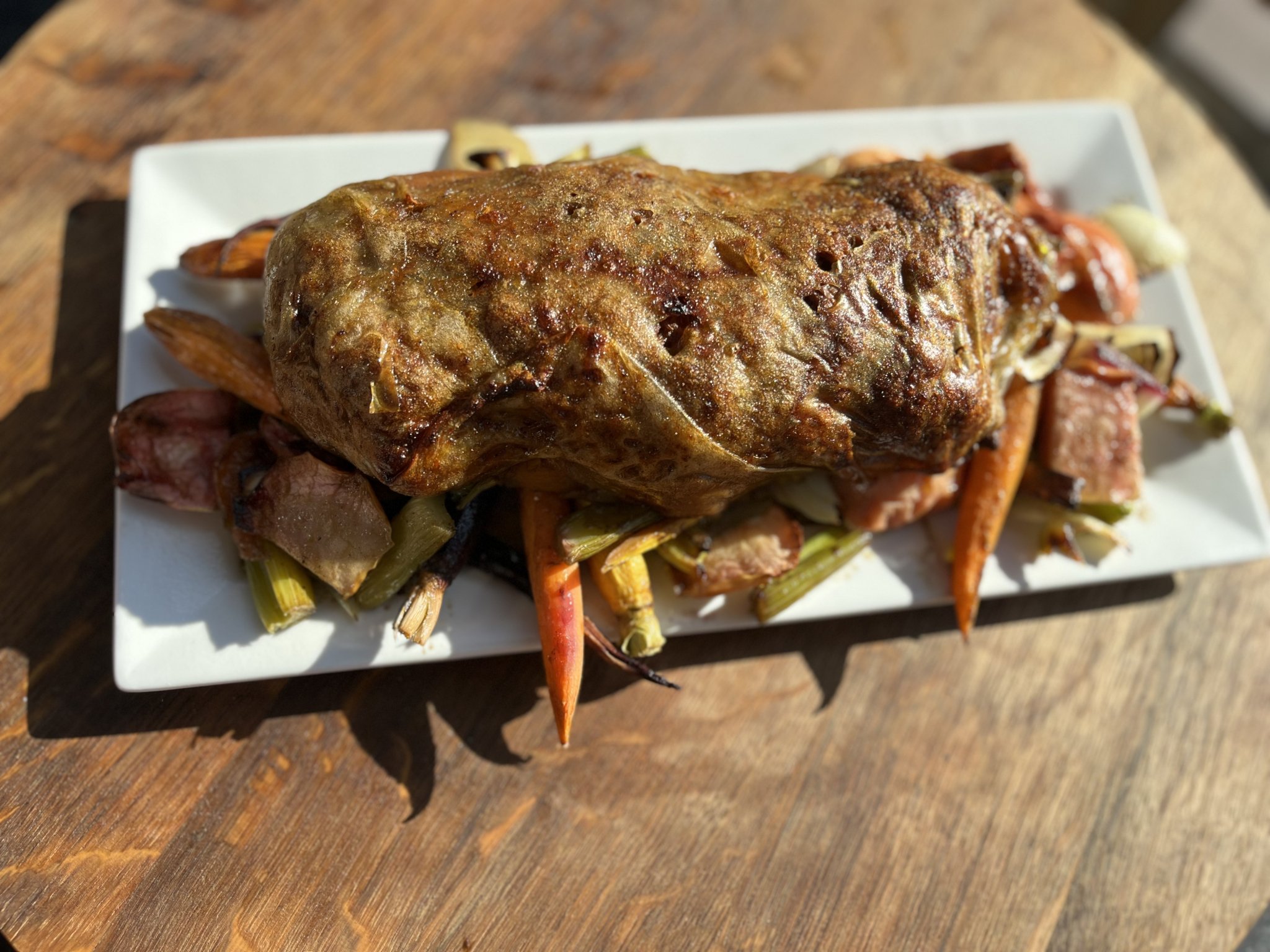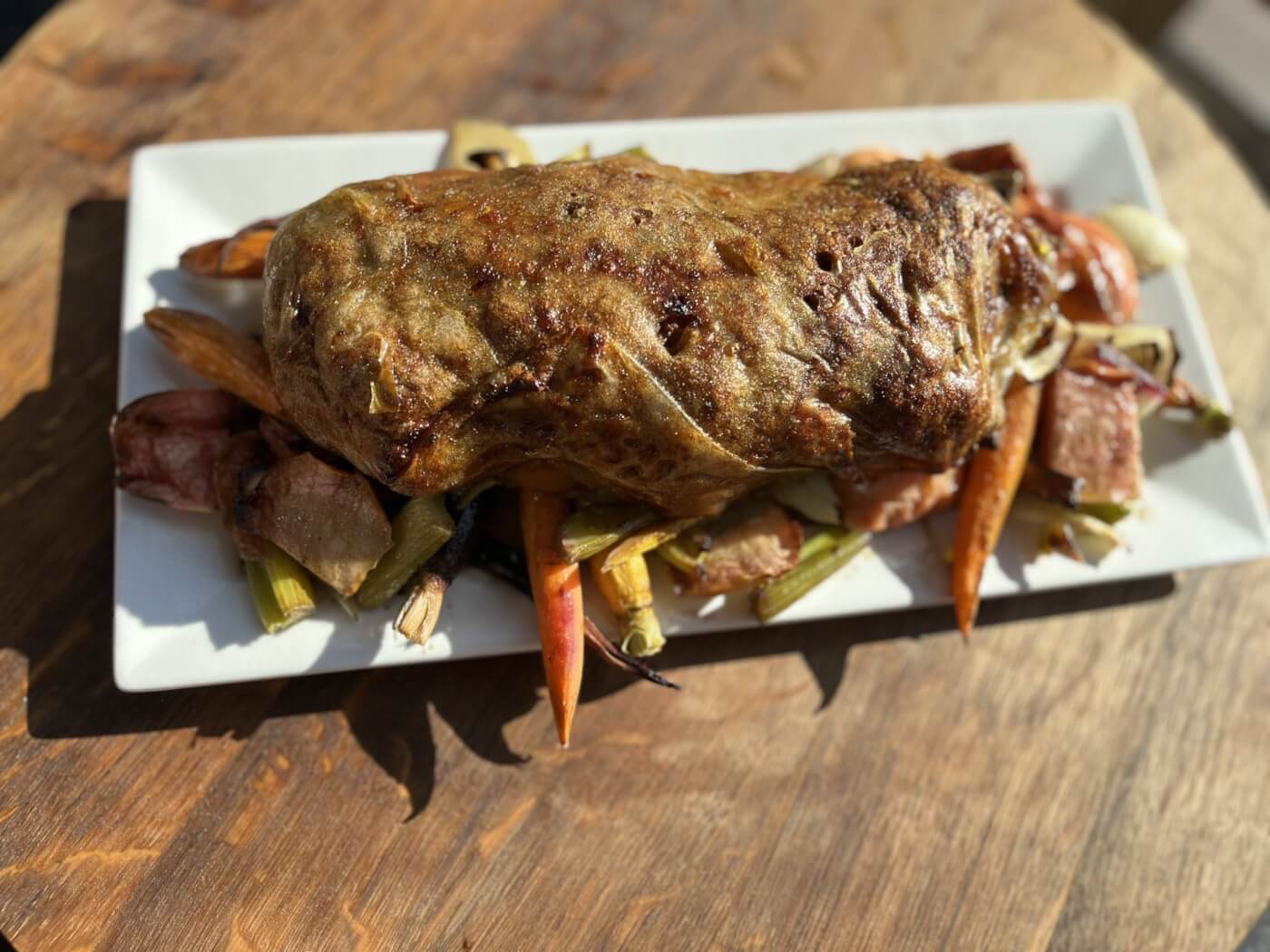 Honorable Mention: Tofu Turkey (Majani, Chicago, Illinois)
Majani's Tofu Turkey is herb-crusted and roasted to perfection and can be ordered along with Cornbread Dressing, Mac & Cheese, Collard Greens, and a Sweet Potato Pie.
---
If none of these roasts are available near you, don't worry! Most grocery stores stock vegan turkey and ham roasts for the holidays—you're sure to find offerings from Tofurky, Field Roast, and Gardein available near you. Also, check with your local vegan or vegetarian restaurant to see if it's offering roasts or other holiday meals for pickup.
Help animals year-round by going vegan! Order a free vegan start kit today to learn more: