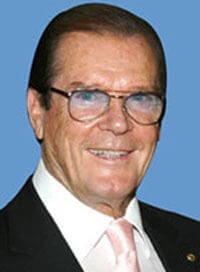 As Special Agent 007, Sir Roger Moore battled the bad guys in Live and Let Die, A View to a Kill, Octopussy, The Spy Who Loved Me, and The Man With the Golden Gun. As a real-life knight of the British Empire and an enemy of those who are cruel to animals, he is now battling foie gras.
Through [the] painful force-feeding process, birds have as much as 3 pounds of food pumped into their small bodies every day—in human terms that's roughly 45 pounds of pasta—until they develop a disease that causes their livers to enlarge up to 10 times their normal size.
―Sir Roger Moore
Moore teamed up with PETA and the Animal Protection & Rescue League (APRL) to narrate a video explaining that foie gras is a disease, not a delicacy.
Why would Moore cry "fowl" over foie gras? Ducks and geese raised for foie gras suffer abuse that would be illegal if dogs and cats were the victims.
Foie gras (French for "fatty liver") is produced by pushing metal pipes down the throats of ducks and geese and force-feeding them to the point that their livers become painfully diseased and enlarged, sometimes rupturing their organs.
Investigations into foie gras farms in the United States and Europe have all revealed the same thing—sick, dead, and dying animals, some with holes in their necks from pipe injuries. An APRL investigation found one farm where ducks with bloody beaks and with their wings twisted together were jammed into wire cages.
At another farm, birds were dangling by wires as blood seeped from wounds in their necks and onto the live birds beneath them. After being subjected to this constant pain for about a month, ducks and geese are shackled upside-down, and their throats are cut.
Foie gras farms are so cruel that force-feeding birds has been banned in many countries, including Israel, Switzerland, and those of the United Kingdom. In 2004, Gov. Arnold Schwarzenegger signed a bill outlawing both the production and the sale of foie gras in California. Many restaurants, however, still serve this cruel product.
You Can Help
Join Sir Roger Moore, PETA, and countless caring people worldwide by never purchasing foie gras. If you see it on a menu, explain to the restaurant manager or owner how cruel it is and why you would like them to remove it.