Rats Killed by GCB's Manager

GCB's manager killed these rats and many others. He laughed as he grabbed these rats by the tail and slammed them against a hard plastic tub.
Emaciated Black Tree Monitor

Many of GCB's monitor lizards were very underweight or emaciated, with plainly visible vertebrae, like this one, who was also missing skin from the white areas on his or her nose and back.
Starving Kahl Albino Boa Constrictor


This snake was left to starve for at least a month. GCB's manager denied requests by PETA's investigator to help the snake, who languished in a filthy tub and became increasingly emaciated before finally dying.
Dead Rat and Her Baby

This mother rat was found lying dead, next to her dead pinkie. She appeared, as did other rats, to have died while giving birth.
Treated Like Trash

These dead tortoises were thrown out with the trash at GCB. They weren't treated much better when alive: Sometimes they were denied water, which they need both to drink and for defecation.
Weak, Lethargic Rat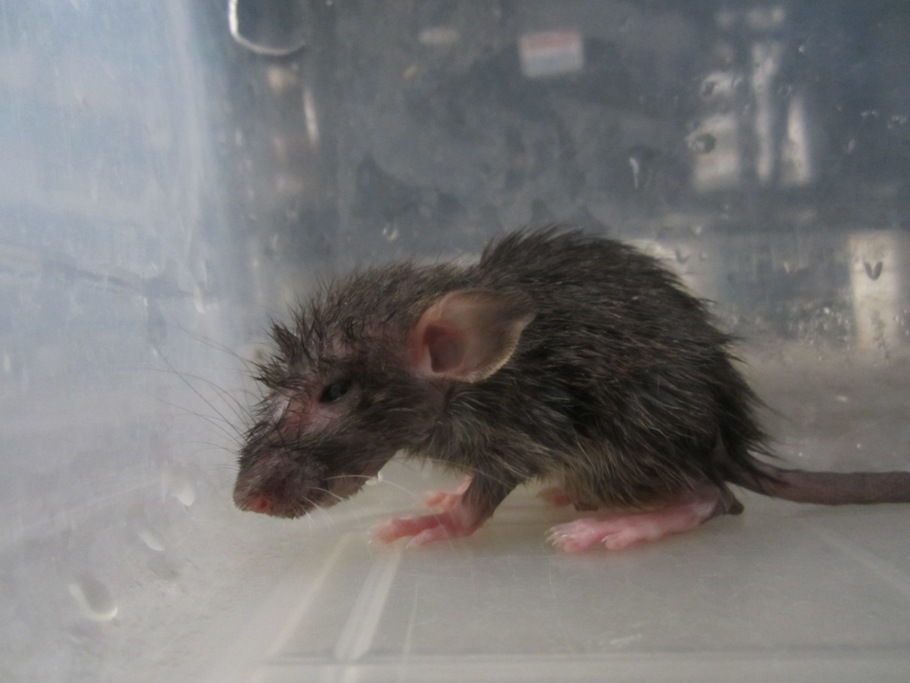 This weak and lethargic rat was found in another severely crowded tub among at least 200 other juvenile rats, many of whom were severely dehydrated and dying.
Severely Crowded Rats
Many rats were kept in cramped bins. Some were forced to compete for and eat food off the bins' urine- and feces-covered bedding, leading to fights, injuries, and death.
Maggot-Covered Enclosure

Management and workers left dead animals to rot for days. This enclosure, which contained a dead blue-tongue skink, was covered with thousands of maggots.
Filthy Bedding
Rats were forced to eat and sleep on feces-covered, urine-soaked bedding, exposing them to disease. Many rats could not even sit up to groom themselves in these shallow prisons.
Struggling to Survive

Broken valves left hundreds of rats struggling to protect their pups in the rising water. With no escape, an expert explained, rats felt terror watching their young suffer and die.
A Typical Monday's Casualties

Rats were ignored on Sundays, so many were found dead on Monday. Rats signal stress by ultrasonic noises and pheromones—meaning many rats heard and sensed this family's extreme fear.
Soaked, Shivering Survivors

PETA's investigator saved countless exhausted and weakened rats from flooded tubs. They shivered as they battled hypothermia.
Dead Biak Snake

This thin yellow biak snake was one of many found dead in enclosures at the facility.
Rat With Abscessed Eye

This rat's bloody eye deteriorated over the course of eight days, until a worker finally slammed her into a metal rack. She had a violent seizure then was thrown into the trash.
Gasping for Breath

The facility was full of snakes, such as this one, who struggled to breathe. PETA's investigator never saw GCB bring a veterinarian in to see even a single animal.
Snake With Apparent Respiratory Infection

Many snakes at GCB wheezed and labored to breathe through open mouths—signs of respiratory infection. GCB denied all of these snakes, including this one, veterinary care, to the investigator's knowledge.
Rat Shot and Killed With a BB Gun

GCB's manager shot this rat twice with a BB gun and threw the animal―who was convulsing―into a trashcan full of feces, urine, and dead rats. He finally killed the rat with a third shot.
Emaciated Blue Biak Snake

Many of the facility's reptiles, including this emaciated snake, were neglected and left to starve. This snake, like others, was so thin that his or her ribs were visibly protruding.
Injured Rat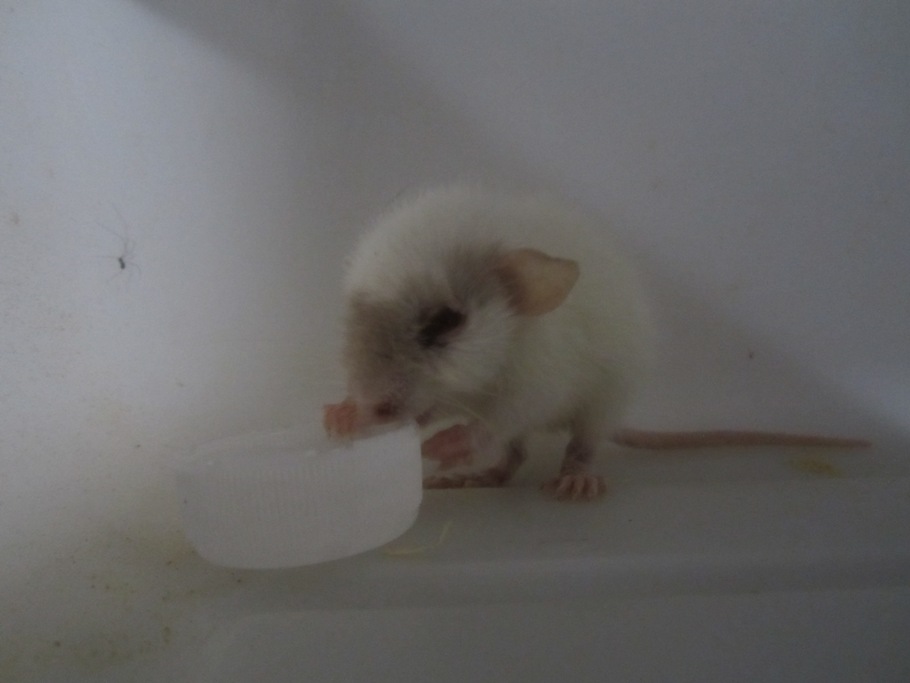 This rat was found in a severely crowded tub with at least 200 others, where he or she was being attacked by another rat. The stressful conditions left the rat with an injured and bloody eye.
Dead Rats in the Facility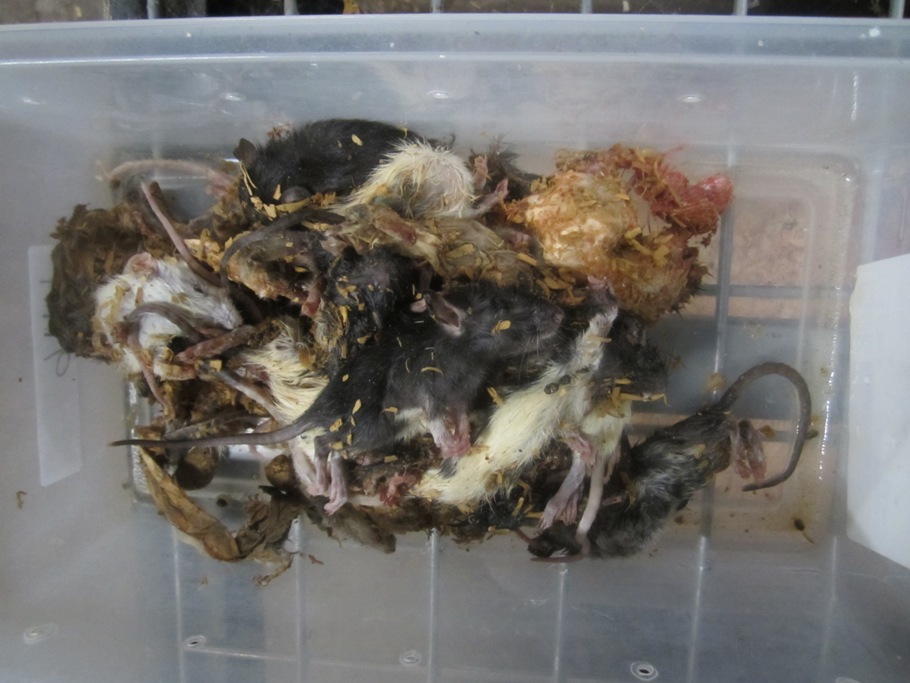 Investigators entering GCB on December 12 found hundreds of animals for whom help came too late, such as the many dead and decaying rats in this jumbled mass.
Thin Blue-Tongue Skink

GCB's rampant neglect of reptiles left this skink, and others, to starve, causing the flattened body condition that you see here.
Unnatural Conditions

GCB's monitor lizards, who in nature live in moist forests, were housed on plastic and dry wood. Animals at GCB were denied all that was natural and important to them.
Bolivian Boa Constrictor in a Filthy Enclosure


GCB owner Behm repeatedly told workers not to bother taking care of his reptiles. Disgusting conditions were common. This snake was left with the regurgitated remains of a rotting rat and maggots.
Hogg Island Boa Constrictor With a Swollen Face


This snake languished for two months with severe facial swelling. A worker repeatedly punctured the animal's face with a thumbtack and squeezed it until pus erupted from the wounds.
Filthy, Standing Water
GCB's water lines often malfunctioned, flooding rat enclosures and spilling water onto the facility floor. Rats were warehoused like shoes in rack after rack of tiny tubs.