Looking for a truly terrifying flick this Halloween? PETA Latino—in collaboration with Archer Troy, Central Films, and Rabbit House—has you covered with Payback, which shows what might happen if animals took revenge on their human tormentors. It's sure to be the scariest short film that you've ever seen. Watch it now—if you dare!
As a child, how many times did you go to the market or the butcher shop with your parents and stare in astonishment at the bloody corpses hanging from hooks, rancid and covered with flies, without realizing that the formless masses were once animals who were subjected to violence and other abuse throughout their lives?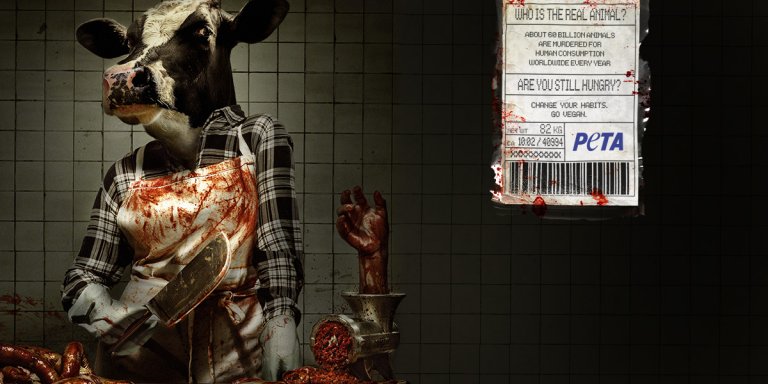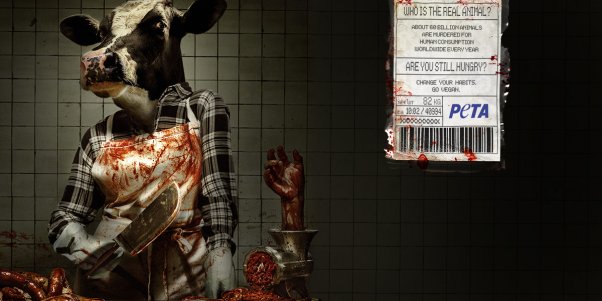 The filthy, crowded crates, pens, and sheds where animals are imprisoned and the slaughterhouses where they're killed are true hellholes. Animals raised for food endure severe crowding, beatings, kicks, and electric shocks. Their body parts are mutilated and cut off, without any painkillers. In slaughterhouses, they're hung upside down, stabbed in the neck, and left to bleed to death. Reality is worse than fiction. If the roles were reversed, how would you feel? What would you think? One thing is certain—you wouldn't want to experience this nightmare.