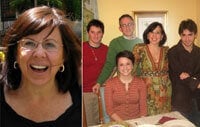 You submitted your nominations for Mom of the Year and, after painstakingly sifting through oodles of information about beloved moms who go the extra mile to help animals, PETA's panel of judges chose the winner. Congratulations to Andrea Kahn Eisenberg of Boston—she's PETA's Mom of the Year!
Andrea, a mother of three, has been vegetarian for seven years and was able to get her husband and children to go vegetarian as well. She's the proud guardian of three dogs, and she has also fostered greyhounds rescued from a Massachusetts racetrack.
She is extremely active in her community, teaching cooking classes and educating people about the benefits of a vegetarian diet. Andrea is also a member of the Massachusetts Animal Rights Coalition, and she's on the board of the Boston Vegetarian Society's Food Festival.
As our Mom of the Year, Andrea will receive a "She Is Seriously Spoiled" gift basket from Best Bath Store.
Name: Andrea Kahn Eisenberg
Hometown: Boston, Massachusetts
What did you think about being nominated for Mother of the Year?
I was wicked flattered!
Are you a vegetarian?
We went vegetarian about seven years ago. Began to go vegan about two years later.
Why did you decide to go vegetarian?
I can't begin to count the times I have told this story: I grew up in a family that "loved animals." We were huge dog lovers. When my kids were in school, I started to volunteer in dog rescue. I also gave money to some animal charities. I guess my name made its way onto the PETA mailing list and I started to get your magazine. I read these magazines a few times and started to think, "What the hell am I participating in here?" I clearly remember one evening serving my family sausage, and I couldn't eat it. And I said to them, "You guys, we are going to become vegetarians." My kids were in junior high school, but one of the proudest things in my entire life is the ease with which I could convince them and my husband that it was a change worth making.
Has your health improved since you went vegetarian?
My cholesterol is better, and my weight is very good for my age.
What is your favorite thing about being a vegetarian?
Honestly, just the good karma and knowing that I don't participate in the horrors of factory farming.
Do you have companion animals?
We have three precious dogs. Dori, almost 13, was bought from a small breeder. I love poodles and didn't know I could rescue one. At the same time, we rescued Tony, also 13, from a shelter (it was his last adoption before he was headed to the gas chamber). We adopted Leo eight years ago. He is 9. Of course, all are neutered.
Are you involved in advocating for animals (in addition to your diet)?
We live in a very mixed urban neighborhood, and I am involved in the local health initiative to educate people on healthy eating and growing vegetables in their yards. I have also just volunteered to speak to a teen group about healthy eating. I am also going to teach a cooking class through the health initiative, which of course will extol a plant-based diet.
I am on the board of the Boston Vegetarian Society's Food Festival and a volunteer coordinator, and I am actively involved in expanding the exhibitor base.
I volunteered fostering greyhounds rescued from the Massachusetts track in 2006 and 2007. I am a member of the MARC (Mass Animal Rights Coalition) and do sometimes participate in demos. I love the "You Can't Be a Meat-Eating Environmentalist" flyers and often slide them under car windshields, especially the Prius types. I am getting ready to hand out KFC flyers at the KFC two blocks from my house.
I have to say that sometimes I think the most important "activism" I do is when I'm in a non-veg[etarian] restaurant and ask about vegan options or I'm in a grocery store and engage in conversation when I am in front of the mock meats or the tofu. I remember a few years ago, a lady was standing there looking pretty confused, and we started to talk about the tempeh. She said her young daughter had become a vegetarian, and she didn't know what to cook for her. We talked about good options, and I gave her the names of the best recipe Web sites and so on. But the last thing I said to her [was], "You should be very proud that you have a daughter with so much compassion." I hope it helped her be supportive enough to keep that daughter on track as a vegetarian.
What are your likes/hobbies?
My dogs are my obsession, really. My hobby is researching and renovating our old house. I like to read and travel and hike with my dogs.
Do you have a vegetarian/vegan role model?
I love people who are OUT as vegans. I love Alicia Silverstone. It's so important for people to let everyone see how being vegan is not counterculture or weird. I have more un-role models, truth be told. Stop worrying about cars and start telling people about the truth of meat causing global warming.
Thanks to everyone who participated in this contest!