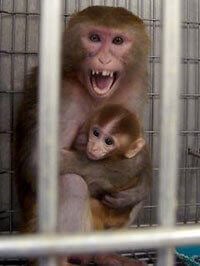 Judy Cameron's Maternal-Deprivation and Psychological-Development Experiments
The relationship between early-life stressors such as maternal deprivation and adolescent anxiety and depression has long been established in humans. Furthermore, researchers have noted that human anxiety disorders are complex phenomena and that "the chance of creating animal models which consistently reflect the human situation is quite poor."1 The suffering of the animals tormented in these wasteful studies makes them both scientifically and ethically unjustifiable considering the human data that have been acquired on this topic.
Judy Cameron, an experimenter at ONPRC, separates infant monkeys from their mothers at different ages and under slightly different circumstances to see how it affects their development, behavior, and mental health later in life. As with the first 50 years of maternal-deprivation studies, made famous by Harry Harlow, deprivation causes serious psychological suffering for these animals. We have known for decades that the legacy of maternal deprivation lasts a lifetime.
Kathy Grant's Alcohol-Consumption Experiments
ONPRC experimenter Kathy Grant starves monkeys in order to get them to "voluntarily" consume alcohol, observes their drinking behavior, and then kills them in order to study the effects of drinking on the body and "to determine the influence of genetic composition, sex, age, and stress on the risk for heavy drinking."2 The results of one of her most recent studies are telling: The effects of alcohol on monkeys' livers "compare well with the changes observed in liver function in human alcohol abusing subjects."3 In other words, Grant is merely replicating what is already known about the effects of alcohol on humans.
Elliot Spindel's Maternal Nicotine–Consumption and Fetal Lung–Development Experiments
The adverse effects of maternal nicotine consumption on fetal lung development have been well documented in human epidemiological studies.4 According to a recent study, scientists should be working to improve clinical monitoring and educational efforts in order to prevent prenatal nicotine exposure altogether.5 This is the only way to truly alleviate the problem.
Yet ONPRC's Eliot Spindel has squandered more than $7.6 million in taxpayer money since 1992 for experiments that entail impregnating monkeys, injecting them with dangerous levels of nicotine, and then delivering their babies pre-term via Caesarian section. After delivery, the newborns are immediately taken away from their mothers, have their lung functioning measured, and are killed and mutilated in order to remove their lungs—all after just one day of life.
Kevin Grove's Maternal-Obesity and Childhood Body–Weight Experiments
The links between maternal obesity before, during, and after pregnancy and negative health outcomes in children have been well established in human clinical studies. The offspring of mothers who are overweight have increased chances of suffering from obesity, heart disease, diabetes, cancer (and a variety of other comorbid illnesses), and even attention deficit hyperactivity disorder (ADHD).
ONPRC experimenter Kevin Grove induces obesity and diabetes in female monkeys by feeding them a high-fat, high-calorie diet (which, according to our undercover investigator, consists of water, oil, lard, beef tallow, and butter) and studies the effects on the long- and short-term body weight of their offspring. This project began in July 2007 and is scheduled to run through 2011.
Michael Axthelm and Scott Wong's AIDS/HIV Experiments
Twenty-five years of failed animal testing have shown that nonhuman primates are not a good model for AIDS. All of the more than 85 vaccines for HIV/AIDS that were developed using animals and shown to be safe and effective in monkeys have failed in human trials because they either didn't work or were dangerous. In some cases, they made humans more vulnerable to the virus. As far back as 1987, renowned AIDS researcher Dr. Allen Goldstein of George Washington University stated, "The sooner we begin testing on humans, the sooner we'll hopefully be able to develop a vaccine."8
Yet experimenters Michael K. Axthelm and Scott Wong continue to perform HIV/AIDS experiments on rhesus monkeys. As a result of their experiments in which they infect monkeys with AIDS-like diseases, the animals suffer acute weight loss, major organ failure, breathing problems, diarrhea, vomiting, loss of appetite, and neurological disorders.