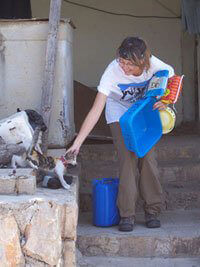 July 31, 2006: PETA Asia-Pacific Team Heads Into Beirut
PETA Asia-Pacific representatives Jason Baker and Michele Rokke stocked up on hundreds of pounds of dog and cat food and various rescue supplies in Jordan. Michele set off early this morning for Lebanon and is just a short distance from Beirut. She hopes to rescue as many animals as possible and take them to safety in Jordan while Jason tries to gain permission to enter Lebanon to join the efforts.
August 2, 2006: PETA Asia-Pacific Has Entered Bombed War Zone in Southern Lebanon
Early this morning, Michele sent a report to PETA Asia-Pacific's headquarters from Hezbollah-controlled Southern Lebanon, where she is helping to take supplies to as many animals as her rescue team can find.
Michele spent August 1 in the suburbs south of Beirut with Lebanese volunteers from Beirut for the Ethical Treatment of Animals (BETA) and then met with armed fighters, who agreed to help her with deliveries—including cat and dog food and water containers—for deserted animals. Michele tells us, "Kind people know that hungry animals don't have political alliances." We agree.
Most residents of the area, which has been pocked by bomb craters and cut off from surrounding communities after a bridge was destroyed, evacuated weeks ago, leaving animals to struggle amid the rubble. Michele reports that gun-carrying militants "looked at us with great suspicion" but that PETA Asia-Pacific's car managed to follow a U.N. convoy through the mountains in order to reach the affected area. Michele has urged U.N. workers to be on the lookout for animals in need and is distributing a flier to the media and other parties with tips such as how to care for animals in distress, including using kitchen pans as water containers and unchaining dogs in unlocked pens in order to give them a chance to flee.
The Lebanese people have also been helping animals in need. A Lebanese soldier gave dog food to a dog who was hiding under a building. One Lebanese citizen was grateful after receiving food for her cats. A young boy and his father, who rescued a hungry puppy but had nothing to give him, praised us for coming to help animals. "The people are so kind and grateful for the help with their animals and other animals in their area," Michele reports.
At one house near the demolished bridge, Michele caught sight of a very thin puppy. "When I went back to him with food," Michele wrote, "he disappeared onto the porch of a home in order to be near a black-and-tan littermate. They were probably about 5 months old and were too frightened to be approached. While I was calling to the pups, a kitten came across the porch and immediately started eating the puppy chow, crying as she ate."
Trucks carry dead people past the dead cats and dogs who are lying "all over the place," explains Michele. These sights remind all of us—just as in the wake of Hurricane Katrina—of the life-and-death necessity of evacuating all species out of harm's way.
Good news for now: Michelle has learned that an animal caretaker at a zoo in Hezbollah-controlled territory stayed behind in order to look after the many animals—including birds, rabbits, camels, goats, fish, and a crocodile—who live there. Michele reports that the animals "look very well taken care of and are quite happy under the circumstances. The zoo is a serene, green garden in the midst of ugly rubble."
August 3, 2006: 'Amid the Horror, There Is Some Joy'
Michele reported this morning:
"The hotel shook with bomb strikes during the night, and then we were off to find whomever we could. Amid the horror, there is some joy: Today, we saw a lot of big dogs in the mountains as we drove to Saida. They had evacuated themselves and were playing by the side of the road. They have found food and seemed happy, away from the bombing. If there are any animals left after the war, the real work will come then."
August 4, 2006: PETA Asia-Pacific's Work in the Australian Media
This morning's Sydney Morning Herald reported on Michele's efforts to help animals in bomb-struck areas that journalists and other aid workers refuse to enter.
August 5, 2006: PETA Asia-Pacific's Work Continues as the Bombs Fall
Michele and Jason continued to feed and water the many terrified animals who are roaming the streets south of Beirut, including this cat in the city of Tyre.
PETA Asia-Pacific's Jason Baker reported today that a bridge was bombed and destroyed no more than an hour after he had crossed it—a startling reminder of the constant danger that those of all nations and species face right now in Lebanon.
August 6, 2006: PETA Asia-Pacific Helps Officials to Aid Animals in Need
Says Jason, "Our local driver failed to show up this morning and has apparently fled the area. It's hard to blame him when our hotel literally shook on its foundations last night. We have had to find someone else to help us with supplies, and it's been hard.
"We have created a pamphlet that we are distributing to United Nations workers, journalists, police officers, and members of the military asking them to be on the lookout for animals in need and giving them tips on how to help. We've had it printed in Arabic and English. It advises people to keep taps dripping, fill kitchen pans with water, and lead dogs out by using makeshift leashes such as belts. It also urges them never to leave dogs on chains or in pens that they cannot flee from and encourages them to unlock pens and unchain animals in order to give them a chance to flee."
August 7, 2006: Abandoned Cat Saved From the Streets
This cat, "Culchuh"—Farsi for "Cookie"—turned up at a grocery store two weeks after the first bombs fell. A woman in the store recognized her as having belonged to a family who had left the area. At any loud noise, Cookie would run into the store, only to creep back outside again to beg for food. PETA Asia-Pacific's team took her to a rescue unit in Jordan, where she will stay until a new home can be found for her, and paid for her spay surgery and medical needs. Meanwhile, the media outside the U.S. (America, where are you?) continue to cover the plight of animals in the war.
Michele reports: "On the news, they're reporting that fliers are being dropped from planes in Sidon (Saida) urging people to leave before the city is bombed. My heart breaks for the calico kitten and the two puppies I fed there earlier. They were waiting on a porch for their people to come home, and everyone who was left behind thought that would happen, but now we fear for them. We have no way of going back; the area is closed off."
August 8, 2006: Kitten Is the Last One Out as Bombings Increase
"Bombs fell heavily on southern Beirut," Jason reports. "It has become impossible to get into areas outside the city, where Israeli planes have dropped leaflets warning everyone to evacuate before everything will be leveled. We have left provisions for the black dog and his friends with an old man who remains here, and we have taken one kitten to an animal shelter in Amman, where she will be sterilized and re-homed. Now we are packing up to leave, but our hearts remain with the animals who cannot escape. War is truly a terrible thing for all forms of life."
Jason continues: "We wish our very best to CHAI, which is working on the Israeli side; to BETA, which is trying to help animals in Beirut; and to the Humane Center for Animal Welfare in Jordan, which has taken in some of the animals we got out of Lebanon. And our thanks to the wonderful individuals—including those in the rescue services and the military on all sides of this hideous situation—who have helped animals caught up in the warfare. These individuals all did a better job than the rich governments who betrayed faithful animals and the people who cared for them."