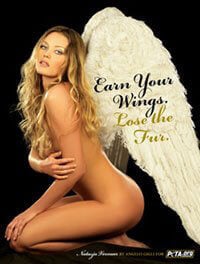 International top model Natasja Vermeer has strutted on runways in New York, Paris, and Milan and graced the cover of magazines around the world. Now she's stripping down and posing nude to help animals for PETA's infamous naked anti-fur ad series.
Alongside the tagline "Earn your wings. Lose the fur," Natasja proves that beauty and compassion are the true fashion.
Natasja knows that the fur industry tortures minks, chinchillas, rabbits, dogs, and cats for their skins, sometimes even skinning them alive. She recently sat down with PETA to tell us why she wanted to join the growing list of fashion-forward celebrities in speaking up for animals and speaking out against fur.
What made you decide to bare all for PETA?
I have always wanted to do a PETA campaign since I was a little girl. I have always admired the work you all do at PETA for the animals. I love animals, and I have always been against fur. I don't have a problem with going naked, but I do have a problem with fur!
You are a top model. Have you ever worn fur or been asked to wear fur?
I have never worn or modeled fur in my life. I have always made it very clear in my career that I am against it. One time, though, I showed up for my fitting with a big designer in Paris to find out there was fur in the collection. I told them I would not take the job because I am against fur. They wanted to have me do the job and no one else, so they replaced everything with fake fur (I can always tell the difference when I feel it). And of course, I've declined some work sometimes as well.
What do you think about celebrities who wear fur?
I think these celebrities are either ignorant or selfish. I do think the unawareness of the people is many times the reason why cruelty or destruction in the world continues, but I would hope the young celebrities of today know the cruelty behind manufacturing fur. If they can still wear it after having this knowledge, then they are just plain selfish and cruel. To have these animals suffer in such a way for the sake of their vanity is too much for me to believe and makes me sick. I have absolutely no respect for them.
What made you sympathetic to animal rights. Was there one incident?
I have always loved animals so much and felt they are a bit defenseless alone, so since I was really young, I have been a big admirer of PETA. I remember very well the ad you did years ago with the skinned animal—it made me cry, and I wanted to help make a difference to have this cruelty stopped and help to make people more aware.
What do you think about PETA's style of campaigning, which involves everything from sexy ads to crashing fashion shows?
I think the sexy ads are a good approach since people tend to listen more to a positive message. People have a tendency to close their eyes when it gets to be too much for them. This is probably why there is still so much ignorance in the world.
The crashing of fashion shows is for sure a very bold way to get our point across. I still do not understand why so many designers still continue using fur now—for sure they are aware of the facts …. If they stop putting it in their collection and stop labeling it as fashion, consumers won't want it anymore. Who wants to wear "grandma's old fashion coat"? Right?