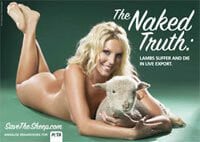 Lying nude and cuddling a rescued lamb alongside the tagline "The Naked Truth: Lambs Suffer and Die in Live Export," model and actor Annalise Braakensiek appears in a brand-new ad for PETA.
"I'll gladly shed my clothes if it will help shed light on the cruelty of live sheep exports," says Annalise, who is perennially named as one of the sexiest women in the world. "I urge Australia to heed the call of thousands of people around the world by banning live exports." Annalise has appeared in three films and on more than a dozen TV shows in Australia and the U.K. She has graced the covers of several of the world's leading women's magazines and has been featured in Rolling Stone, Australian Style, GQ, Marie Claire, and Vogue, among others. Now, the model is using her good looks to draw attention to the cruel live-export trade.
Each year in Australia, approximately 64 million sheep are disposed of by being shipped thousands of miles mired in their own waste on open-decked, multitiered ships, through all weather extremes, to the Middle East and North Africa. Shipboard mortality is high, and for every sheep who dies, many more become ill or are injured. Sick or injured sheep are often ground up alive in mincers or dumped overboard to drown or be devoured alive by sharks. Those who do survive the trip arrive in countries where animal welfare standards are non-existent and are slaughtered while completely conscious—a practice that is illegal in Australia.