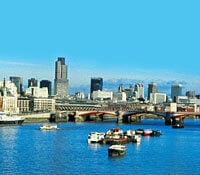 London, the city known for its iconic "Beefeater" guards, has been named the most vegetarian-friendly city in the world by PETA! We chose London after considering not only the city's numerous vegetarian restaurants but also the massive variety of meatless ethnic cuisine and the fact that grocery stores and even steak houses in the city promote the mushrooming number of vegan options by indicating them with a green "V" on menus and labels.
Longtime PETA supporter Paul McCartney said, "After 40 years of touring as a vegetarian, I'm proud to say that when it comes to eating, there's no place like home." Adds London Mayor Boris Johnson, "We have a noble history of vegetarianism, so it is great news to be crowned the best city on Earth to enjoy meat-free nosh."
To coincide with the announcement, PETA is releasing a video short hosted by McCartney. "People ask me every day why I became a vegetarian, and I felt that in this case—unlike in my songs—images speak louder than words," he says. In the video, McCartney shows viewers what happens inside factory farms and discusses the recent U.N. report revealing that meat production is responsible for 18 percent of global carbon emissions—more than all the cars, planes, trains, and boats in the world combined.
London first became a hotbed for vegetarians during the Enlightenment in the 18th century, when British society explored diverse religious philosophies—especially those from the East. The city's first Vegetarian Society was formed in 1849.
As immigrants from around the world settled in the city, their often meatless ethnic cuisine appealed to Londoners' trendy tastes. Readily available and cheap British staples like beans on toast have kept many starving students alive, and many restaurants offer meatless variations of British favorites, such as sausage and mash and shepherd's pie.
Take a trip to the grocery store and you'll find oodles of items marked with the Vegan Society Logo or a bit of text saying "suitable for vegans"—some supermarkets even have their own style of labeling to indicate which products are vegan.
When dining out, a great place to start for a veggie eating tour of London is Saf on Old Street. Saf offers exclusively vegan fine cuisine, including unique raw dishes (lasagna, for example) and serves up one of the most delicious apple cheesecakes that we've ever tasted. The Gate restaurant in Hammersmith is in a friendly, well-lit old building and offers signature cocktails as well as a wide variety of vegetarian and vegan menu items. Among The Gate's unique offerings is Carciofi, a deep-fried artichoke dish that's full of flavor.
Looking for a full English breakfast, vegetarian style? Look no further than The Gallery, in East London—it's perfect for the mornings following a long night out! Fresh and Wild in Soho offers delicious luxury vegan food, snacks, and smoothies; it also has a catering service if you happen to be throwing a party.
In Camden, inSpiral Lounge—which was voted one of the top 10 vegetarian restaurants in the U.K.—offers a great atmosphere as well as delicious food. If you're lucky enough to be there when inSpiral is serving tofu satay skewers, you're in for a real treat!
And seeing that it's London we're talking about, what could be more iconic than an old Routemaster double-decker bus that's been converted into an all-vegan restaurant? Rootmaster is situated in a thriving area just off Brick Lane; you can sit on the top deck while the kitchen below stirs up dreamy signature dishes such as the Rootmaster Curry.
Also, try some of the South Indian restaurants in Tooting that serve primarily vegetarian cuisine. And for Thai food, you can do no better than taking a trip down Greek Street and finding Patara, where you can be served plump steamed tofu in a lime and chili broth—an absolute treat for your taste buds—while taking in the authentic surroundings.
Not to forget the staple food of most traveling vegetarians, Turkish food and restaurants are spread far and wide in London, made mainstream by the chain Tas along the Southbank and in the London Bridge area. Worth sampling is their Baklali Enginar (fresh artichoke casserole with broad beans, fresh tomatoes, and garlic).
Extremely simple and surprisingly successful is Hummus Bros., where you can top your hummus with vegetarian food aplenty in this self-serve palace, and if it's Malaysian or Indonesian food that you're after, you can do no better than Melati, which has more delicious dishes than we can list here—you just have to check them out for yourself.
This is just a sampling of some of our favorite vegetarian spots in London. Still looking for more? Be sure to check out London Eating for additional information. If you're not lucky enough to live in London already, pack your suitcase, order PETA's free "Vegetarian Starter Kit" to read on the plane, grab your passport, and get traveling!