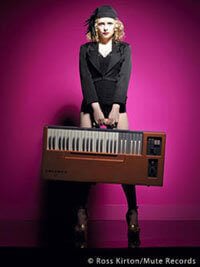 NME.com recently described Goldfrapp as "suave, sophisticated, and sexy as hell," and we at PETA couldn't agree more! Not only is lead singer Alison Goldfrapp gorgeous and talented, she also has a soft spot for animals. Alison recently sat down with PETA to discuss fashion and shoes as well as why she opposes cruelty to animals. Read PETA's interview with Alison below
What would you be doing if you weren't in a band?
I don't know—everything I've tried never worked and didn't last long, from waitressing to being a tea lady.
Do you have any animals at home, or did you grow up with any?
Yes. I have a cat. When I was younger, I had a guinea pig.
What are some of your favorite vegetarian foods?
Broccoli, spinach, sesame seeds.
You seem to be fascinated by animals and the characteristics that animals and humans share. This interest is evident in your videos and album artwork. What are your thoughts on the relationship between humans and animals, and how do you feel about issues such as animal experimentation and factory farms?
I think that there are many aspects to the relationship between humans and animals. But briefly, humans appear to have always been fascinated by them from the time of cave paintings and before. People sometimes want them to be more human, and humans sometimes want to be more like animals. It's an interesting area. Any abuse of animals is the same as abuse of men, women, or children.
How do you feel about people who wear fur?
I'm against it.
We hear you are a regular customer at Beyond Skin, a shoe company that doesn't use any animal products. Do you think it's important that people look for non-animal alternatives for clothing?
Yes, it is important.
And do you have any recommendations for where people can get animal-friendly clothes and accessories?
Vegetarian Shoes in Brighton springs to mind.