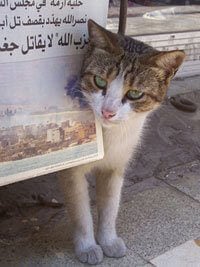 Animals don't belong to religions or have nationalities, and they own no bombs or tanks—yet they suffer in our wars. When the 2006 Lebanon War broke out between Hezbollah paramilitary forces and the Israeli military, PETA Asia representatives went to the war zone to help dogs, cats, and other animals who were tragically abandoned when government officials ordered the citizens to evacuate.
PETA Asia representatives Jason Baker and Michele Rokke led the only foreign-based animal rescue team in the Middle East during the time of the Lebanon War. Baker is a veteran of animal rescue efforts, including those that took place in New York City following September 11, 2001, and in New Orleans in the wake of Hurricane Katrina.
Click here to read Jason and Michele's daily reports from the war zone.
PETA and PETA Europe Urge Government Officials to Act
In 2006, PETA urged the military commander in charge of U.S. evacuation operations in Lebanon to instruct his officers to help evacuees take their animals with them to safety, bringing international attention to the government's failure to serve all Americans trapped in Lebanon. The same request was delivered to the Canadian Minister of National Defence.
PETA also urged Siyabonga Ponco, chargé d'affaires of the South African Embassy in Cairo, to permit South African nationals who were being evacuated to take their animal companions. The plea stemmed from an e-mail message that Ponco sent to PETA in which he suggested that evacuees with animals should "not demand more than they could be given"—implying that a request to help South African citizens take their beloved cats, dogs, and birds with them would be asking too much.
Additionally, PETA Europe begged the British prime minister to instruct Britain's Ministry of Defence to help evacuees take their animals with them.
Israeli and Lebanese Animal Protection Groups Work for Animal Victims
One of PETA Asia's first volunteers in this war zone, Nina Natelson—the founder of Concern for Helping Animals in Israel (CHAI)—had rescue teams on the ground on the Israeli side of the border.
You Can Help
Make your animals' safety a priority: Be prepared! Take a few minutes while conditions are secure to plan ahead and make arrangements for your animal companions' safety in case of emergency.