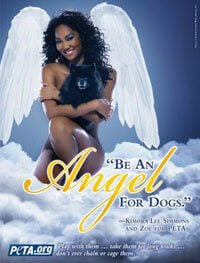 Wearing nothing but a beautiful pair of angel wings and holding her dog, Zoe, supermodel and fashion designer Kimora Lee Simmons urges people to "be an angel for dogs" in a gorgeous new ad campaign for PETA.
Kimora wanted to do the ad to show off her naked desire to get people to make dogs a part of their families—not leave them tied up outside or cooped up alone at home all day.
"You cannot just chain up an animal. The chains are heavy, it's cruel," she says. "Dogs need to run and play," she adds. That's why Kimora has teamed up with PETA urging dog guardians to "play with them, take them for long walks, don't ever chain or cage them.
The wings Kimora wears were designed by renowned costumemaker Martin Izquierdo, the genius behind Victoria's Secret's iconic angel wings, who adapted his design and created Kimora's wings out of 100 percent cruelty-free synthetic materials.
Every day, millions of dogs are left chained and unattended in back yards across the U.S., shivering in the cold or panting from the heat. They are frequently denied even the most basic care, including adequate food, fresh water, shelter from the elements, and preventive, basic protection from tormenting parasites like fleas, ticks, flies, mosquitoes, and worms.
Dogs who are chained up outside are left to the mercy of both human and animal predators, with no way to escape. Living day after day in isolation causes these social, pack-oriented animals to suffer from loneliness and distress. Intensive confinement and a lack of socialization can drive dogs insane and make them dangerous.
In an exclusive interview with PETA, Kimora urges people to do whatever they can to help neglected, backyard dogs. "Everybody should do the best they can," she says, "because a lot of little bests-you-can add up to a lot of saved animals."
Kimora has certainly earned her wings—she has donated $20,000 to PETA's "Angel for Animals" project, which provides sturdy, custom-made doghouses for needy dogs. These dogs often have little more—and sometimes even less—than an overturned barrel or a piece of plywood resting against a fence for shelter.
What You Can Do
Make a miracle happen for a backyard dog. Befriend owners and offer to walk dogs who spend their lives circling around in the same patch of dirt. Toys, treats, straw in the winter, love, and ear scratches can make their world a little less lonely.
Work to ban dog chaining in your community. More than 85 jurisdictions across the U.S have passed laws to address this cruel practice. Yours could be next.
Support PETA's work for companion animals.