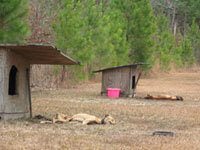 PETA works to prevent cruelty and alleviate suffering around the world. Sometimes, the battles take place in our own backyard. For years, our Community Animal Project has been helping local animals in a hands-on way by going into the poorest neighborhoods to provide, food, veterinary services, parasite prevention, doghouses, bedding, toys, and love to animals who have often never known a kind word or touch.
Unfortunately, help comes too late for some.
In December 2006, PETA fieldworkers arrived at a Windsor, North Carolina, residence to investigate a concerned citizen's report of "starved" dogs next door. Behind the residence a football field's length away from the house, fieldworkers found three pit bulls still on chains dead inside barren doghouses. The dogs—Mylie, Buck, and Roscoe—had no chance of survival. They were mere skeletons draped by a sheet of skin: The dogs had no body fat or bedding to protect them from the freezing winter cold.
The dogs' owner, Walter Overton, had no remorse. He shamelessly admitted to our fieldworkers that he had known the dogs were sick and suffering for at least four to five weeks prior to their deaths, but he had not made any attempt to get them help or put them out of their misery. Overton told us that had not fed the dogs for a week or so prior to their deaths. "You came here from Virginia to worry about my dogs?" he asked incredulously. "Dogs die every day."
A few towns away and just a year or so later on New Year's Day of 2008, PETA volunteers delivering straw to cold outdoor dogs stopped to visit a pit bull named Hugo, who they'd met on previous trips to his trailer park. But Hugo wouldn't come out of his doghouse. A little boy ran up to Hugo's doghouse, peeked inside, and exclaimed, "He's dead." Hugo had curled up in his doghouse to die after starving for weeks or months. A necropsy report later revealed that Hugo died of starvation with nothing in his stomach but grass and orange peels. Hugo had also suffered a broken rib at some point in his short life, and he'd suffered from heartworm disease and internal parasites.
PETA worked with local law enforcement to pursue criminal charges of cruelty to animals against the owners of the dogs in both cases. At the time of their respective trials, both men were already in county jail on unrelated charges, which confirms the undeniable link between cruelty to and neglect of animals and other criminal behavior. Both men were convicted of cruelty to animals—in a county that does not usually pursue such cases! The defendants received jail time, fines, court costs, and probation. But most importantly, they were both ordered not to own or harbor animals in the future, which is the only way to ensure that these men don't cause other animals to suffer. While sentences that these men received are a walk in the park compared to what Mylie, Buck, Roscoe, and Hugo suffered, such sentences send a strong message to other potential animal abusers that abuse and neglect will not be tolerated.
At one of the trials, the presiding judge said:
I have had dogs in the past. Dogs are wonderful pets and companions. No matter how bad your day was or how stressed out you are, a dog is always happy to see you when you get home. He jumps up and down, wags his tail back and forth. You rub his head and his tail is just wagging. That is all the reward a dog wants. You were everything to those dogs, and there is no excuse for the way you neglected those dogs. Those dogs had trust in you. I look at the size of their collars, and the weight and thickness of those chains, and that is just unnecessary. There was not even a blanket for your dogs. I see them in the photos just lying on those boards. And I imagine their death, day after day, day in, day out, not seeing you, no way to get food, that chain weighing them down. If your life is full, then don't have animals. Animals require love, attention, sustenance, and ours have become members of the family. If you have too many responsibilities, then don't have animals.
What You Can Do
The following are some ways that you can help dogs in your community: