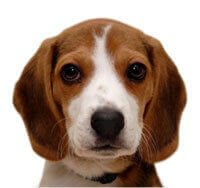 The Rabies Challenge Fund Charitable Trust has solicited donations from dog lovers who have been told that their money will help reduce the number of rabies vaccines given to dogs. But the Rabies Challenge Fund materials fail to mention that donations will also fund painful experiments that cause dogs to suffer and die.
Despite the fact that the Rabies Challenge Fund uses a happy dog as its mascot and has taken every opportunity to use cute pictures of dogs to decorate its Web site, the sinister reality is that the $1.25 million donated to the Rabies Challenge Fund will be used to house, experiment on, and eventually kill 80 dogs over a seven-year period. Some of these dogs will die in an excruciating fit of convulsions, while others will become disoriented, suffer paralysis of the face and throat, and eventually die from respiratory arrest. The nasty details of this study have not been disclosed to donors and have been exceedingly difficult to obtain.
Rabies Challenge Fund organizers have repeatedly refused to provide PETA with many details, but the following is what we do know:
The Rabies Challenge Fund purchased puppies and dogs from a laboratory supplier and plans to keep them at an unnamed research facility for their entire lives.
In spite of several requests for information, researchers have failed to provide information about the living conditions of the dogs in this study.
In response to PETA's request, the principal researcher initially showed support for conducting parallel studies that could have laid the foundation for developing a new way to conduct these studies without killing dogs but has apparently now reversed his plans to do so.
Two studies are planned—one lasting five years and another lasting seven years. At the culmination of the two studies, either the dogs will suffer and die from rabies or an experimenter will kill them.
The dogs will be infected with the live rabies virus toward the end of each study. The dogs who do not receive the vaccine will almost certainly die from rabies, and those who receive the vaccine might also die from rabies. If the virus doesn't kill the dogs, they will be killed by an experimenter.
Organizers of the study have not guaranteed that a veterinarian will be on duty at all times after the dogs have been infected with live rabies. Because the painful symptoms of rabies infection can begin quickly and quietly, the infected dogs are likely to suffer from painful symptoms without immediate relief.
The dogs who will be infected and killed in these experiments are no different from those who are lucky enough to be our beloved animal companions. The studies designed by the Rabies Challenge Fund are purely elective.
Please ask Rabies Challenge Fund Founder and Co-Trustee Kris Christine, Co-Trustee Jean Dodds, and Researcher Ronald Schultz, D.V.M., to use donated funds to develop a non-animal method that will be accepted by USDA—rather than conducting yet another study on a rabies vaccine that will cause many dogs to suffer and die.