With impressive vocals, jaw-dropping dance moves, and powerful acting skills, Jordan Fisher is a triple threat. This super-talented Hamilton actor and Dancing With the Stars champion puts on dazzling shows for adoring fans around the globe—but he's a family man through and through. Just check out his sweet campaign: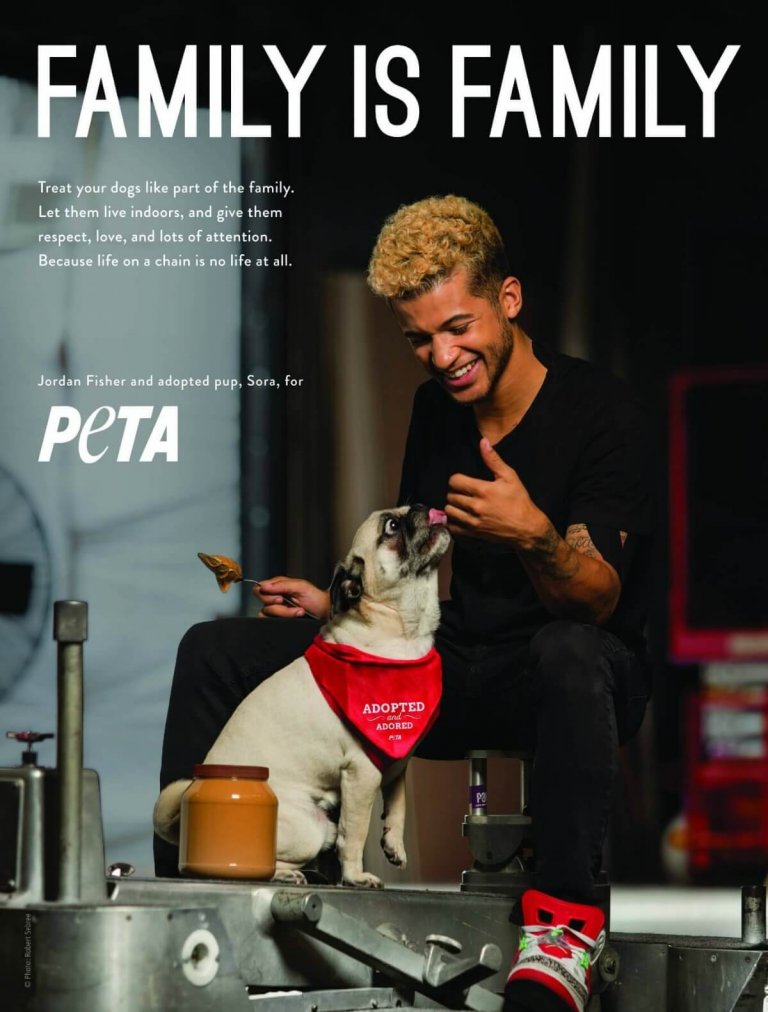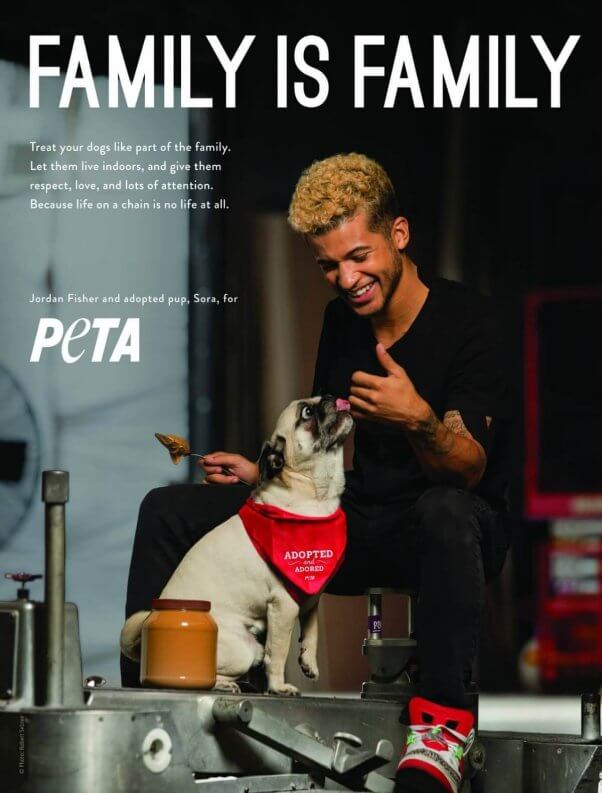 "Family is family. I grew up in a household where all the four-legged animals were as important as the two-legged animals." —Jordan Fisher
In an exclusive chat with PETA, he gushed about the bond that he shares with his rescued pup, Sora (in cute 'Adopted and Adored' bandana), who listens to Fisher sing and is always eager to hang out with his musical dad. Simply put, these two are best friends. They prove that you don't have to be the same species to share a deep connection. Compassion is compassion—and family is family.
Like Fisher and Sora, you can have a wonderful friendship with your animal companions. Putting in the long-term commitment to love and care for them comes with a huge reward: a buddy who will stick with you through thick and thin.
Each year in the U.S., more than 6 million lost, abandoned, or unwanted dogs and cats enter animal shelters. But only some of them are lucky enough to be adopted into loving, responsible permanent homes.
Every time an animal is purchased from a pet store or a breeder, an animal in a shelter loses an opportunity to find a loving home. Head over to your local open-admission animal shelter, where you're sure to find many eager animals of all breeds, shapes, sizes, and ages who'd love to become a member of your family. And keep these tips in mind:
Always get your dogs and cats spayed or neutered. Watch PETA's "370,000 Reasons to Spay and Neuter" video for more information.
Adopt only from reputable shelters—and don't forget that adult animals are often overlooked by people who are enamored of the idea of having a puppy or a kitten.
If possible, adopt two animals. Dogs and cats need both human and animal companionship. Having an animal friend can help alleviate their boredom and loneliness while they're waiting for you to come home.
Cats and dogs are safest and happiest living indoors with their human families. For safety's sake, they should be allowed out only into securely fenced areas or on a leash and under close supervision.
Speak up if someone is planning to breed an animal. Urge people who desire the companionship of animals to adopt from shelters instead.
Are you ready to add a companion animal to your family? If so, be sure to adopt! Sign PETA's pledge to end animal homelessness, and never buy an animal from a breeder or a pet store.