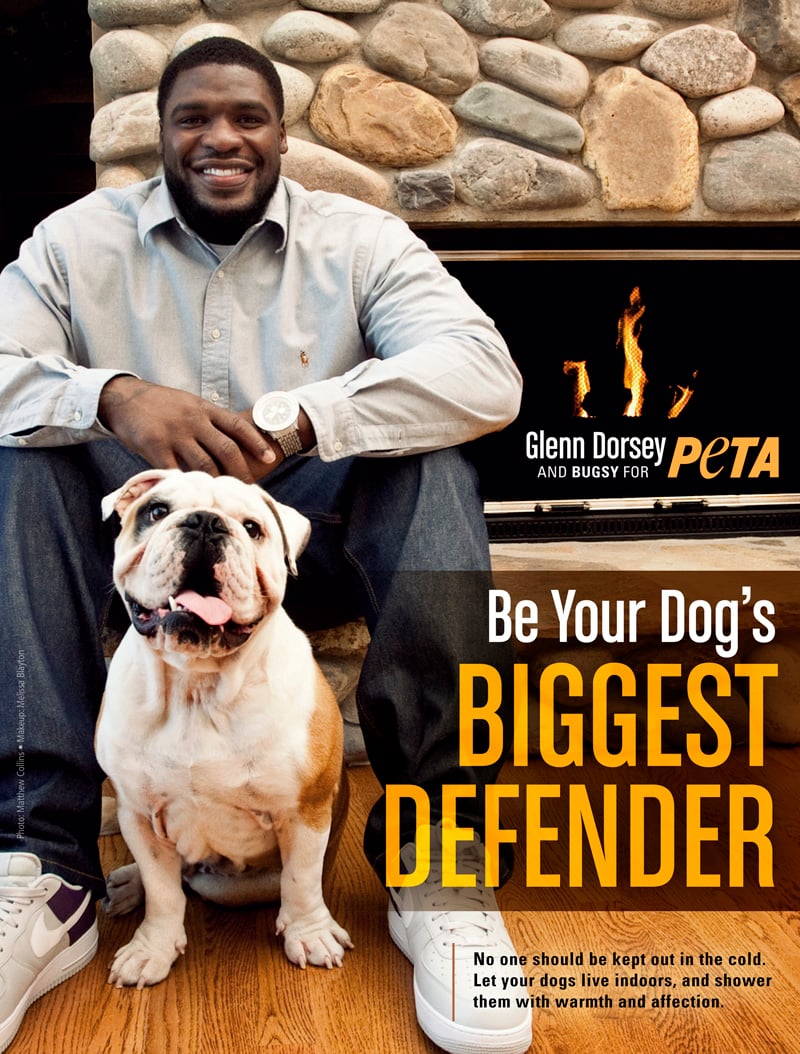 Kansas City Chiefs player Glenn Dorsey is one of the top defensive ends in the NFL, and he's taking his protective nature off the field to show compassion for dogs. In PETA's newest campaign, Glenn urges dog guardians to be their dogs' biggest defenders by bringing them indoors instead of leaving them outdoors to fend for themselves in all weather extremes.
Glenn, who stars in the campaign with his canine best friend, Bugsy, wants you to "imagine being in the freezing cold, pouring rain, sleet, or snow. No shelter, a blanket to keep you warm, or a friend to ease your loneliness." This is the harsh reality for countless dogs across the country who suffer from frostbite and hypothermia from freezing temperatures and heartache from lack of any socialization. They also often lack food, water, and adequate shelter.
Watch Glenn's TV public service announcement below and his exclusive behind-the-scenes interview.
https://www.youtube.com/watch?v=xD56e9DIT3Q
Please join Glenn in encouraging all animal guardians to bring their animals indoors and provide them with the warmth, love, and affection that they need and deserve. Help now by supporting "Angels for Animals," PETA's doghouse program, which provides "backyard dogs" with shelter and bedding. Sponsor a doghouse today, and make this winter a little warmer for a wonderful, deserving dog.
https://www.youtube.com/watch?v=DbBZ9jNDy8o