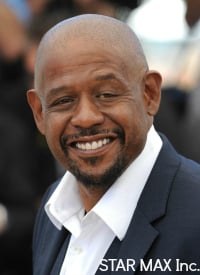 Acclaimed director, producer, and Academy Award–winning actor Forest Whitaker has no shortage of movie credits—his newest movie is The Butler. He made his debut in the classic Fast Times at Ridgemont High in 1982, was nominated for a Golden Globe and won the Best Actor Award at the Cannes Film Festival for his role in 1988's Bird, and directed the hit films Waiting to Exhale and Hope Floats, just to name a few. He also starred in Fox Searchlight's acclaimed film The Last King of Scotland as Ugandan dictator Idi Amin, for which he won an Academy Award for Best Actor.
But there is one credit to Forest's name that many of his fans might not know about: He's a vegetarian. So it was a natural fit when Forest and his daughter True joined with PETA to record a public service announcement encouraging others to try a healthy and humane vegetarian diet.
"Life is full of choices, and many years ago I chose to become a vegetarian, and it was one of the best choices I've ever made," says Forest. He addresses several reasons to go vegetarian:
To improve your health. (A vegetarian diet can help you to lose weight and avoid health problems such as heart disease, diabetes, and several types of cancer.)
To help the environment.
To save animals.
True shares her own reason for saying no to meat: "I love animals," she says. Who can argue with that?
Join Forest and True. Take PETA's Pledge to Be Vegan for 30 Days and we'll e-mail you our tips on the best places to eat, our favorite recipes, the tastiest animal-friendly snacks, and the most delicious vegetarian convenience food.
Interested in what other celebrities, such as Paul McCartney and Alicia Silverstone, have to say about vegetarianism? Check out PETA's "veggie testimonial" site.