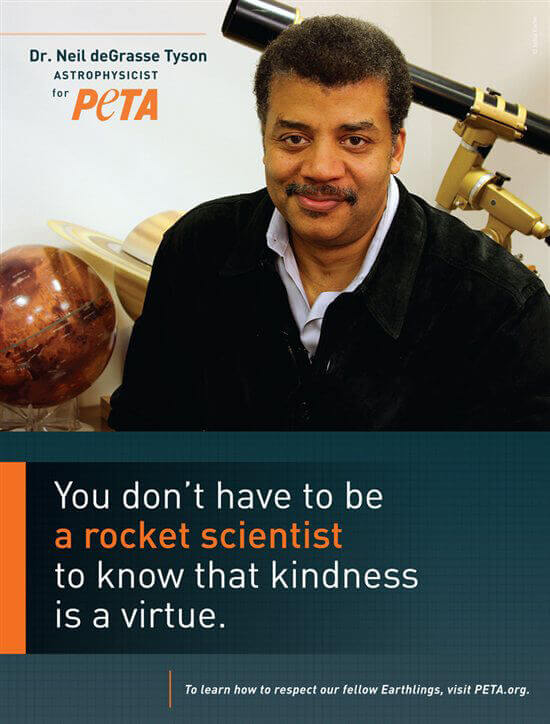 When it comes to promoting kindness to animals, Dr. Neil deGrasse Tyson has his feet on the ground. The award-winning astrophysicist, author, talk show host, and director of the Hayden Planetarium stars in a PETA ad that encourages people to have empathy for all their fellow Earthlings. In the ad, which was shot in Dr. Tyson's Hayden Planetarium office in New York, Dr. Tyson appears above the words "You Don't Have to Be a Rocket Scientist to Know That Kindness Is a Virtue."
Dr. Tyson also sat down for an interview with PETA President Ingrid E. Newkirk to discuss everything from the importance of instilling empathy in children to how observing dogs in his childhood helped him develop his critical thinking skills. "Humans aren't as good as we should be in our capacity to empathize with feelings and thoughts of others, be they humans or other animals on Earth," says Dr. Tyson. "So maybe part of our formal education should be training in empathy. Imagine how different the world would be if, in fact, that were 'reading, writing, arithmetic, empathy.'"
In his interview, Dr. Tyson also touches on alien life. "If we find life out there, and it's not us, we will deem it not intelligent. But what may be equally as likely is that we find life that's vastly more intelligent than we are. If that's the case, we are putty in their hands. There's nothing … our greatest thoughts will be things that their toddlers do, and so they would run circles around us," he explains. "And some fun science fiction stories portray Earth as that this has already happened and Earth is just their zoo. We're all just a zoo for these intelligent creatures. And if they're smart enough, they can construct a zoo so that we would never even know we're in one."
See highlights from Dr. Tyson's interview with PETA:
"What I've noticed over the decades that I've paid attention to this," says Dr. Tyson, "the other animals in the animal kingdom, whenever we presume some level of intelligence for them, further research shows that they are smarter than we ever thought or cleverer than we ever gave them credit for being." Animals experience joy and pain and fear, just like humans do—so it is important to show kindness not only to humankind but to all animals as well.
Dr. Tyson has received 12 honorary doctorates as well as multiple awards, ranging from the NASA Distinguished Public Service Medal to People's "Sexiest Astrophysicist Alive" title. In addition to writing dozens of books and articles for both professional publications and the public, Dr. Tyson is the on-camera host of PBS' NOVA ScienceNow and the creator and host of National Geographic show StarTalk.
Watch Dr. Tyson's full exclusive interview to find out more about non-human intelligence, both in animals and extraterrestrials, and find out how humans can run their bodies on solar energy:

For more info, sign up for PETA's mobile alerts!
By submitting this form, you're acknowledging that you have read and agree to our privacy policy and agree to receive e-mails from us.
Terms for automated texts/calls from PETA: http://peta.vg/txt. Text STOP to end, HELP for more info. Msg/data rates may apply. U.S. only.